Site of Rincon/Douglass School
Introduction
Following the Civil War and the end of slavery, Congress established the Freedman's Bureau to oversee programs to help former slaves and protect them from the frequent abuses of former planters and others who sought to prevent them from achieving freedom. Many of these programs sought to make sure that African Americans remained in agricultural labor and domestic services, but some Freedmen's Bureau agents, along with soldiers deployed throughout the South after the war, actively defended Black men who attempted to vote. One of the most visible of the bureau's programs was the organization and building of schools. This is the site of one of those schools.
Images
Picture of Rincon/Douglass School Plaque Photo by Kathy Walker, July 10, 2007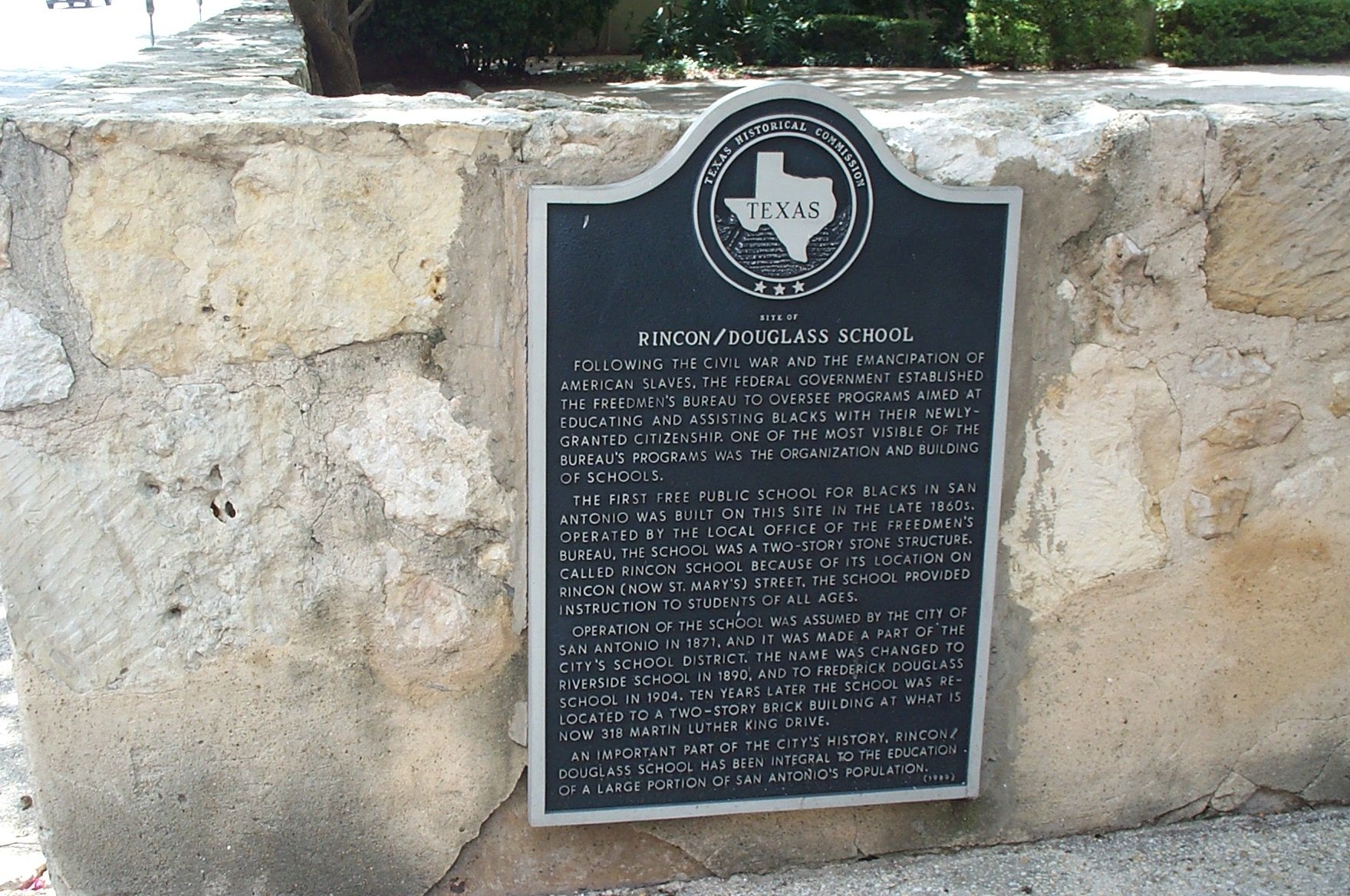 Backstory and Context
The first free public school for Blacks in San Antonio was built on this site in the late 1860s. Operated by the local office of the Freedman's Bureau, the school was a two-story stone structure. Called Rincon School because of its location on Rincon (now St. Mary's) Street. The school provided instruction to students of all ages.

Operation of the school was assumed by the city of San Antonio in 1871, and it was made part of the city's school district. The name was changed to Riverside School in 1890, and to Frederick Douglass School in 1904. Ten years later the school was relocated to a two-story brick building at what is now 318 Martin Luther King Drive.

An important part of the city's history, Rincon/Douglass School has been integral to the education of a large portion of San Antonio's population.
Sources
Walker, Kathy. "Site of Rincon/Douglass School Historical Marker." Site of Rincon/Douglass School Historical Marker. September 11, 2008. Accessed August 11, 2016. http://www.hmdb.org/marker.asp?marker=27088.
Additional Information