Elijah McCoy Gravesite in Detroit Memorial Park Cemetery
Introduction
Elijah McCoy was a African-American inventor. Facing racial discrimination, the certified mechanical engineer had trouble finding work in his field and was forced to work as a railroad laborer instead. He would go on to invent a lubrication system for trains and patent over 60 designs.This marker in Detroit Memorial Park Cemetery marks Elijah McCoy's final resting place.
Images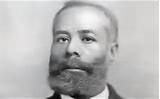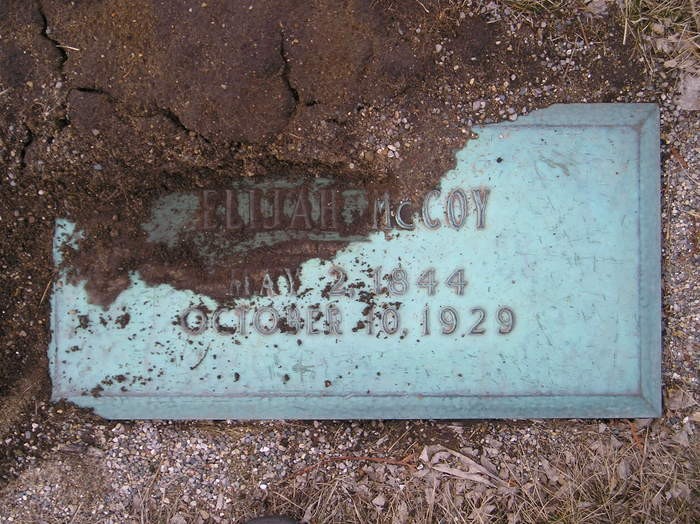 McCoy's gravesite, with description of his accomplishments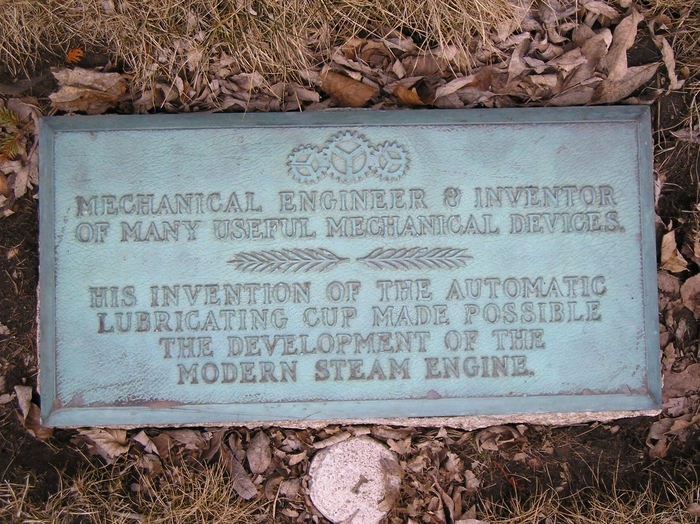 Historical marker of McCoy's home, at 5720 Lincoln Ave in Detroit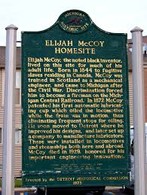 Historical marker of McCoy's workshop, at 229 West Michigan Ave in Ypsilanti
Backstory and Context
Elijah McCoy was born May 2, 1844 in Colchester, Canada. His parents were George and Mildred (Goins) McCoy, former slaves who had escaped from Kentucky to Canada via the Underground Railroad. In 1847, the McCoys returned to the U.S., settling in Ypsilanti, Michigan.
McCoy showed a strong interest in mechanics at an early age. His parents arranged for him to go to school in Edinburgh, Scotland at age 15. While there, McCoy was enrolled in an apprenticeship in mechanical engineering.
Upon his graduation, McCoy returned to Michigan as a certified engineer. Despite his qualifications, McCoy was unable to find employment as an engineer due to racial discrimination. Instead, McCoy found employment as a oiler and fireman for the Michigan Central Railroad.
McCoy found that there was a need for some type of lubrication system which could effectively oil the axles continuously. McCoy invented lubrication cups which allowed the axles to operate more efficiently and go longer distances without pause for maintenance.1
McCoy refined the lubricating cups continuously throughout his life. He also created patents for several other inventions, including an ironing board and lawn sprinkler system. He would go on to obtain over 60 patents in his lifetime. Other inventors tried to emulate the lubricant boxes, but they were not of the same quality. Railroad engineers began requesting McCoy's original design, or "the real McCoy.'' The phrase caught on to refer to something of true authentic quality.2

In 1922, Elijah and his wife Mary were involved in an automobile accident. Mary died from injuries sustained in the accident, and Elijah sustained critical injuries of which he never fully recovered. On October 10, 1929 McCoy died at the Eloise Infirmary in Detroit. He was 85 and was buried in the Detroit Memorial Park in East Warren Michigan.
Sources
1. Biography.com Editors. "Elijah McCoy Biography." A&E Television Networks. Accessed June 1, 2016. http://www.biography.com/people/elijah-mccoy-9391300. 2. Scholastic.com. "Famous African-American Inventors: Elijah McCoy." Accessed June 1, 2016http://teacher.scholastic.com/activities/bhistory/inventors/mccoy.htm
Additional Information