IU Museum of Archaeology and Anthropology
Introduction
The IU Museum of Archaeology and Anthropology is Indiana University's newest museum. Opening to the public in 2022, IUMAA draws upon the strengths and rich collections of the former Glenn A. Black Laboratory of Archaeology and Mathers Museum of World Cultures. Together, these two collections of over 5 million artifacts span across a broad range of the human experience from Indiana's first peoples to contemporary communities.
Through cutting-edge technology and exhibition design, as well as special building features, the new museum will provide visitors a new way of seeing its collections, exhibits, and programs from the "inside-out." And access to behind-the-scenes of the museum will enable visitors to understand the meaning and purpose of the museum collections, and the museum's research and study of artifacts from Indiana's past and around the world.
Images
Mathers Museum is dedicated to extending an inclusive hand to all who would walk through its doors. It focuses on the various cultures of the world and how they function(ed) independently as well as trying to understand how they all intermingle.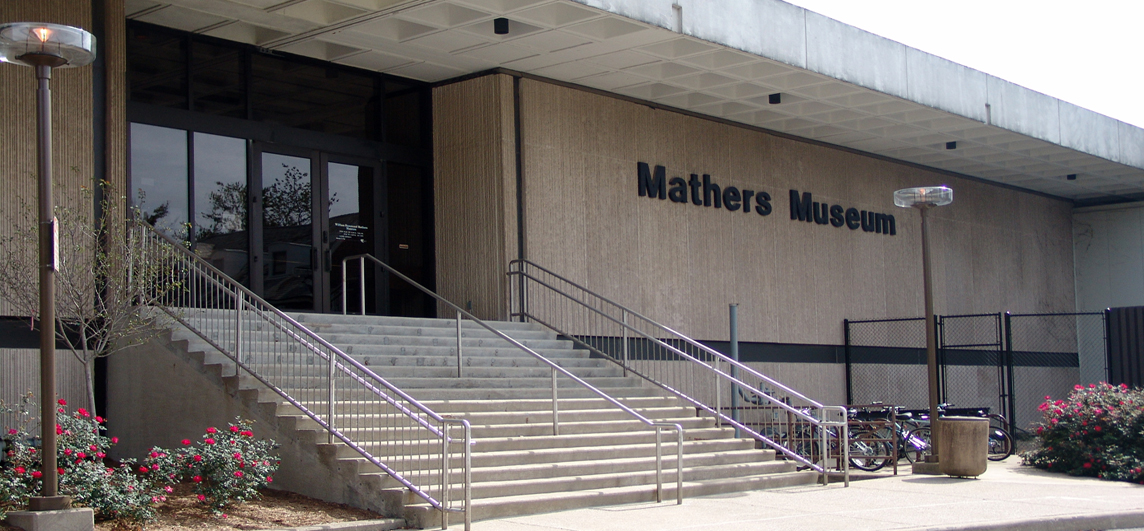 Backstory and Context
In September of 2019 IU President Michael McRobbie announced the creation of IU's newest museum, the IU Museum of Archaeology and Anthropology. It was created by combining the rich and varied collections of two long-standing institutions, the Mathers Museum of World Cultures and the Glenn A. Black Laboratory of Archaeology. The building underwent renovation in 2020-21 and the new museum will open in 2022.
History of the Mathers Museum:
Though it was not formally chartered by Indiana University at the time, the first officially acknowledged museum on campus opened their doors to the public in 1943. For twenty years after their conception, they exhibited their acquisitions independently. It wasn't until 1963, after some insistence from the Department of Anthropology, that a university chartered museum would be created underneath the directorship of Wesley R. Hurt. In December of 1965, Indiana University Museum opened its first exhibit.
By 1970 the museum had managed to expand their collections and exhibits to the point where it became necessary to relocate to a larger building in order to accommodate their growing number of artifacts and patrons. With this need for a better facility, larger space and more resources in mind, museum staff decided that it was time to seek accreditation with the American Association of Museums. This accreditation was awarded in July of 1971, and by October of 1980 a groundbreaking ceremony was held for the newly named William Hammond Mathers Museum. In April of 1983, the new building and its collections became open to the public. Today, admission to the museum can be gained for free for students and non-students alike. 
The museum's collections are available to scholars, students, and interested members of the public for research. The museum also emphasizes two other aspects of its research mission. First, the museum trains students to conduct research on material culture, so that knowledge and understanding of the world's cultural heritage may be enhanced in future generations. Second, the museum is committed to improving informal education by making its exhibits and programs available to faculty and students doing research on methods and results of informal education.
The Mathers Museum considers itself to be a museum of world cultures, offering a diverse range of collections and exhibits meant to educate and inform on the histories and impacts of different cultures as well as the "human phenomena" of unifying cultures. Not only do they offer several exhibits but have many educational collections such as the African, Asian/Pacific-Oceania, North American Euro American, North American Native American, Central and South American, and Ethnomusicological Collections. They also boast a collection of photography that includes over 10,000 pieces and a textile collection of over 400 pieces.
With the help of donors and the University of Indiana, the museum intends to extend their reach from their physical location to the great wide web by bringing their collections online. They also publish an open access journal known as the Museum Anthropology Review (MAR) that offers a wide range of "articles, reviews, essays, obituaries and other content advancing the field of material culture and museum studies."
Sources
History. Mathers Museum. Accessed January 15, 2018. https://mathersmuseum.indiana.edu/about1/history.html.
Mission Statement. Mathers Museum. Accessed January 15, 2018. https://mathersmuseum.indiana.edu/about1/mission-statement.html.
Collections. Mathers Museum. Accessed January 15, 2018. http://www.indiana.edu/~mathers/museumcoll.html.
Additional Information