Hinkle-Garton Farmstead
Introduction
The Hinkle-Garton Farmstead is an eleven acre museum that is set up to teach the public about Indiana's farming heritage. On the grounds are a 19th century Queen Anne farmhouse, a smaller house used as a rental space, and a few outbuildings that include a dairy barn, a corn crib, a Blacksmith shed, and a garage. The house is not only a museum, but is also the headquarters of Bloomington Restorations Inc., a nonprofit organization that restores abandoned, yet historic buildings throughout the Bloomington area. The farmhouse is also on the National Register of Historic Places.
Images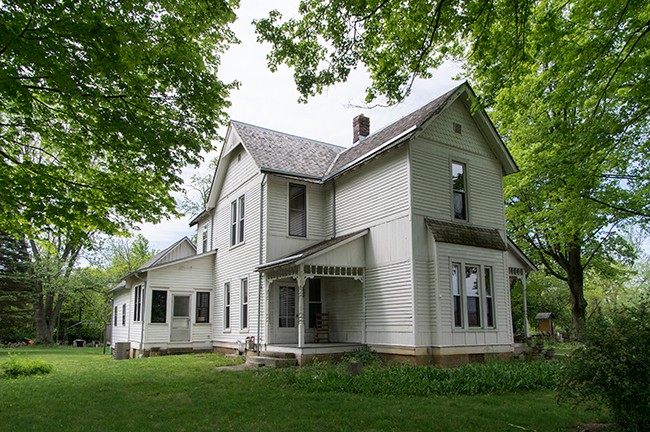 Backstory and Context
The Queen Anne farmhouse that acts as the center of the Hinkle-Garton farmstead was built in 1892 by John Hinkle for his wife, Laura Rawlins Hinkle, and their son, Henry. John and Laura had already been living on the land in a log cabin since 1886. They went on to become very prosperous farmers and expanded their land to over eighty acres. In 1906, Henry married a woman named Bertha Rogers, and the small house, which is now used as a rental space, was built for the newlyweds. Henry added on to the farm by creating a cut flower business, and also became well known in the area for his potatoes. He was even called the "Potato King of Monroe County." Henry and Bertha ended up having two children that survived to adulthood, a daughter named Daisy and a son named John. Daisy, after going off to college and earning degrees in both music composition and music education, came back to run the farm in 1943 with her husband, Joseph Garton, a fellow music teacher. In 2004, Daisy donated the large farmhouse, the small house, the outbuildings, and eleven acres to Bloomington Restorations Inc.

The farm is now more of a museum than a working farm, with demonstrations done by agriculture experts and antique farming equipment on display there. Volunteers work on the farmstead's organic garden and orchard, and assist with other tasks needing to be done. Educational programs are conducted at the museum, including a demonstration on the process of tapping maple syrup in early Spring. Lectures on the history of agriculture in the Midwest are done at the farmstead as well. Tours of the farmstead are led on the last Saturday of every month, but visitors to the museum should call to schedule the tour ahead of time.
Sources
"Hinkle-Garton Farmstead." Bloomington Restorations, Inc. Accessed on July 31, 2016. http://www.bloomingtonrestorations.org/about-us/hinkle-garton-farmstead/ "The Hinkle-Garton Farmstead: History Teaches Sustainability Lessons." Sustainable Indiana. Accessed on July 30, 2016. http://sustainableindiana2016.org/the-hinkle-garton-farmstead-history-teaches-sustainability-lessons/ "About Daisy and the Hinkle Family." Bloomington Restorations Inc. Accessed on July 31, 2016. http://www.bloomingtonrestorations.org/about-us/hinkle-garton-farmstead/about-daisy-and-the-hinkle-family/ "About the Farmstead." Bloomington Restorations, Inc. Accessed on July 31, 2016. http://www.bloomingtonrestorations.org/about-us/hinkle-garton-farmstead/about-the-farmstead/
Additional Information