Foshay Tower
Introduction
Completed in 1929, the 32-story Foshay Tower became Minnesota's first skyscraper and remained the tallest building in the city of Minneapolis until 1971. Visitors to the Tower can tour its museum and enjoy one of the best views of the city from its Observation Deck. It is named after Wilbur Foshay, an entrepreneur who operated the largest utility company in the city during the early 20th century. Unfortunately for Foshay, the onset of the Great Depression destroyed his business and he was unable to pay for all of the building's costs. Between 2006 and 2008, the building was converted into a hotel and is presently operated by W Hotel-a member of the Starwood Chain. Foshay Tower was added to the National Register of Historic Places in 1978. The museum explores the tower's history and Wilbur Foshay's life.
Images
Foshay Tower was listed on the National Register of Historic Places in 1978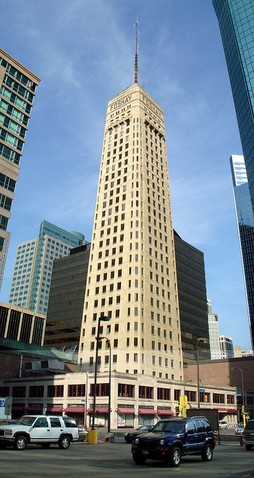 Foshay Tower shortly after its completion in 1929.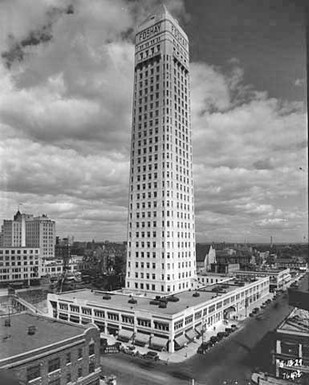 Backstory and Context
The thirty-three-story Foshay Tower arrived shortly after twenty-six-story Rand Tower in 1929 as buildings that exceeded the decades-old mandate to limit building height to less than 125 feet. The Rand Tower stood as the largest building in the city until the Forshay arrived months later and took over that mark. The name speaks to the rags-to-riches multi-millionaire Wilbur B. Foshay who long desired to obtain a fortune and build a replica of the Washington Monument. However, shortly after his dream came to fruition, the Great Depression arrived and his riches quickly faded. 
Foshay moved to Minneapolis in 1915 and carried with him a debt of $150,000 (equal to more than $3.5 million in 2020). Foshay incurred the debt through the collapse of his first venture in the utilities industry. Forshay engaged in shrewd bargaining, investments, and stock sales to erase his debt and then again try his hand at building a utilities company. Within ten years, he turned the new company into a $22 million operation. 
Foshay had long wished to construct a building with a similar design to that of the Washington Monument. And, by obtaining his fortune during the "Roaring '20s," Foshay could turn that dream into a reality. It took two years to build before opening on August 30, 1929. Foshay spared no expense, including using fabricated steel, hot-riveted with reinforced concrete, for which they received a patent on November 11, 1930. The interior was adorned with elaborate detailing and materials such Italian marble, hand-wrought iron, gold-plated doorknobs, and African mahogany. Foshay also spent nearly $117,000 (worth $1.7 million in 2020) on an extravagant three-day dedication party attended by dignitaries such as governors, public officials, foreign ministers. The Secretary of War during the Hoover administration, James W. Good, addressed the crowd and John Philip Sousa and his seventy-five piece band played "Foshay Tower-Washington Memorial March" for the occasion. 
However, the Wall Street Crash of 1929 occurred less than two months after that party, and the subsequent Great Depression put an end to Foshay's lavish lifestyle. By the time the U.S. Patent finalized the patent for the materials used in the Foshay building, he had been charged with fifteen counts of mail fraud and lost his skyscraper as a result. The court sentenced him to fifteen years in prison, but President Franklin D, Roosevelt provided in with a pardon in 1937 followed by an unconditional pardoned granted by President Harry Truman in 1947. Forshay never again returned to the world of big business. On August 30, 1957, exactly twenty-eight years after the tower dedication party, he died without any fanfare. 
In somewhat fitting fashion, the tower now functions as a luxury hotel, providing lavish amenities once enjoyed by many during the booming 1920s.
Sources
"Foshay Museum and Observation Deck." W Hotels. wminneapolishotel.com/. Accessed March 30, 2014. http://www.wminneapolishotel.com/foshaymuseum. 
Millett, Larry. Lost Twin Cities. St. Paul: Minnesota Historical Society Press, 1992.
Nelson, Charles. "Nomination Form: Foshay Tower." National Register of Historic
Places. nps.gov. September 20, 1978. https://npgallery.nps.gov/GetAsset/3cbc2c88-d5bb-4d06-9073-11d3dd2d525c.
Additional Information