War Eagles Air Museum
Introduction
Located on the Doña Ana County Airport in Santa Theresa, New Mexico, the War Eagles Air Museum collects and restores military aircraft from the World War II and Korean War period, and also honors the pilots and crews who operated them. Many of the 22 aircraft at the museum have been well maintained and are able to fly. The museum also houses military vehicles, a few vintage automobiles, and vintage gas pumps. Special exhibits include a salute to women in aviation, a small display about El Paso ace WWII pilot Bill Crombie, and an Link Trainer, which was used to teach pilots how to fly when they could not see the ground below them.
Images
The War Eagles Air Museum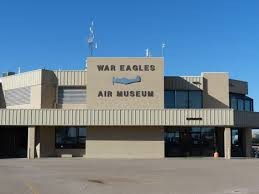 Backstory and Context
The museum was founded in 1989 by John and Betty MacGuire of El Paso. The MacGuires were already aircraft collectors when they set up the privately owned nonprofit museum with fourteen planes. Today there are 30 planes altogether—22 of which are in flying condition
Some of the aircraft on display are: the P-51 Mustang, the P-38 Lightning, the P-40 Warhawk, the F-4U-4 Corsair, a DC-3 transport, a German observation aircraft called the Fiesler-Storch, an F-86 Sabre, a T-33 Silver Star, and a MIG-15s.
Special exhibits focus on the Korean War era, with special exhibits for local war ace Bill Crombie and museum originator John MacGuire, as well as a diorama showing the material kits that period flyers would have had for survival. And a special "Salute to Women in Aviation.
Sources
"About Us." War Eagles Air Museum. Accessed August 3, 2016. http://www.war-eagles-air-museum.com/aboutus.php.
Additional Information