Babyland General Hospital, Cabbage Patch Kids Museum
Introduction
Babyland General Hospital serves as a gift shop and museum and dedicated to the history of the Cabbage Patch doll. Xavier Roberts created the first dolls and the concept of the "cabbage patch" while studying Appalachian craft traditions in 1977. As the dolls increased in popularity, the company created this "hospital" where parents and children could visit and "adopt" one of their dolls. Given the widespread ownership of of cabbage patch dolls in the 1980s this museum remains a popular tourist attraction and an opportunity for adults who grew up in the 1980s to share the experience of "adopting" a cabbage patch doll with future generations.
Images
Babyland General Hospital

This is a picture of a 'nurse' taking good care of the Cabbage Patch babies.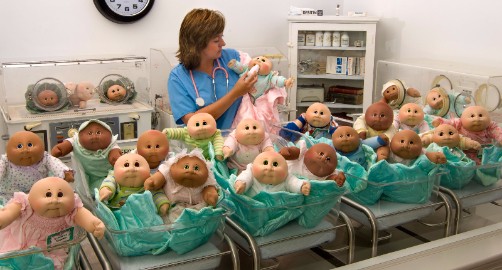 Backstory and Context
In the late 1970's, Georgia native Xavier Roberts studied Appalachian traditions and techniques for creating small sculptures and dolls with fabric. With the quilting skills passed down from his mother, Xavier created his first fabric sculptures. Over time, Xavier created the concept of creating dolls that were "little people" and might include birth certificates. After winning first place in an art show, Xavier took his design to several other art and crafts shows in the Southeast. As sales of his "Little People" dolls increased, Roberts realized that adults were enthusiastic and were purchasing his dolls for a variety of reasons. In 1979, Roberts opened his first store in downtown Cleveland, Georgia.
After Roberts creations were profiled in several craft magazines, his original Little People dolls were selling for around a hundred times of their original price of forty dollars. In 1981, toy manufacturer Original Appalachian Artworks Inc. signed an agreement to create dolls based on Roberts design and concept. In 1983, Coleco acquired the rights to create the Cabbage Patch dolls. By the end of the decade, 65 million dolls were sold. Considered by many to be the most successful doll in history, the Cabbage Patch dolls were profiled by every major news outlet and featured on the cover of Newsweek and other leading magazines.
After decades of the top of the line sales and new generations of dolls, Roberts decided to open a brand new Babyland General Hospital. Building on the idea that customers are not "buying" Cabbage Patch dolls but rather "adopting" them, visitors are greeted by staff wearing medical scrubs. The hospital allows visitors to view exhibits related to the history of the company, as well as visit a "nursery" and "adopt" a doll to take home.
Sources
Devaney, Sheila. "Babyland General Hospital." New Georgia Encyclopedia. 19 August 2013. Web. 05 August 2016. http://www.georgiaencyclopedia.org/articles/business-economy/babyland-general-hospital Babyland General Hospital website, (accessed 9/4/2016) http://www.babylandgeneral.com/visit/
Additional Information