Michigan Theatre
Introduction
The Michigan Theatre opened on August 23, 1926, as one of the finest movie palaces in Detroit. It was constructed at a cost of $3.5 million and designed by Cornelius and George Rapp, architects renowned for their grand movie palaces around the country. The French Renaissance theater contained an opulent lobby almost a block long and four-stories high, while the auditorium could seat over 4,000. When the theater closed in 1971, it was renamed the Michigan Palace and turned into a nightclub and rock concert venue, but these ventures proved unsuccessful. The space was finally converted into a unique parking garage for the attached office building, somewhat oddly preserving the decaying remains of the magnificent former theater.
Images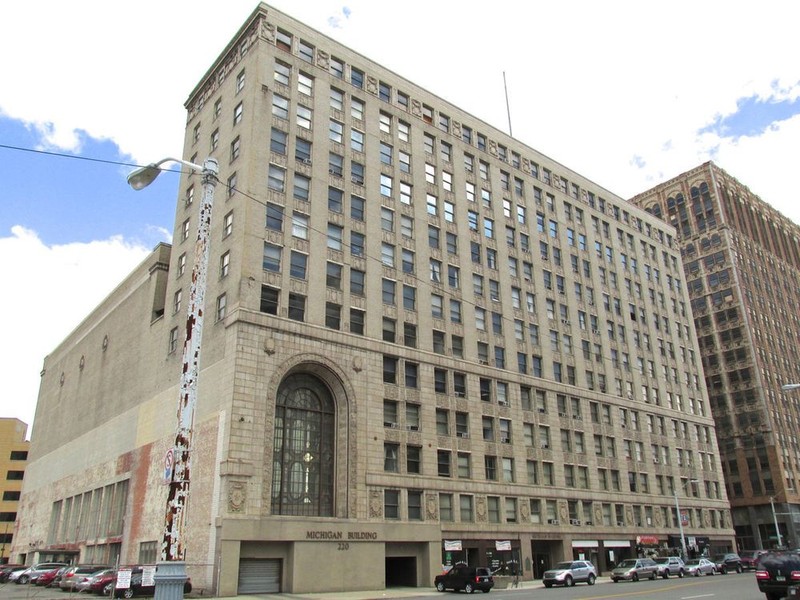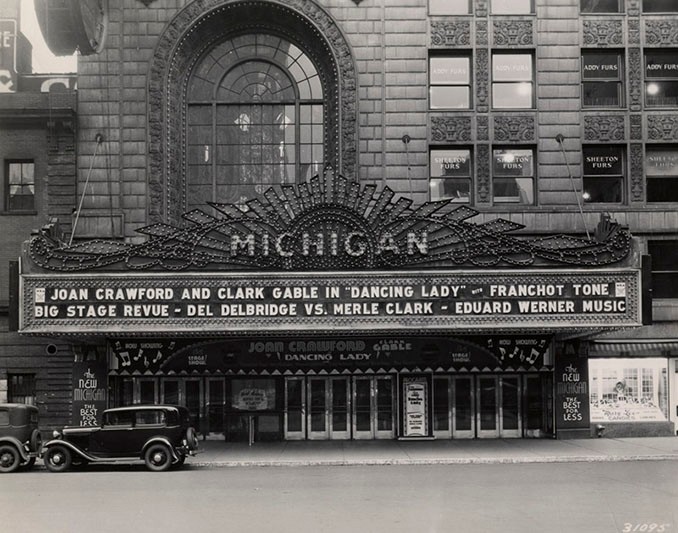 The Michigan Theatre's original vertical marquee, taken down in 1952
The Michigan Theatre's lobby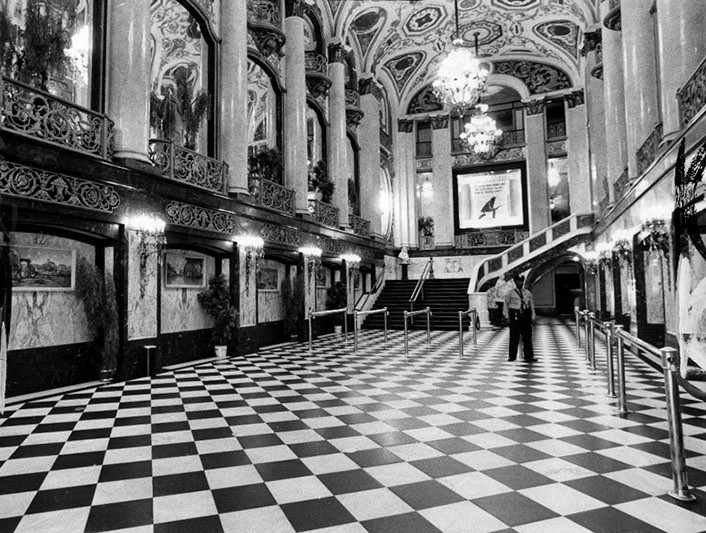 The Michigan Theatre's lobby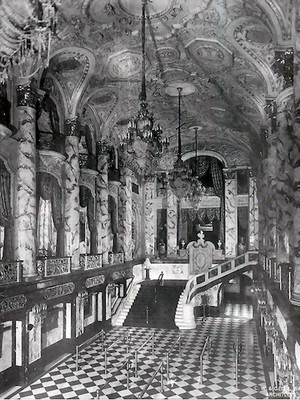 A comparison of the lobby then versus now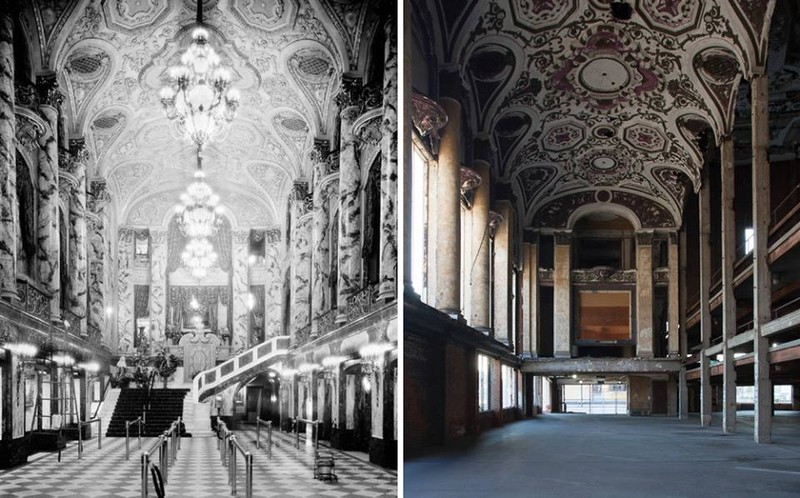 View of the auditorium from the stage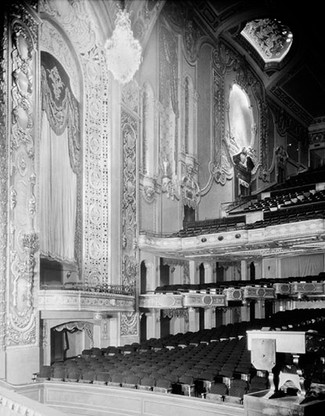 View of the stage then versus now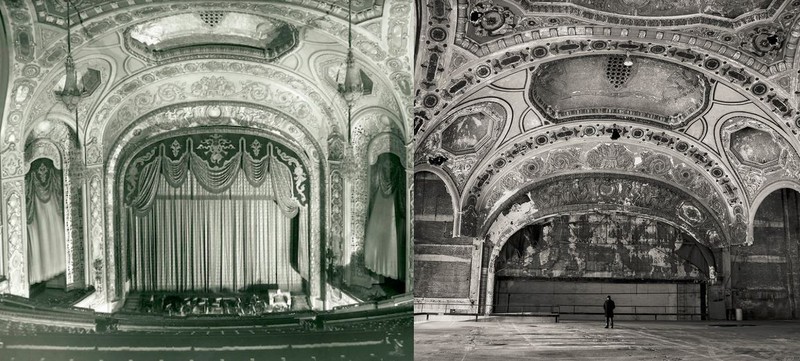 Inside the parking garage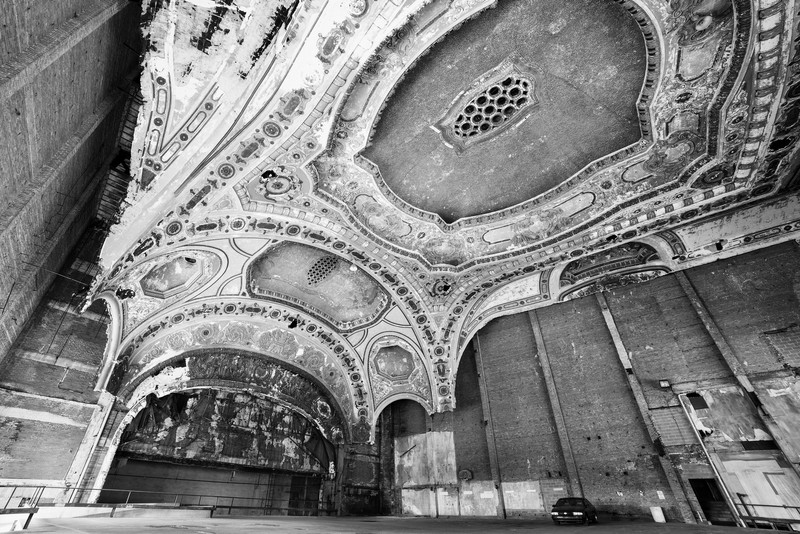 Inside the parking garage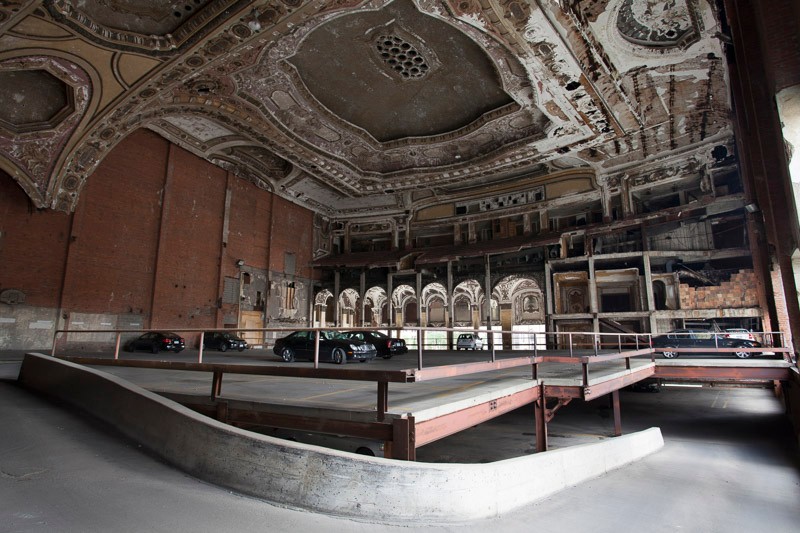 Backstory and Context
There are few places that visually epitomize Detroit's rise and fall quite like the Michigan Theatre. Many writers have pointed out the irony that the site where Henry Ford's first automobile was created is now a parking garage. But not just any parking garage; it has been dubbed "The Most Beautiful Parking Lot in the World."
1
That beauty is thanks to the site's history, the story of what happened between the days of Ford's workshop and the current parking structure.
During the prosperous 1920s, movie palaces were all the rage, and Detroit was a booming metropolis, with riches pouring in from the auto industry and related businesses. The Michigan Theatre was arguably the most grand of all the movie palaces built in the city, with a 13-story office building attached to it. It was constructed at a cost of $5 million by John H. Kunsky, who requested that renowned architects Cornelius and George Rapp design it. The opulent French Renaissance theater held 4,050 seats and opened on August 23, 1926 with the silent film "You'll Never Know Women."
2
Dan Austin of HistoricDetroit.org describes the interior upon completion:
"The theater was loaded in extravagant details, from its auditorium to its four-story, 1,000-square-foot, mirror-paneled, Black-and-white checkered-floor Grande Lobby. The lobby was complete with columnns and red velvet hangings, marble archways, lavish towering columnns, baskets of flowers and large crystal chandeliers. A lovely wide staircase with carved balustrades and covered in lush red carpet stood at the other end. A grand piano entertained guests waiting for the movie to start. Between every pair of columnns was an oil painting, works of art by the National Academy […]. All of the sculptures, busts, intricately carved furnishings, paintings and onyx pedestals filling the Michigan's lobby made it seem as much a museum as a movie theater. The mezzanine level was initially reserved for Black-tie invited guests and had gilded foyers and subdued lighting and also was decorated with paintings. There also were luxurious lounges and 'cosmetic rooms' for women and 'retiring rooms' for men. A large replica of a fifth-century Roman sculpture depicting a horse and chariot stood there. […] Another large sculpture, "Cupid and Psyche," was a replica of a work by 18th-century artist Antonio Canova. The huge auditorium featured six aisles of seats on each level, side boxes, 10-foot crystal chandeliers dangling eight floors above the seats below, a stage with orchestra pit and a 5/28 Wurlitzer organ that could be raised to the stage."3
In addition to movies, vaudeville and musical acts such as the Marx Brothers, Jack Benny, Red Skelton, Betty Grable, Bob Hope, Louis Armstrong, Benny Goodman, and Jimmy Dorsey also appeared at the Michigan Theatre for decades.3 The "Michigan" vertical marquee sign was ordered taken down by the city in 1952.2 The theater's decline matched the decline of Detroit. The last movie showing was in 1971.3 The Michigan Building office space was still in use, but the theater was transformed into a nightclub and renamed the Michigan Palace. The club was not a success, so it was reinvented by yet another owner as a rock concert venue in 1973.3
The rock shows drew crowds for a few years, but the theater suffered from the hard wear and tear of hosting thousands of partying concert-goers. By this point, it seemed that demolition was the only option, but the structural integrity of the office building adjacent would be destroyed with the theater. By the mid-1970s, the owners were struggling to keep tenants who still rented office space in the adjacent structure and complained about the lack of parking in the area. An unusual decision was reached: they would gut the theater and convert the space into a parking garage. 3
Today, the former theater is a magnet for urban explorers taking photographs of one of Detroit's most well-known sites of urban decay and "ruin porn." In another twist of ironic fate, the empty, crumbling stage where some of the first movies were shown has now been the backdrop for several movie scenes; it has featured in movies like 8 Mile, The Island, and Alex Cross. 4
Sources
1. Wert, Ray. "The Secret of the Classiest Parking Lot of All Time." Jalopnik Online News. Published December 21, 2010. Accessed August 7, 2016. http://jalopnik.com/5715589/the-secret-of-the-classiest-parking-lot-of-all-time 2. Krefft, Bryan. "Michigan Theatre." Cinema Treasures, LLC Website. Published 2012. Accessed August 7, 2016. http://cinematreasures.org/theaters/1963 3. Austin, Dan. "Michigan Theatre." HistoricDetroit.org. Accessed August 7, 2016. http://www.historicdetroit.org/building/michigan-theatre/ 4. Abbey-Lambertz, Kate. "How a Historic Movie Palace Became America's Most Unusual Parking Garage." Huffington Post Online News. Published August 4, 2014. Accessed August 7, 2016. http://www.huffingtonpost.com/2014/08/04/michigan-theatre-detroit-parking-garage_n_5641301.html
Additional Information