Battery Warren
Introduction
Battery Warren is the site of a former Civil War fort that was designed to defend a railroad trestle across the Santee River. The earthworks that formed the base of the fort have been well-preserved and can be found within Francis Marion National Forest. The battery is accessible by a hiking along a half-mile trail.
Images
Interpretive Sign at Battery Warren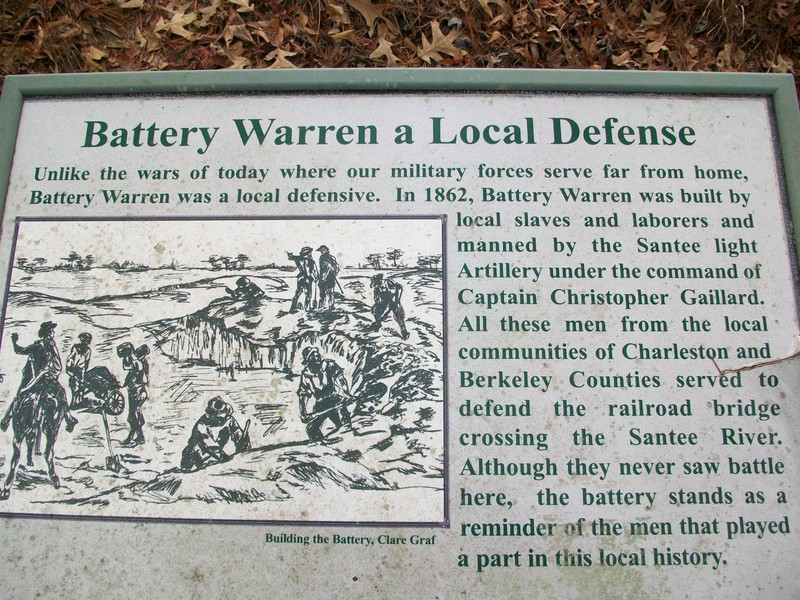 Backstory and Context
Battery Warren is a small earthen fort built in 1862, high on the Santee River in Berkeley County South Carolina. The Confederate Army built Fort Warren (as it was called in official documentation) in 1862 as part of a system of coastal defenses in South Carolina. The defense of the coast fell to Captain Christopher Gaillard, who had a minimum number of soldiers to defend the coast. 1 Battery Warren specifically guarded a railroad trestle of the Northeastern Railroad, which connected Charleston to Florence, providing a link between Charleston and Richmond Virginia.2

The Confederates built the fort on a bluff in the Santee River, at a location that would prevent Union gun boats from returning fire. By October 1862, the preparations of the fort were being finalized. There were also plans to put obstructions in the river, that would prevent boats from moving up the river past the battery. Whether these obstructions were put in place is unknown.3

Little is known about life at Camp Warren, as it was not a major military installation. There are some letters from a Mr. James M. Barr, who claimed that living conditions at Camp Warren were less than ideal. Disease and poor living conditions created casualties at Fort Warren, but the fort never saw action during the Civil War.4

Local legend states that the cannons of Fort Warren stayed in place all the way up to 1944. During the effort of World War II, the cannons were sold for scrap. Although many items of historic significance such as statues were melted down during the war, there is no documentation to support or refute the claim about the cannon of this fort. In addition, it is highly unlikely that the cannon would not have been claimed by Civil War relic hunters long before World War II.

Sources
1. US Government Printing Office, "The war of the rebellion: a compilation of the official records of the Union and Confederate armies. ; Series 1 - Volume 14", 1885. pg. 744. 2. Rob Ponder, Battery Warren Interpretive Trail Pamphlet, 2009. Available at Francis Marion National Forest Offices 3. Louis Palmer Towles, "A World Turned Upside Down, the Palmers of South Santee 1818-1881", 1996. pg. 350-351 4. Ponder, Pamphlet.
Additional Information