The National Theater (Grover's Theater)
Introduction
The National Theater has been a premiere performing house in Washington, D.C. since it opened in the 1830s. Its guest list is a Who's Who of American entertainment. The theater also plays a role in the story of Abraham Lincoln's assassination. Would history have been different if Lincoln had attended a play at the National Theater instead of Ford's Theatre? "Grover's National Theater" has its history of ghosts—those that might be and those that might have been.
Images
The National Theater as it is today. Founder William Wilson Corcoran intended to create a "magnificent theater" worthy of a nation's capital...a spectacle for presenting spectacles.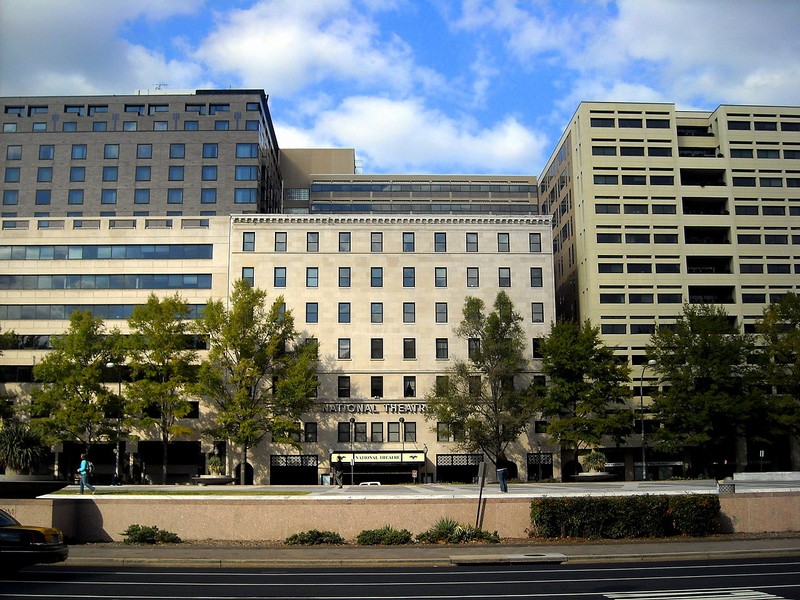 As the National Theater looked circa 1962 when it was redesigned as the "New National" Theater (note the name on the front). This is the building that could have been the location where Confederate actor and assassin John Wilkes Booth killed President Ab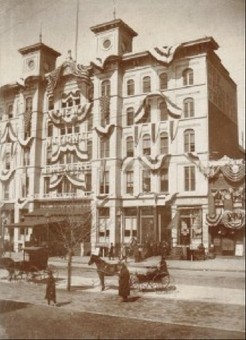 Backstory and Context
The Theater
The National Theater, also known as Grover's Theater and Grover's National Theatre, opened in 1835 a few blocks away from the White House in Washington, D.C. Known for its elegance and political decor, the theater featured scenes of early American history such as the Declaration of Independence and George Washington at Mount Vernon. At times being known as "Grover's Theater" and "Grover's National Theater," the National has been in almost continuous operation since it opened—despite fires and rebuildings. It claims to have entertained every U.S. president since Andrew Jackson.
The National also played a role in the Civil Rights movement. Up until the 1940s, Black actors were allowed on stage but the best audience seats remained restricted to whites. In 1936, actor Todd Duncan protested the segregation and refused to perform. Initially, management closed the theater in 1948 rather than integrate, but reopened with full integration in 1952.
Today, the stone foundations and brick stage house built in 1835 still exist, but the rest has been fully renovated, most recently in the 1980s as part of a major city redevelopment plan. The theater continues its role as a major cultural center in our nation's capital—in more ways that one. The National Theater is also a legendary "haunted location" for mystery seekers. More on that later.
What If...?
There is much speculation about what might have happened if Abraham Lincoln had instead attended Grover's Theater on April 14, 1865. His son, Tad, attended the Grover's presentation of "Aladdin or the Wonderful Lamp" the same night Abraham and Mary attended "Our American Cousin" at Ford's Theatre. The alternate choice was a strong possibility. Lincoln had attended 17 performances, and learned of his nomination to a second term, at Grover's in the previous two years. One such event, eerily enough, included John Wilkes Booth's Washington debut in the performance of Shakespeare's Richard III. Abraham knew Leonard Grover and was invited by the theater's manager to attend the April 14 show of "Aladdin." So the question has been raised: did the president's choice seal his fate? Would his death been avoided?
Not necessarily. On April 13, Booth went to Grover's Theater and asked if Lincoln was invited to see "Aladdin." The answer was yes, so Booth purchased tickets for the box that adjoined the presidential box. Everything was in place for the assassination to take place at Grover's. However, Booth learned the next morning that Lincoln had reserved a box at Ford's for that night. And so Booth carried out the assassination there. In the minds of many, Lincoln's choice likely made no difference in his fate. He was probably going to be murdered one way or the other.
Ghosts
So if Lincoln might have been a ghost at Grover's Theater, he also might not have been alone. Haunted location buffs persist in tracking down the ghost of Irish-born actor John Edward McCullough who was allegedly shot backstage by a fellow actor and then buried quickly under the theater. The legend of McCullough's ghost was first seen by a friend, Frederic Bond, while working late in 1896. McCullough's spirit was dressed in Shakespeare's Hamlet and disappeared when Bond spoke his name.
The McCullough ghost tale is almost certainly a persistent myth. His last stage appearance was in 1884 when he could not remember his lines. He suffered from a long illness involving mental instability and was committed to a mental institution. According to witnesses, McCullough died at home in bed in the company of friends and family at home in Philadelphia. Also, the 1880s National building was razed in 1932 and rebuilt, and no impromptu grave was found.
Another National Theater legend involves the ghost of an unnamed young boy who also haunted its halls in the 1800s. Little is known about this ghost story and no sightings have been reported in many decades.
Sources
"What If The Lincolns Had Attended the Play at Grover's Theater?" Abraham Lincoln's Assassination. Accessed August 8, 2016. http://rogerjnorton.com/Lincoln94.html. "National Theatre (Washington, D.C.)." Wikipedia: The Free Encyclopedia. April 4, 2016. Accessed August 8, 2016. https://en.wikipedia.org/wiki/National_Theatre_(Washington,_D.C.). "National Theater (Grover's Theater)." Civil War Washington. February 20, 2012. Accessed August 8, 2016. http://civilwardc.org/data/places/view/316. "History." The National Theater: Washington, D.C. Accessed August 8, 2016. http://thenationaldc.org/. Culliton, Joseph. "John McCullough (1832-1885)." The Life and Times of Joseph Haworth. Accessed August 8, 2016. http://www.josephhaworth.com/john_mccullough.htm. Haworth, Joseph. "The Last Days of John McCullough." The Life and Times of Joseph Haworth. July 29, 1894. Accessed August 8, 2016. http://www.josephhaworth.com/last_days_of_john_mccullough.htm. "Reportedly Haunted Locations in the District of Columbia." Wikipedia: The Free Encyclopedia. July 23, 2016. Accessed August 8, 2016. https://en.wikipedia.org/wiki/Reportedly_haunted_locations_in_the_District_of_Columbia.