Woolworth Building
Introduction
The Woolworth Building is an early North American skyscraper, and one of the 100 tallest buildings in the United States. Completed in 1913, the Woolworth Building was the dream building of Frank W. Woolworth, head of the Woolworth Company, which occupied the building for 85 years. It has been designated as a New York City Landmark, a National Historic Landmark, and has been added to the National Register of Historic Places. Now owned by the Witkoff Group, the Woolworth Building is still in use and tours are available.
Images
A view of the Woolworth Building in 1913.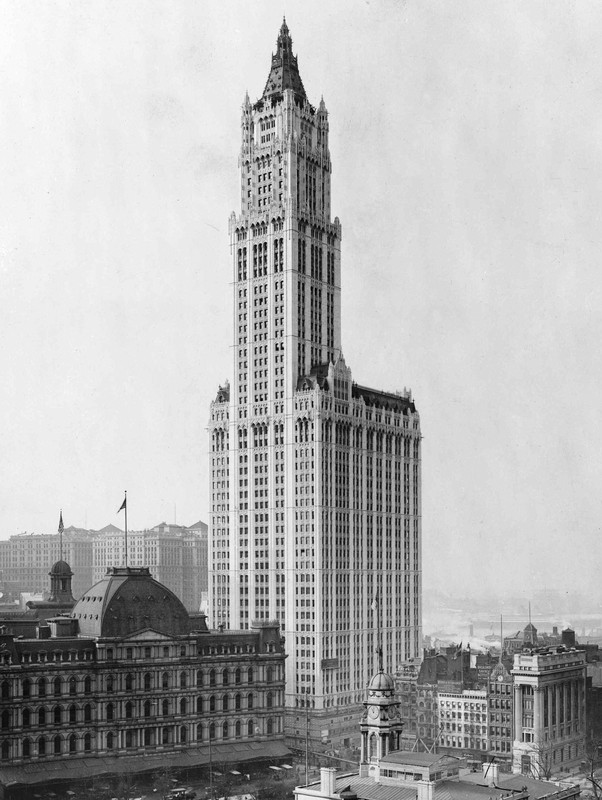 Backstory and Context
Considered by many to be one of the most beautiful buildings in NYC, the Woolworth Building is also one of the most architecturally significant buildings in the city. The ornate cruciform lobby is particularly significant and features veined marble floors, vaulted ceiling, mosaics, stained-glass ceiling light and bronze fittings. The building is an homage to the work of architect, Cass Gilbert, and the artisans and artists he employed.
Frank Winfield Woolworth (April 13, 1852 – April 8, 1919) made his fortune by founding the F.W. Woolworth Company, one of the world's most successful five-and-dime stores. Despite having numerous buildings in his chain store empire, Woolworth had aspirations to build a skyscraper to immortalize his name, and the idea for the Woolworth Building was born. In 1910, Woolworth commissioned architect Cass Gilbert to design the Woolworth Building, which was to serve as the central corporate headquarters and office space for the Woolworth Company.
Construction on the building began that year, and in 1913, it was completed and ready to be inhabited. Not only was the building an architectural marvel, but it was also, at the time of its completion, the largest building in the world. It remained so for 17 years.
On November 13th, 1966, the building was added to the National Register of Historic Places and Designated as a National Historic Landmark, and on April 12th, 1983, it was designated as a New York City Landmark. The Woolworth Building was owned by the Woolworth Company until 1998, when it was sold to the Witkoff Group. Since the sale of the building, it has undergone numerous renovations, and plans have been in the works to convert parts of the building into office space, as well as luxury apartments.
The building has been the scene of many Hollywood movies, including 2016's "Fantastic Beasts and Where to Find Them." The only way to see inside the Woolworth Building is to work there or take a guided tour of the lobby, mezzanine, and cellar. Many of the tours are led by the architect's great-granddaughter, Helen Post Curry.
Sources
Woolworth Building, National Register of Historic Places Nomination Form,. National Park Service Data Asset Management System. January 23, 1978. Accessed March 06, 2017. http://focus.nps.gov/GetAsset?assetID=6dc5a47d-3a9d-4775-b94d-ebcbabe694b0.


Additional Information