Marrow Bone Spring
Introduction
Marrow Bone Spring is an archaeological site located above an 18th century Native American settlement and a 19th century trading post that is believed to have been the first settlement of the city. The site was added to the National Register of Historic Places in 1978 and as a Texas State Archaeological Landmark in 1981. This site makes an excellent point of departure for the Arlington Pioneer Trail, or for visiting the nearby Colonel Middleton Tate Johnson Plantation Cemetery.
Images
Marrow Bone Spring information panel (www.waymarking.com)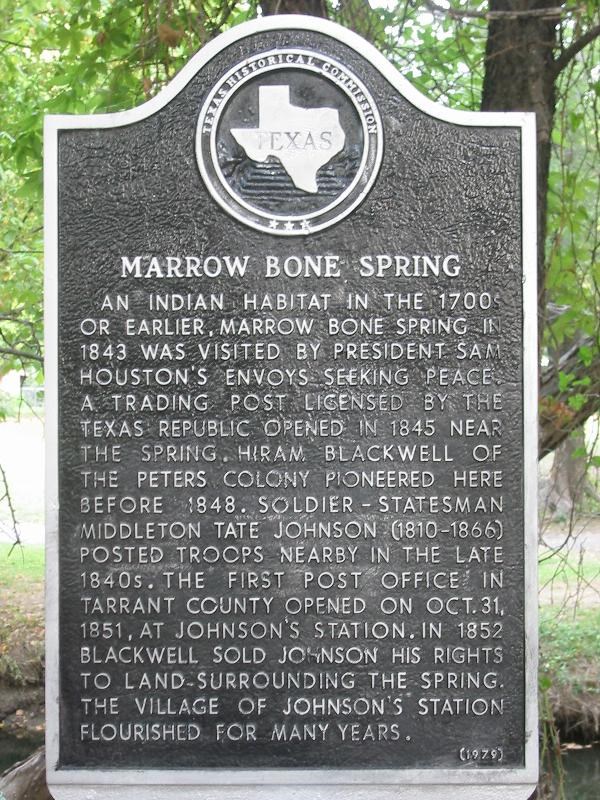 The large stones found in the landscape gave Marrow Bone Spring its name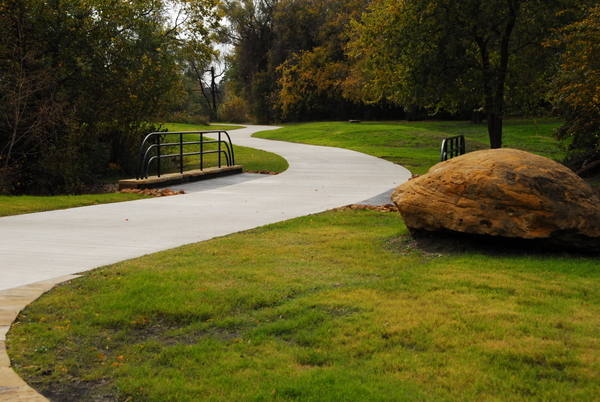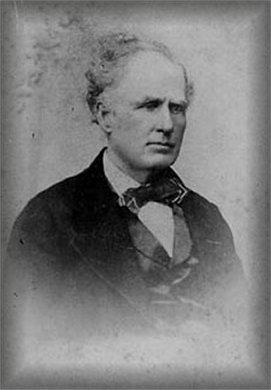 Backstory and Context
The earliest pioneers believed that the large stones distributed around the landscape were the fossilised remains of large animals, and gave the site and nearby river its names: Fossil Spring, Big Bone Spring, and Marrow Bone Spring. Unfortunately, much of the old Native American settlement site is now submerged under Lake Arlington, and little else is known about their ways of life. From at least the 1700s, Native American tribes such as the Comanche and Wichita inhabited the area, as indicated by arrowheads, grinding stones, and other artefacts excavated from the site by local archaeologist Cody Davis. In 1843 President Sam Houston sent envoys to sue for peace with the Comanche, and the resulting treaty is believed to have been signed in this area.
Two years later a trading post was established by members of the Texas Republic, and from 1952 was defended by the troops of Captain Middleton Tate Johnson. After successfully serving in the Mexican-American War, Captain Johnson secured ownership of the surrounding lands from the Wichita tribes, and established a home and cotton plantation near the spring in 1848. It was during this time that the settlement became known as the village of Johnson's Station, a settlement that would eventually grow into the town of Arlington. Johnson would go on to serve as commander of the Fourteenth Texas Cavalry Regiment for the Confederacy during the Civil War, and during the Reconstruction period after the war he assumed political office.
Sources
Frazier, Donald T. "Johnson, Middleton Tate." Handbook of Texas Online. Accessed Februrary 20, 2016. https://tshaonline.org/handbook/online/articles/fjo20.

"Preserving Arlington: Past Visions, Future Realities." Arlington Landmark Preservation Commission. January 2010. https://web.archive.org/web/20150702042725/http://www.arlington-tx.gov/cdp/wp-content/uploads/sites/...

Shannon, Gayla W. "Arlington, TX." Handbook of Texas Online. Accessed February 20, 2016. https://www.tshaonline.org/handbook/online/articles/hja13.

"TCAS Benchmark." Tarrant County Archaeological Society 23, no. 1 (November 2009): 1-7. http://www.txarch.org/pdf/TarrentCoNewsletters/TCASNewsletter_09-11.pdf
Additional Information