The Madame CJ Walker Museum and WERD Radio
Introduction
Located in the original beauty shop operated by a licensee of entrepreneur Madame CJ Walker in the 1950s, this small museum preserves the history of Walker's business and her many accomplishments. The building also houses Atlanta's WERD Radio--the first Black-owned station in North America. On October 3rd, 1949, WERD was officially the first Black-owned radio station on the air (New York Daily, 1999). This first station was located at 54 Hilliard St NE, inside of the Prince Hall Masons Grand Lodge. This entry discusses both Madame CJ Walker and the history of WERD.
Images
The Madam C.J Walker Museum located in Atlanta, Georgia.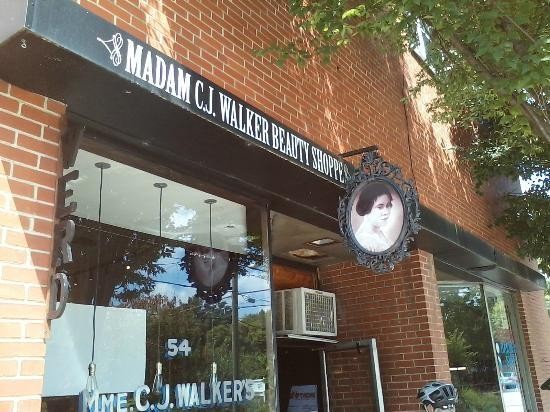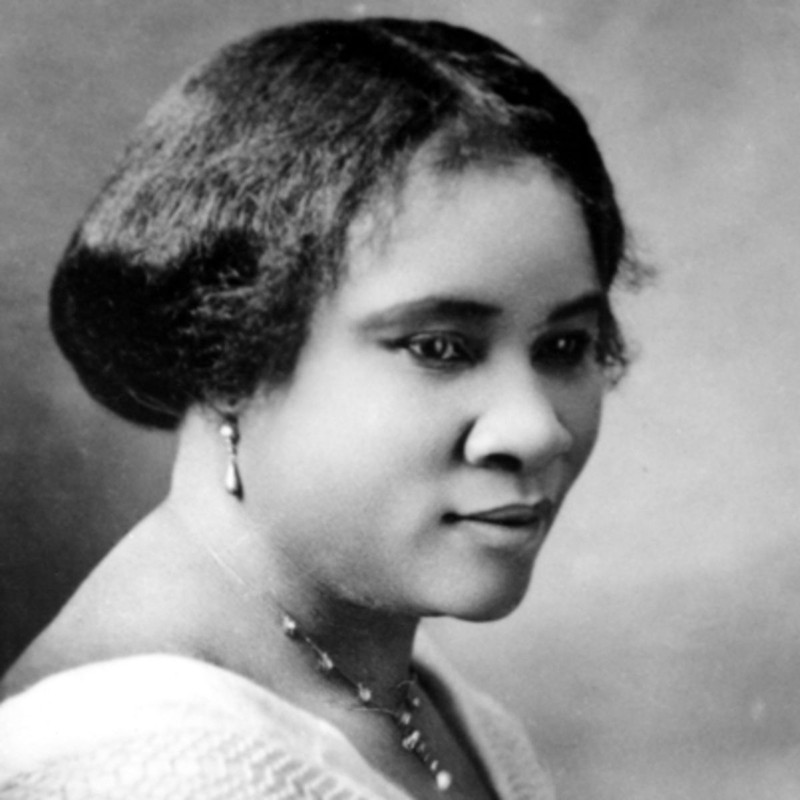 The museum collection includes artifacts such as hair care tools and irons that were used for pressing hair. This photo comes from the museum's Facebook page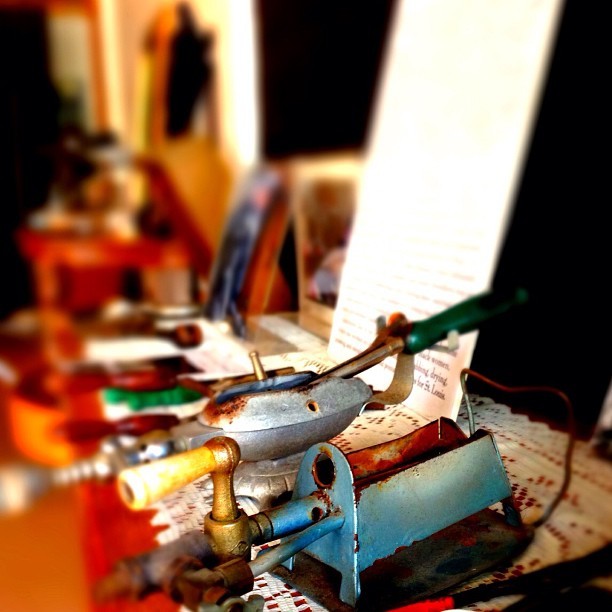 Jesse B. Blayton, Founder of WERD Radio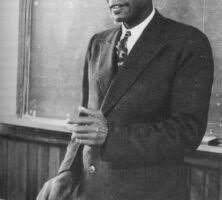 Prince Hall Masonic Lodge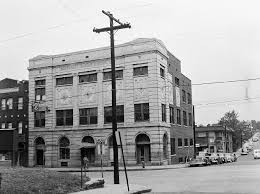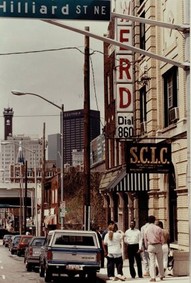 Backstory and Context
   The museum was created in 2004 by the current museum curator, Ricci Deforest.  Born by the name of Sarah Breedlove, Madame CJ Walker would go on to become the first African American woman to become a millionaire entirely by herself. Suffering from a scalp disease, Walker created hair treatment products for African American women in the early 1900s. She sold them locally before traveling throughout the region, performing hands-on hair treatments to show the unique qualities of her products. Walker established a laboratory and taught beauticians how to deliver and promote her products in their homes and salons.  
     In Walker's early life, she escaped an oppressive situation. She later met and married a man by the name of Moses McWilliams. After having a child with McWilliams, she was widowed and moved to St. Louis to work with her brothers in a barbershop. She earned enough to support her daughter and eventually met her second husband, Charles J. Walker. Mr. Walker saw the value of Walker's products and encouraged to start her own business in the beauty industry.
     Madam C.J. Walker's success allowed her to become the first completely self-made female African American millionaire. Walker gave generously, donating money to support scholarship funds, helping the elderly, and becoming the largest single donor to the NAACP's anti-lynching campaign. She was also the largest single donor to the African American YMCA in Indianapolis. 
Prior to being a museum for Made CJ Walker, the location was home to WERD. "Jesse B. Blayton Sr. of Fallis, Oklahoma was the first owner of WERD radio in Atlanta. Blayton began his career as an accountant upon the completion of his degree from the University of Chicago. After finishing his degree, he became the first Black Certified Public Accountant in the United States in 1928. At this time, he was only the fourth Black person in the U.S. to have achieved this accolade. With this certification below his belt, he decided to move to Atlanta, Georgia to open his own practice as a CPA. With such a small number of Black people entering this field, Blayton decided to teach accounting at Atlanta University, what is now Clark Atlanta University. After having multiple intentional conversations with his students, he realized that the lack of Black people in this field of work was due to the inherent racism many white CPAs had towards Black people. Because the students he taught were discouraged from becoming accountants, he decided there had to be another way to reach and engage the Black community, especially with only seven Black people having CPAs at this time in the United States (Manos, 2009).
     In 1949, Jesse Blayton decided to purchase a station for $50,000 as a way to reach out and interact with younger crowds of Black kids. On October 3rd, 1949, WERD was officially the first Black-owned radio station on the air (New York Daily, 1999). This first station was located at 54 Hilliard St NE, inside of the Prince Hall Masons Grand Lodge. Upon opening the station, Jesse Blayton hired his son Jesse Jr. as the manager of the station. Jesse Jr. was responsible for hiring the "Four Horsemen" of the station. This included Jack Gibson, Jimmy Winnington, Joe Howard, and Roosevelt Johnson. Gibson acted as the Disk Jockey for the Station, while Howard, Johnson, and Winnington planned to program for the station. The Four Horsemen became some of the most popular radio personalities of the 1950s (Manos, 2009). Blayton Jr. also bought in a fifth employee, Ken Knight, who acted as the program director for the station. Most of the programming put in place was to attract and inform Black people about what was going on in Atlanta (Etling 2005). Blayton liked to reference the style of WERD as "Negro Appeal" (Manos, 2009). Blayton Sr. had now fulfilled his vision, which was "My purpose is to put on programs which will aid in creating more goodwill between the races in this area. And I wish to say that my desire is to create that goodwill within the existing pattern of this community. I believe strongly in this pattern and am going to do everything I can to maintain it and strengthen it." (Madam Museum, 2020)
     Due to the state America was in during the creation of WERD, Blayton was faced with many obstacles in making his vision come true. When purchasing this station, he was only allowed to be in the air from sunrise to sunset. This was not the case for other white-owned stations. Those stations were allowed to be on air at all times of the day, with little to no restrictions. Not only was Blayton faced with limited air time, but he also had limited frequency power to reach his audience (Amer, 2016). The radio signal was strong enough to reach most of the city, but as it began to reach more suburban areas, the signal got weaker and weaker. At this time, Atlanta had a population of approximately 331,000 people. Out of this 331,000 people, 35% of this population was Black people. This means that WERD had the opportunity to reach about 116,000 Black people through their airwaves (Madam Museum, 2020). 
     With WERD growing in popularity among the Black Community, many Black leaders, especially those located in Atlanta, would use this station as a platform to communicate messages to the community. This station played a major role in the Civil Rights Movement, as it had a largely Black audience to spread news and messages to. Its location in the Masonic Lodge made it very convenient for big names in the Civil Rights Movement to have access to being on air from this station. This lodge was also the home to the headquarters of the Southern Christian Leadership Conference (SCLC), whose vice president was none other than Dr. Martin Luther King Jr. himself (Manos, 2009). Many members of the SCLC would freely walk over to WERD to relay messages or even just to sit in on sessions. Not only was this a space to disseminate information to the Black community, but it was also a place of fellowship for people who cared about the well-being of Black people. In this period of time, there were not a lot of places where Black people were freely allowed to engage in activities that white people got to participate in as well, nor were they allowed to use the same facilities as white people. Aside from being a place to get business done, WERD allowed shows to be held in this building as a way for Black people to showcase their talent in a safe place (Amer, 2016).
     There is a lot of history held in this building. If it were not for the initiation of Jesse B. Blayton saw a need for this type of comradery in the Black community, then there is no way of knowing how long Black people would have gone without a radio station that was for them and by them. This was the start of something new, causing more Black people to get involved with radio and broadcasting. As of 2021, there are over 168 Black-owned radio stations in the United States alone. They all have a similar goal in bringing together Black people by the music and activism, just as Jesse Blayton had for his station in 1949. Jesse Blayton took the first step that has led the Black community into a new area and profession. Jesse B. Blayton was a pioneer in radio ownership and if it weren't for him, we would not be as far along in this industry as we are today.
If you would like to visit WERD radio station, which is now a museum for Madame CJ Walker, it is located at 54 Hilliard St NE Atlanta, Ga 30303. You can also visit their Facebook page for updates on upcoming events @themadamemuseum.
" -Kaniya Bates
Sources
"The Madame CJ Walker Building." National Park Service. Accessed August 15, 2016. https://www.nps.gov/nr/travel/indianapolis/walkerbuilding.html. 
"Manos, N. (2009, February 02). Jesse B. Blayton, Sr. (1879-1977). BlackPast.org. https://www.Blackpast.org/african-american-history/blayton-sr-jesse-b-1879-1977/
Etling, L. W. (2005). WERD. In New Georgia Encyclopedia. Retrieved Aug 24, 2020, from https://www.georgiaencyclopedia.org/articles/arts-culture/werd/
"Salute to Black-Owned Radio / First Station, Werd, Took to the Air 50 Years Ago." New York Daily News, vol. 60, 1999, pp. 60–60.
"WERDStudio." Madam Museum, https://www.madamcjwalkermuseum.com/werdstudio. 
Amer, Yasmin. Werd: America's First Black-Owned Radio Station | CNN. CNN, 28 Feb. 2016, https://www.cnn.com/2016/02/10/living/werd-first-Black-radio-station-feat/index.html.
"Home." Robert W. Woodruff Library, https://www.auctr.edu/. 
"About Special Collections." Georgia State University Library, https://library.gsu.edu/special-collections/. "
-Kaniya Bates
Image Sources
"Home." Robert W. Woodruff Library, https://www.auctr.edu/.

"About Special Collections." Georgia State University Library, https://library.gsu.edu/special-collections/.

Additional Information