Deep Eddy Beach - Historical Marker
Introduction
Deep Eddy Resort, named for a deep hole in the Colorado River's bed that caused an eddy to form, was built in 1902 and included campsites, picnic areas, rental cottages, and a cable ride into the river. Today, Deep Eddy pool is a popular recreation area maintained by the City of Austin. It is the oldest swimming pool in the state and still is home to a bathhouse built by the Works Progress Administration during the Depression.
Images
Deep Eddy Historical Marker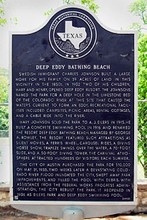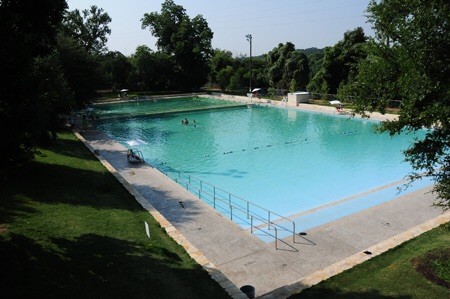 Historical postcard of Deep Eddy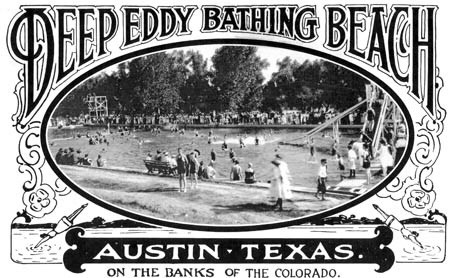 Backstory and Context
The Works Projects Administration (WPA) was created by the order of President Franklin D. Roosevelt and was established when the Emergency Relief Appropriation Act of 1935 was passed by U.S. Congress. The WPA was part of the American New Deal agency, which created jobs for the unemployed during the Great Depression. The jobs were created by introducing public works projects, such as the building of public buildings and roads. During its peak year in 1938, it provided three million jobs. During he length of its existence, from 1935-1944, the jobs provided by the WPA neared eight million. It ended on June 30, 1943, as unemployment rates were low due to the work shortage caused by WWII.
The land that the pool now sits on was originally on the 39 acres bought by Swedish immigrant Charles Johnson in the 1850s. He purchased the land to build a large home for his family. Two of his children, Mary and Henry, opened Deep Eddy Resort on this land. AJ Eilers bought the land from Mary Johnson in 1915. Eilers built a swimming pool in 1916. The resort included silent movies, a ferris wheel, carousel rides, a diving horse show, trapeze swings over the water, a 70-foot slide, and a 50-foot diving tower. The park was purchased by the City of Austin on May 31, 1935 for $10,000.
Sources
"Deep Eddy Bathing Beach." The Historical Marker Database. Accessed October 13, 2015. http://www.hmdb.org/marker.asp?marker=25826. "Deep Eddy Pool." Wikipedia. Accessed October 13, 2015. https://en.wikipedia.org/wiki/Deep_Eddy_Pool. "Deep Eddy Pool." City of Austin. Accessed October 13, 2015. https://austintexas.gov/department/deep-eddy-pool. "Scenes From the History of Deep Eddy." Austin Chronicle. June 1, 2007. http://www.austinchronicle.com/news/2007-06-01/479762. "Works Progress Administration." Wikipedia. Accessed October 13, 2015. https://en.m.wikipedia.org/wiki/Works_Progress_Administration.
Additional Information