Elvira T. Manor Davis House - Historical Marker
Introduction
This historic house was built by Elvira T. Manor Davis (1841-1918), the widow of Blackstone H. Davis, whose family owned a prominent area quarry responsible for supplying the stone for the 1853 Texas Capitol. She purchased the land surrounding the house in 1896 and the house was completed by 1904. Design features of the house, such as the porch columnns, balustrade, and bay windows exhibit a transition from Victorian-era to classical revival design.
Images
The historical marker for the home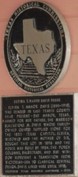 The Elvira T. Manor House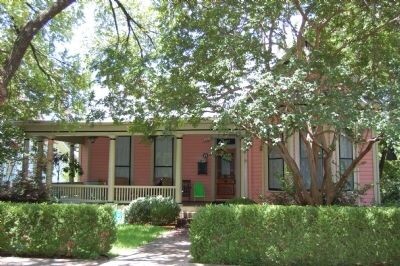 The 1853 Texas State Capitol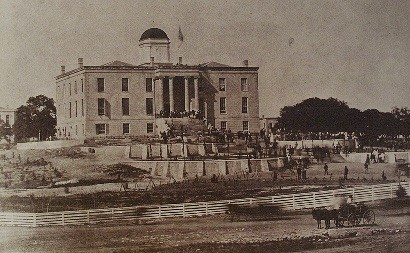 Backstory and Context
Victorian-era design is known for heavy ornamentation. Its characteristics include a use of Middle Eastern and Asian influences in the interior decoration. Movements that mark their beginnings in the Victorian era and gothic period include the Arts and Crafts movement, the aesthetic movement, Anglo- Japanese style, and Art Nouveau style. The classical revival style, popular in the late eighteenth and early nineteenth centuries, exhibited features of Roman structures of antiquity. Buildings of this style are often rectangular and symmetrical in a manner similar to classical temples. The walls are often of brick, stucco, stone, or wood construction. Buildings of this style also often feature a two-story monumental portico, painted white, with a triangular pediment containing a semi-circular window within its tympanum, an entablature above the columnns, and a pediments roof supported by four columnns resting on square bases. The style experienced a revival in the late nineteenth- mid twentieth centuries.


The 1853 State Capitol building was the second of three buildings to serve this purpose. It burned down in 1881. The current Capitol building was completed in 1888 and designed by Elijah E. Myers. Construction on the building began in 1882 and was supervised under civil engineer Reuben Lindsay Walker. The building is 308 feet (94 m) tall, making it taller than the U.S. Capitol in Washington, DC and the sixth tallest state Capitol in the nation.
Sources
"Elvira T. Manor Davis House." The Historical Marker Database. Accessed November 5, 2015. http://www.hmdb.org/marker.asp?marker=25687. "Classical Revival style." The Free Dictionary. Accessed November 5, 2015. http://encyclopedia2.thefreedictionary.com/Classical+Revival+style. "Texas State Capitol." Wikipedia. Accessed November 5, 2015. https://en.m.wikipedia.org/wiki/Texas_State_Capitol. "Victorian Decorative Arts." Wikipedia. Accessed November 5, 2015. https://en.m.wikipedia.org/wiki/Victorian_decorative_arts. "1881 Capitol Fire." Austin Fire Museum. Accessed November 5, 2015. http://www.austinfiremuseum.org/blog/afd-historical-incidents/1881-capitol-fire.
Additional Information