USS Recruit (TDE-1)
Introduction
A unique structure that is somewhere between a ship and a building, the USS Recruit is the U.S. Navy's earliest scale-model training ship and the only of three built that remains intact to the present day. With neither crew nor engines, and having never once touched water, the ship was of key importance to the history of maritime combat and national defense during the Second World War and Vietnam War, being used to train more than fifty thousand U.S. Navy recruits over its eighteen years of use. The "ship" has been listed on the National Register of Historic Places, in addition to being listed as a California historic landmark.
Images
USS Recruit 1966 (wikimedia commons)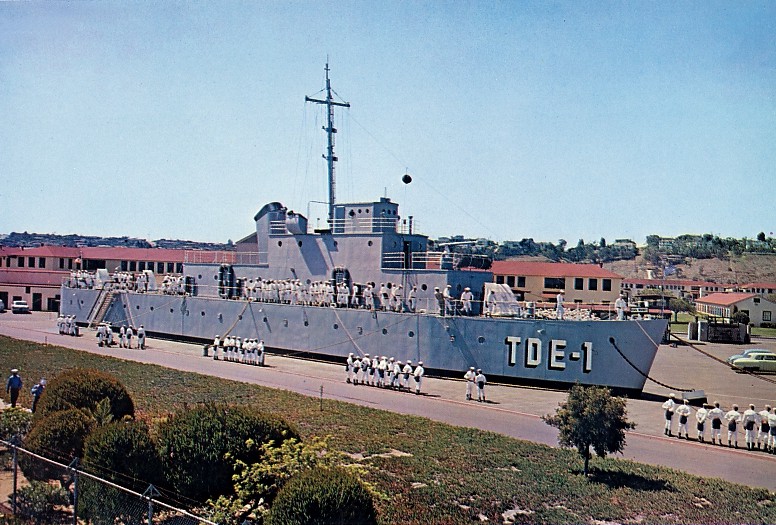 USS Recruit (TDE-1) in 1949 (wikimedia commons)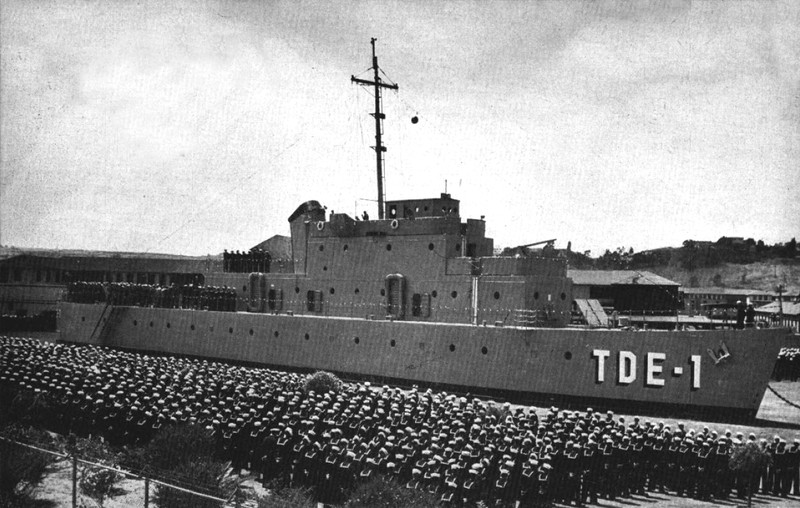 USS Recruit today (http://api.ning.com/)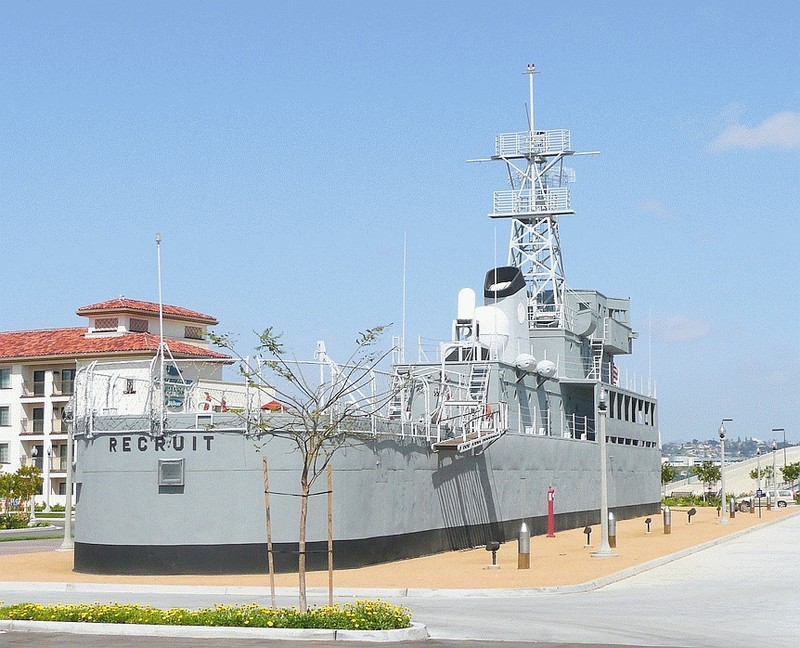 Backstory and Context
Known also as the USS Neversail and by its terrestrial address of Building 430, the USS Recruit was a 225 foot long mock ship constructed in 1949, under the orders of Rear Admiral Wilder D. Baker. The structure was built as an exact replica of the Dealey­class destroyer escort used by the U.S. Navy, but at a two thirds scale to the normal size. It was used as a school for all recruits going through the earliest stages of their naval training, when they would learn the basics of seamanship. Despite the restricted space, the trainees would practice fire drills, cast off lines, stand watch throughout the night, and learn how to operate all of the equipment that would be found on an actual wartime destroyer, such as lifelines, spotlights, telegraph, and signal halyards. The original structure was built of a timber frame covered in sheet metal (much of which was salvaged from decrepit ships), with four "decks" and a forty one foot high mast. One poem written by George E. Johnson in the USS Recruit's logbook is illustrative of how the "dummy" ship was viewed by those who worked and trained there:
The, watch has begun.
Moored port & starboard at NTC
On this very quiet New
Year's Eve

Six hawsers to starboard,
Seven hawsers to port,
Starboard chain to Buoy 1,
We're really held taut.

Concrete and Black-top
Her make-believe sea,
She strains her moorings
In a ten-knot breeze.

Draft nine feet forward
Ten feet aft,
It's never change
on this Naval craft.

All services received
Direct from the pier,
She's had no engines
For many a year.

Electricity, steam,
fresh water too,
Furnished by Public Works
Power Plant Two.

North Island to starboard,
A beautiful sight.
To port lies Gate Six,
All's quiet tonight.

Dead ahead lies Camp Nimitz
Where training begins,
Astern lies Point Loma
And the Bali Hai Inn.

Anchor lights bum bright
No stars are in sight,
The decks are silent,
On this New Year's night.

She's made of plywood,
Sheathed in steel.
Her deck guns are wooden.
Her "K" guns real.

Recruits look forward
To a trick at her wheel,
To them her helm
Has a magic feel.

She's been in commission
Thirteen long years.
Started thousands of Sailors
on Naval careers.


Admirals and Generals
Civilians too, Have trod her decks
and met her crew.
She's a famous old ship,

She's open for tours.
To all of you.
Happy New Year
A Training Aid too,

To all officers and men.
Past, Present and Future
From an old wooden friend:
USS Recruit (TDE-1).
(January 1, 1963)
Following the Second World War, the USS Recruit had to go into "dry-dock" for three months in the mid-1950s, as it required some refurbishment and repairs. The non-ship went back into service until March 1967, when a technicality caused the USS Recruit to be decommissioned (the indexing system that the Navy were using to classify their ships would not accept the non-ship as a valid vessel). However, the ship was recommissioned in the early 1980s when renovations of the decrepit vessel took place to transform her into a boot camp for operators of guided missiles. During this period of use a wooden anchor, three-inch wooden guns, and a timber depth charge launcher were installed on the vessel. Most of the original classroom spaces inside the ship were modernized and enlarged; meaning that up to eighty recruits could be trained within it at a time. By 1996 the ship was closed once again, as the Naval Training Centre in the Point Loma neighbourhood of San Diego closed.
Despite being unsinkable the ship is under ongoing threat of demolition, though there are continued calls to transform this historic structure into a maritime museum. The most recent renovations of the ship's exterior were completed in 2015.
Sources
"USS Recruit: A Sailors first ship." Quarterdeck. Accessed August 2016. http://www.quarterdeck.org/book/recruit.htm

Long, Patrick. "A Ship that never sailed - USS Recruit (1949)." US Military. June 9 2015. Accessed August 2016. http://usmilitary.about.com/od/navybase/fl/A­Ship­that­never­sailed­USS­Recruit­1949.htm

Perry, Tony. "Former Navy training vessel 'Neversail' in San Diego is again shipshape." LA Times, November 11, 2015. Accessed August 2016. http://www.latimes.com/local/california/la­me­1111­veterans­day­neversail­20151111­story.html
Additional Information