Chandler Museum
Introduction
The McCullough-Price House is a 1938 pueblo revival home that is now home to the Chandler Museum. The Chandler Museum includes the historic McCullough-Price House and Tumbleweed Ranch. The home was built as a winter residence for William D. McCullough of Detroit in 1938, but it was acquired by Arthur and Louise Price in 1950. (Louise Price was the niece of Dr. A. J. Chandler, who founded the city that bears his name today. In 2001, their daughter, Suzanne Price Propstra, donated the home to the city for use as a museum. In addition to the exhibits at the museum, the organization also maintains ChandlerpediA, a local history online resource.
Images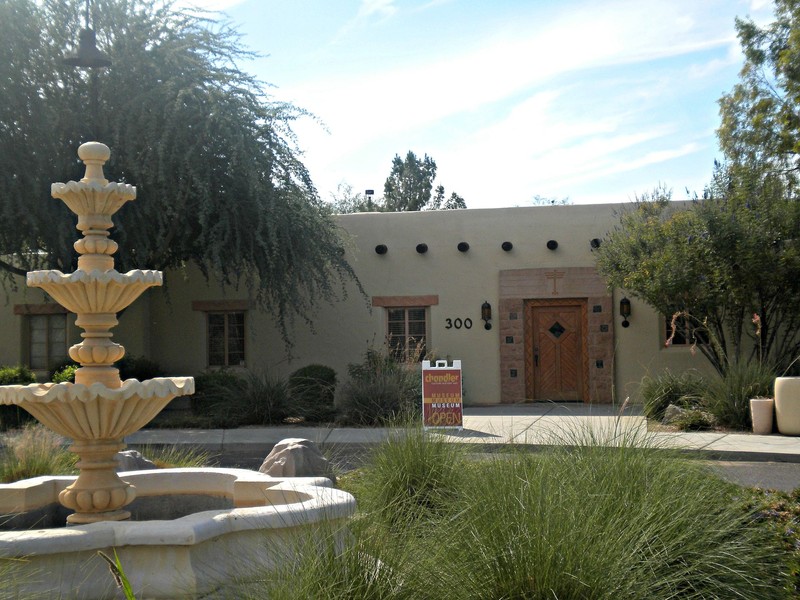 Backstory and Context
By 2001 it had been vacant for some time and had become run down. Meanwhile, near the home, major development was occurring, as Chandler Fashion Center was under construction (to open in October 2002). The city began to renovate the property into a state-recognized visitors center which opened in 2007 after $850,000 had been spent on improvements. But financial troubles and "fail[ure] to connect with an audience" (according to the city museum administrator Jody Crago) forced its closure in 2009. That same year, it was listed on the National Register of Historic Places. It reopened in 2011 as an archive research center focusing on local history, office space for museum staffers (moving from the museum in downtown Chandler) and satellite exhibition space.
A new museum is in the works and will add 10,000 square feet for exhibits and archives. It will be located on the site adjacent to the current museum. The new museum will house historic artifacts linked to Chandler and East Valley history, with rotating exhibits featuring the museum's collection, as well as traveling national exhibits that feature history and art.
There will be easy access to the museum from the 101 and 202 freeways, proximity to vast shopping and dining options, and future development. It also establishes a new City of Chandler cultural facility on the west side of the city. The New Museum is projected to open its doors in 2018.

In addition to the main museum at the McCullough-Price House, Tumbleweed Ranch is a collection of historic homes, buildings, and farm equipment located at Tumbleweed Park at 2250 S. McQueen Rd. the ranch includes exhibits and programs about Chandler's agricultural past including how early settlers lived and work and the history of local agriculture and livestock industries.
Sources
1. "McCullough-Price House," entry in the City of Chandler, Arizona's CHANDLERPEDIA includes detailed architectural information as well as general history of the house, accessed August 27, 2016. http://chandlerpedia.org/Browse_ChandlerpediA/Places/McCullough-Price_House 2. "Information for Teachers AND Upcoming Events at the museum," City of Chandler museum website, accessed August 27, 2016. http://www.chandleraz.gov/default.aspx?pageid=996 3. "New Museum: The City of Chandler is developing a new museum," City of Chandler museum website, accessed August 27, 2016. http://www.chandleraz.gov/default.aspx?pageid=1002 4. "About Us," Museum visitor information, City of Chandler museum website, accessed August 27, 2016. http://www.chandleraz.gov/default.aspx?pageid=997 5. "Tumbleweed Ranch," City of Chandler museum website, accessed August 27, 2016. http://www.chandleraz.gov/default.aspx?pageid=625 6. "Price House: a snapshot in time," a documentary of the home prepared by City of Chandler's Public History Department, 26 minutes, 2005. Co-produced by the City's Communications & Public Affairs and Community Affairs Departments; accessed August 27, 2016. http://chandleraz.granicus.com/MediaPlayer.php?view_id=15&clip_id=162
Additional Information