Chestnut Square Historic Village
Introduction
Chestnut Square Historic Village is a collection of nine historic buildings on 2.5 acres just south of the downtown McKinney, Texas, square. Overseen by the Heritage Guild of Collin County, the village demonstrates the life-styles of people in Collin County from 1854 to 1940 through artifact displays, architectural and cultural history tours, and reenactments.
Images
From time to time the Chestnut Square Historic Village hosts historical reenactments. One of those, shown in this photo, was the Spirit of the Cowboy Festival, held in 2012.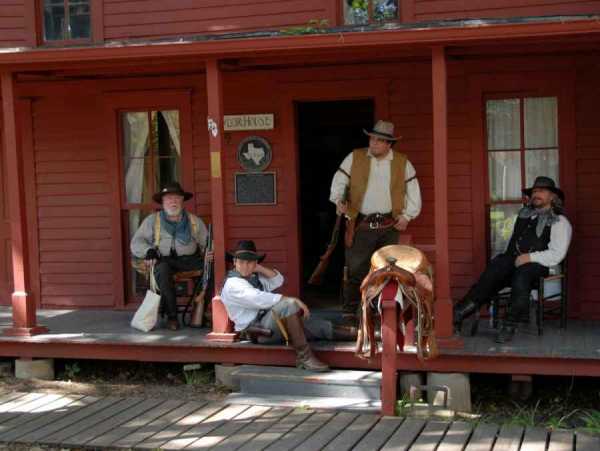 Delaney House, the original building in the Chestnut Square Historic Village complex . It is currently being renovated as a bed and breakfast.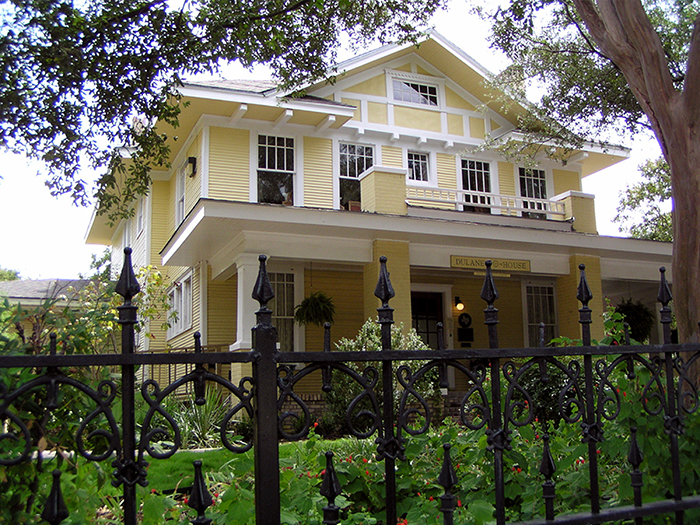 Backstory and Context
In November 1973, Joan Palmer Hughston organized a small group of women to preserve a sample of the historic heritage of McKinney, Texas: Margaret Hughston, Martha Schubert, Frances Caldwell, Nan Dyer, Irene Hay Thomas, Frieda Comegys, Lucy Burkett, and Ethel Holt.
Their first project was to host a Christmas tour of homes. Margaret Hughston's home on Howell Street represented A Children's Christmas. Joan Hughston's home on Louisiana depicted A Victorian Christmas. Ethel Holt showed her farm house as A Farm Christmas. Martha Schubert's represented A Family Christmas and Nan Dyer's home depicted A Modern Christmas.
The financial rewards enabled the group to purchase the Dulaney home and the adjacent Dulaney cottage on Chestnut Street. In 1974 the Heritage Guild of Collin County was formed to perpetuate the preservation these homes. Since then, the guild has added other buildings to its collection to create an entire village:
Dulaney House: Built in 1916 by a prominent Dallas banker, the house features sleeping quarters, original fixtures, solid mahogany pocket doors, and indoor plumbing. It is currently under renovation to become a bed and breakfast.
Dulaney Cottage: This house, constructed in 1875, is the doctor's office (and family residence) of the local physician Joseph Dulaney. The building displays several nineteenth-century medical tools and supplies, and docents explain the context and significance.
Faires House: Built in 1854, this is considered the oldest standing house in McKinney. The original owner was a Blacksmith who migrated to Texas from Tennessee.
Wilmeth Schoolhouse: A replica of the 1892 McKinney schoolhouse, this building is used to illustrate the gendered parameters of education at the time (the school has an entrance for boys and one for girls) and the connection of the school year schedule to domestic chores and agriculture.
Taylor Inn: Built in 1863 as an inn (with attached manager's residence), this building was one of the first bed-and-breakfast locations in the region (even before the phrase was in popular use.) For twenty-five cents traveling salesmen could obtain a bed for the night, have their clothes laundered, and a receive hot breakfast.
Johnson House: Built in 1870 by a local photographer, and purchased in 1878 by a prominent local physician, this house is currently used as a bridal suite
Dixie Store: Built in 1918, this general store filled the supply needs of local farmers and was also a local gathering place for townspeople to play games or gossip. The last stop on the tour, the store offers village tourists soda, candy, and crafts.
The chapel: The 1994 Foote Baptist Church was moved to this location and restored to turn-of-the-twentieth-century style to represent a typical Congregational meeting house.
Bevel House: This 1920s bungalow can be rented for parties, receptions, and other events.
In its tours and reenactments in Chestnut Square, the Heritage Guild of Collin County emphasizes preserving the past and educating others about the culture and economy of the region. But the guild also deals with a problem that plagues most museums and historic sites: income. Interesting here is how the guild addresses the problem, keeping some of the buildings as static history displays, through which docents lead tours and provide explanation, and having other buildings available for rent as wedding or conference venues (thus providing the guild additional income).
Sources
"Revisiting McKinney's Historic Homes," CBS DFW, accessed August 24, 2016, http://dfw.cbslocal.com/2014/11/13/revisiting-mckinneys-historic-homes/ "Chestnut Square Historic Village," Community Impact Newspaper, accessed August 25, 2016, https://communityimpact.com/dallas-fort-worth/mckinney/features/2016/07/06/chestnut-square-historic-village/
Additional Information