Russian Fort Elizabeth
Introduction
In 1815 the Russians attempted to establish a trading post and military presence in Hawaii, which had been unified into one kingdom under King Kamehameha I. It was built by the Russian Trading Company, led by agent Georg Anton Schaffer who was also a physician. Schaffer was tasked with establishing the fort as well as recovering cargo that was lost in a wreck near Waimea and seized by Kaumuali'i, the island's chief, in 1815. Ultimately, the Russias failed to achieve these goals and the fort came into the possession of the Kingdom of Hawaii. The fort had eight sides, was several hundred feet wide and its walls were 20 feet high. Interpretive panels tell visitors about the site's history.
Images
Drawing depicting the fort as it looked.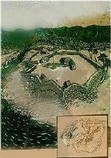 Backstory and Context
The governor of company in Alaska wanted the trading post to resupply the Russian settlements there and serve as place from which company ships could resupply for longer Pacific voyages. Schaffer was not pleased with the pace of negotiations with King Kamehameha and convinced Kaumuali'i to sign a treaty with the Tsar of Russia. Schaffer thought Kaumuali'i wanted to exert power Kamehameha. It was discovered that the Tsar did not sanction this treaty and Schaffer was forced to leave in 1817. The fort was eventually abandoned in 1853.
Sources
Levy, Benjamin. "Russian Fort." National Park Service, National Register of Historic Places. October 15, 1966. http://focus.nps.gov/GetAsset?assetID=a97a669f-e963-4cf6-beb3-b105c6125320. "Russian Fort Island of Kaua'i, Hawaii." National Park Service. Accessed September 5, 2016. https://www.nps.gov/nr/travel/asian_american_and_pacific_islander_heritage/Russian-Fort.htm.
Additional Information