Stonewall Jackson's Birthplace
Introduction
Similar to many Confederate markers and monuments, this bronze plaque was the result of the efforts of women in the early nineteenth century. The United Daughters of the Confederacy funded and dedicated this plaque to commemorate the birthplace of Confederate General Thomas Jonathan "Stonewall" Jackson. Jackson was born on January 21, 1824 in Clarksburg, Virginia. He entered West Point in July 1842 and, in spite of his poor childhood education, was able to graduate seventeenth in his class in 1846. Upon graduation, Jackson served as an officer in the Mexican American War. He also served as an army officer in New York and Florida. In 1851, Jackson became professor of artillery tactics and natural philosophy at Virginia Military Institute in Lexington, Virginia. He resigned from the army in 1852 and later joined the Confederate army where he earned a reputation as a competent and fearless military officer.
Images
Thomas Jonathan "Stonewall" Jackson.
This is a copy of an engraving likely done from a photo original. It was done by Bruce Haymond, brother of Henry Haymond who wrote the History of Harrison County in 1910.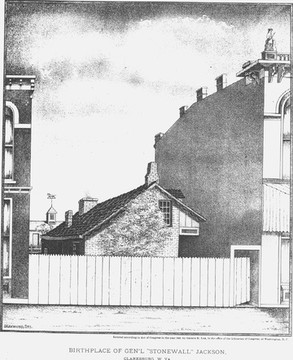 This marker was placed by the Stonewall Jackson chapter of the United Daughters of the Confederacy.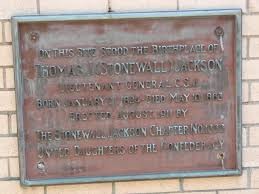 Color postcard of an artist's rendering of the Thomas J. "Stonewall" Jackson birthplace in Clarksburg, WV.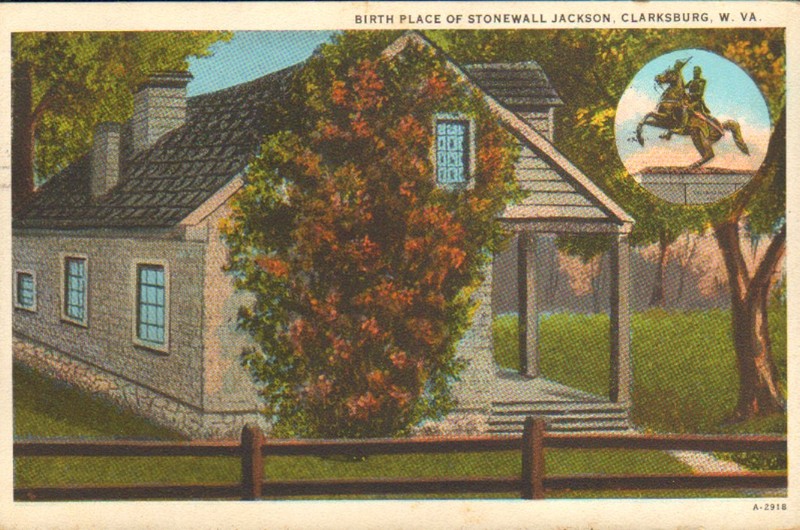 WV Historical Marker, located at the courthouse.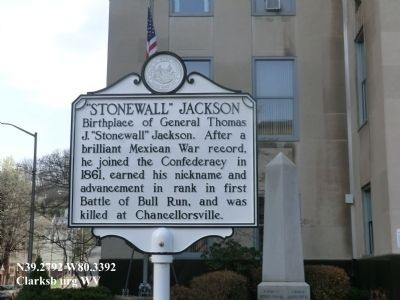 Historical marker and monument at the courthouse.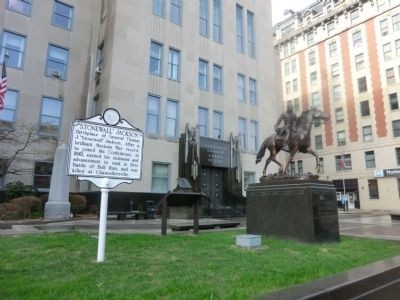 Backstory and Context
In 1831, six-year-old Thomas J. Jackson and his four-year-old sister Laura Ann Jackson moved from Clarksburg to Jackson's Mill near Weston. Thomas and Laura were orphaned and sent to live here with their grandmother, Eliza Cummins Jackson and their uncle, Cummins Jackson after their father, Jonathan Jackson died in poverty in 1826 and their mother, Julia Beckwith Neale Jackson Woodson died in 1831. Thomas helped with various activities on the farm: herding sheep with the assistance of his dog; driving teams of ox; and harvesting the multiple crops grown in the area. Thomas grew up with little schooling, and most of his education was self-taught due to the need for manual labor on the farm. In 1842, he left Jackson's Mill to attend the U.S. Military Academy in West Point, New York. On September 1, 1844, Laura Jackson married Jonathan Arnold, and moved to Beverly, WV where they had four children.
Jackson initially struggled at West Point, largely due to his lack of formal education. However, he applied himself fervently to his studies and graduated seventeenth in his class of fifty-nine students. Immediately after graduating in 1846, Jackson was sent to fight in the Mexican-American War. At a battle at Chapultepec, Jackson refused an order to withdraw his troops, believing that it was too hazardous. When confronted by a superior officer, it became clear that Jackson had made the right decision. In contrast to this display of decision making, Jackson did not resist an order to fire artillery upon crowds of civilians at Mexico City, though he privately believed it was the wrong call. During the war, Jackson was awarded the rank of first lieutenant. He also first met Robert E. Lee, who was then a brevet major and also serving in the war. When the Mexican-American War ended in 1846, Jackson moved to several forts throughout the United States. His frequent reassignments were due in part to his stubbornness and tendency to challenge superior officers.
In 1851, Jackson was appointed to a teaching position at the Lexington, Virginia based Virginia Military Institute (VMI), which was formed just a few years prior. Jackson took his teaching post quite seriously, spending extensive time preparing for lectures. However, his teaching style was not well received. Jackson memorized his lectures and recited them word for word in class. If a question was put forth by a student, it was answered using identical verbiage from the relevant passage of lecture. The wildly unpopular nature of Jackson's classes were exacerbated by his lack of humor and religious zeal; he once attempted to have a cadet dismissed for a small perceived slight. 
While still teaching at VMI, Jackson married Elinor "Ellie" Junkin in 1851. Tragically, Junkin passed away the following year due to complications from birthing a stillborn baby. Jackson remarried to Mary Anna Morrison in 1857. The two had a single daughter, Julia Laura. In addition to his family, Jackson devoted his free time to educating Lexington Blacks about Christianity. This pursuit was motivated by Jackson's belief that African Americans were "ignorant" and needed to be educated in the ways of the white world. Publicly, Jackson made no comments about the institution of slavery. It appears he rarely personally questioned it, instead believing that because God had made some people slaves, it should not be morally challenged. Jackson himself owned six slaves while teaching at VMI, though he had a reputation for treating them fairly and humanely. 
As the Civil War broke out in 1861, Jackson cast his lot with the Confederacy. He served as a Colonel in Virginia and one of his first major battles was the First Battle of Bull Run. Jackson arrived just as Confederate troops were about to be overrun by their Union opponents. General Barnard Elliott Bee Jr. remarked that Jackson was standing like a stone wall, earning the colonel his "Stonewall" moniker. It is unclear if Bee's comment was a commendation of Jackson's resolve, or a diatribe that the colonel had not taken action sooner. Regardless, Jackson's brigade became known as the Stonewall Brigade for the rest of the war. Jackson's leadership and capacity to quickly maneuver his soldiers earned the praise of General Robert E. Lee during the early days of the Civil War in eastern Virginia. Jackson was promoted to general and served as Lee's right hand man for much of the war, with mixed results. Often, Jackson was a tactical genius, outmaneuvering forces many times larger than his own. At other times however, his decision-making was questionable at best and irrational at worst. 
The Battle of Chancellorsville on May 2, 1863 was the last active combat Jackson saw. Reconnaissance before the conflict located an unprepared, unaware, and poorly defended Union camp. Jackson prepared a surprise attack with incredible success. He continued routing Union troops until night forced him to return to his main force. However, the 18th North Carolina Infantry mistook Jackson's party for a Union cavalry force and opened fire upon them. Jackson was shot three times; twice in the left arm and once in the hand. His arm had to be amputated and Jackson developed pneumonia. The general died eight days later on May 10, 1863, due to complications from this affliction.
Thomas Jonathan "Stonewall" Jackson is a complex historical figure. There is no denying his skill and leadership on and off the battlefield; his teachings are still used at VMI and West Point today. Many historians argue that the Battle of Gettysburg and other major later Civil War battles would have played out drastically differently had Jackson survived to command forces in them. Furthermore, Jackson was guided by a strong set of religious scruples and strove to treat all people fairly. Despite these admirable qualities, Jackson still kept slaves and chose to join insurrection against the United States government. His achievements and strength of character should not be dampened by his shortcomings, but tempered by them. The plaque at the site of Jackson's birth was erected in the early nineteenth century by the United Daughters of the Confederacy.
Sources
1. "History of WVU Jackson's Mill." WVU Jackson's Mill. Accessed August 22, 2016. http://jacksonsmill.ext.wvu.edu/about_us/history_of_wvu_jackson_s_mill. 2. "Civil War Women." Civil War Women. Accessed August 24, 2016. http://civilwarwomenblog.com/laura-jackson-arnold/. 3. History.com Staff. "Stonewall Jackson." History.com. 2009. Accessed August 24, 2016. http://www.history.com/topics/american-civil-war/stonewall-jackson.
Image Sources
Harrison County Historical Society.

"'Stonewall' Jackson." The Historical Marker Database. Accessed September 23, 2020. https://www.hmdb.org/m.asp?m=73406.

"'Stonewall' Jackson." The Historical Marker Database. Accessed September 23, 2020. https://www.hmdb.org/m.asp?m=73406.

Additional Information