William Arthur Fickling, Sr. - Father of Cherry Blossoms
Introduction
William Arthur Fickling, Sr., was a real estate magnate credited with giving Macon its cherry trees and making the town the cherry tree capital of the USA. A lifelong resident of Macon, Fickling, Sr. gained his wealth and prominence with the 1937 merger of his fledging real estate company with B. Sanders Walker, Jr.'s insurance agency, which formed the Fickling & Walker Realty and Insurance. In 1949, with his newfound wealth, Fickling, Sr. built his dream home on Ingleside Avenue, and in the front yard was planted a mysterious tree, which, in the early spring bloomed in a profusion of small, white to light pink blossoms. It wasn't until 1952, during a trip to Washington D.C., that Fickling discovered the type of tree that was in his front yard — a Japanese Yoshino Cherry Tree. Eventually, Fickling began giving away cherry trees to his friends and neighbors. The City of Macon took over his philanthropy, and to this day, more than 300,000 cherry trees in Macon are credited to his generosity and love of community. Today, the annual International Cherry Blossom Festival celebrates what is now known as the "Cherry Blossom Capital of the World."
Images
William Arthur Fickling, Sr. - Father of Cherry Blossoms Historic Marker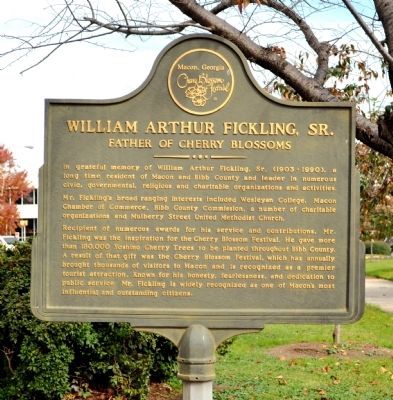 William Arthur Fickling, Sr. - Father of Cherry Blossoms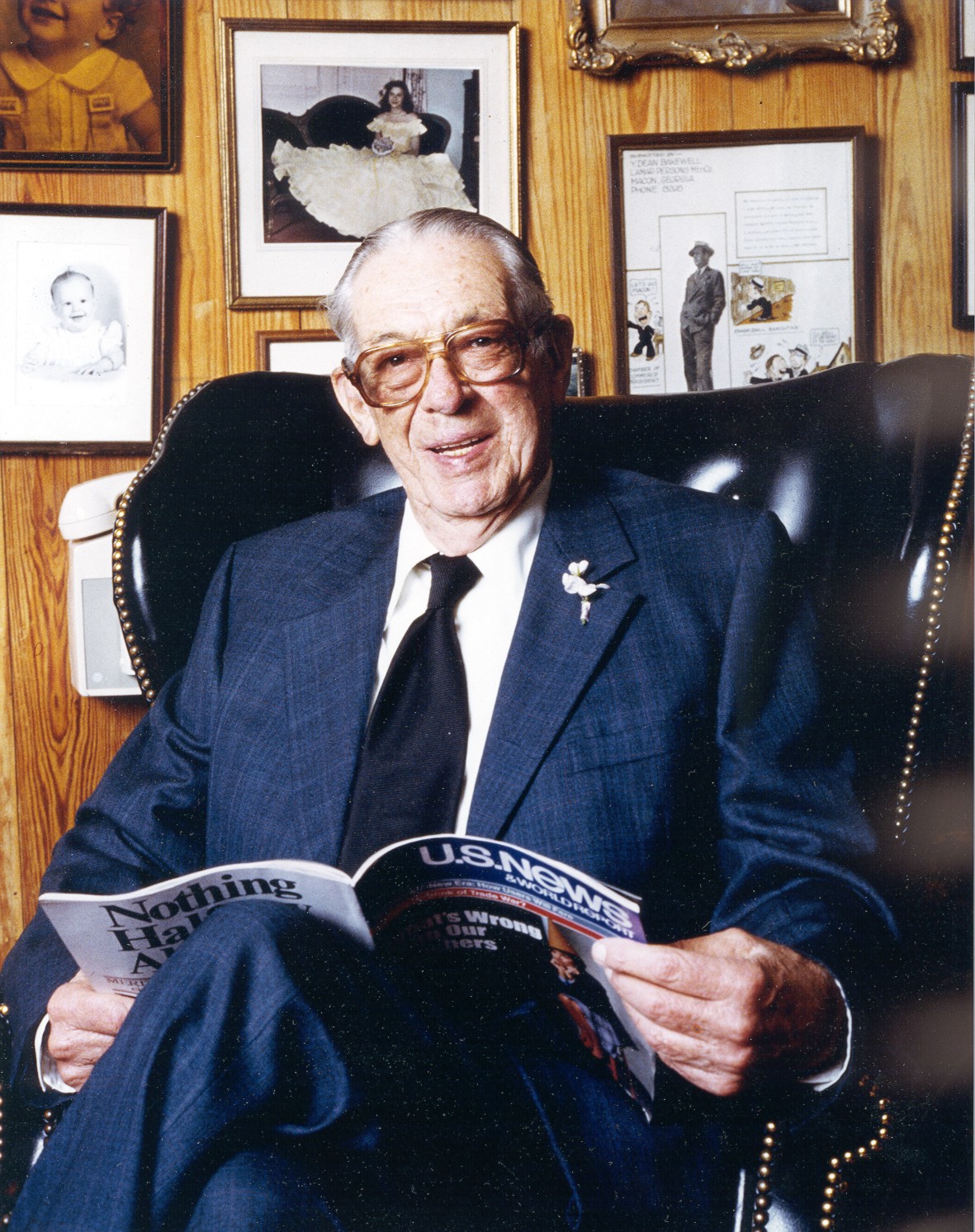 Cherry Blossom Trail during the festival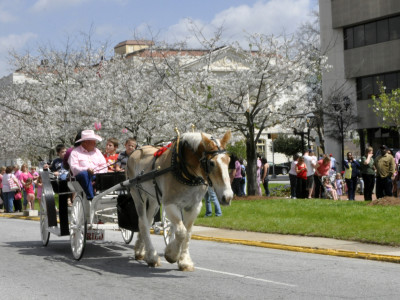 Macon in Cherry Blossom bloom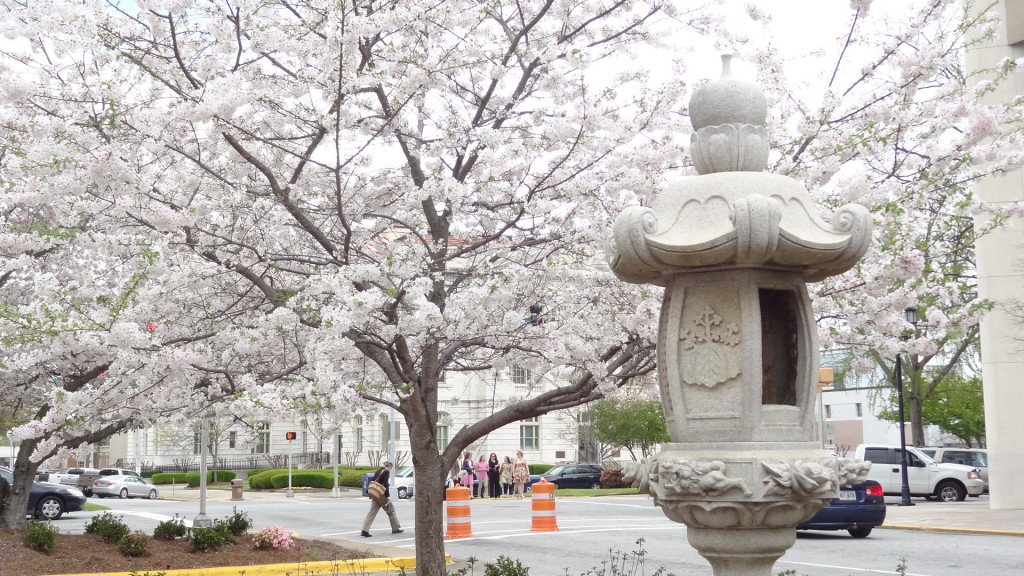 Backstory and Context
The Cherry Blossom Festival
The Macon International Cherry Blossom Festival is one of the biggest cherry blossom festivals in the United States, and over the course of ten days in Macon, visitors from all over come to Macon to see and experience the spectacular display as Macon turns into a pink, cotton-spun paradise with over 300,000 Yoshino cherry trees in bloom.
The festival was born in 1982 due to the Keep Macon-Bibb Beautiful Commission, and the festival was developed around the idea of "love, beauty, and international friendship."1 In addition to watching the cherry trees in full bloom, residents and guests can attend the Mulberry Street Festival, the International Food Fair, the Cherry Blossom Street Party, a Balloon Fest, an Air Show, and the acclaimed Cherry Blossom Festival Grand Finale. Today, Macon continues to see a growth in its Yoshino cherry trees, as the Fickling Family Foundation continues to donate to Macon and Bibb County residents every year.1
Historic Marker Inscription
In grateful memory of William Arthur Fickling, Sr. (1903 - 1990), a long time resident of Macon and Bibb County and leader in numerous civic, governmental, religious and charitable organizations and activities.
Mr. Fickling's broad ranging interests included Wesleyan College, Macon Chamber of Commerce, Bibb County Commission, a number of charitable organizations and Mulberry Street United Methodist Church.
Recipient of numerous awards for his service and contributions, Mr. Fickling was the inspiration for the Cherry Blossom Festival. He gave more than 180,000 Yoshino Cherry Trees to be planted throughout Bibb County. A result of that gift was the Cherry Blossom Festival, which has annually brought thousands of visitors to Macon and is recognized as a premier tourist attraction. Known for his honesty, fearlessness, and dedication to public service Mr. Fickling is widely recognized as one of Macon's most influential and outstanding citizens.2
Sources
1.) Purpose & History. International Cherry Blossom Festival, n.d. Web. September 20, 2016, https://www.cherryblossom.com/about-the-festival/festival-history/ 2.) "William Arthur Fickling, Sr., Father of Cherry Blossoms." Historical Marker Database, hmdb.org, n.d. Web. September 20, 2016, http://www.hmdb.org/marker.asp?marker=49768
Additional Information