St. Johns River Light
Introduction
The St. Johns River Light is the oldest structure still standing in Mayport. It was built in 1858 and is now on the Naval Station Mayport property; it no longer functions as a navigational aid. It should not be confused with the St. Johns Light, which is located two miles southeast, that was built in 1954 and remains active. The St. Johns River light was added to the National Register of Historic Places in 1976. It is not open to the public but it can be viewed from the road.
Images
The St. Johns River Light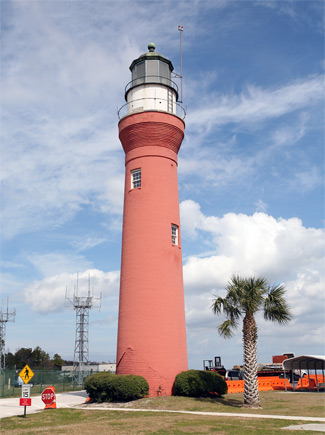 Backstory and Context
The lighthouse was the third one at this location. The first one, built in 1830, was too close to the water and demolished a few years later. The seond one was built in 1830 but it too had problems; it was threatened by constant erosion and shifting sand dunes often blocked light. As a result, the third and present one was built taller (81 feet) and further inland. It operated until 1929 and replaced by a lightship located 8 miles out on the water. This was replaced by the St. Johns Light in 1954. When the naval station built the runway in the 1940s it had to raise the ground level by about 10-12 feet, so the door to the light is completely buried; the only access is a window several feet up.
Sources
Donnelly, R.D. "Old St. Johns Lighthouse." National Park Service, National Register of Historic Places. June 3, 1976. http://focus.nps.gov/GetAsset?assetID=da32bf29-82c0-4e63-8d30-e21fb8534c32. "St. Johns River, FL." Lighthouse Friends. Accessed October 8, 2016. http://www.lighthousefriends.com/light.asp?ID=859.
Additional Information