North Wilkesboro Speedway
Introduction
In 1949, the North Wilkesboro Speedway held its first race, the Wilkes 200. The race featured a 22 car field and was the last stop of NASCAR's new Strictly Stock series. The track was part of the NASCAR circuit until 1996. The track has been closed since that time, with the exception of a handful of races in 2010 ans 2011. Revered as one of the toughest short tracks in the sport, the raceway was known for its test of technical skill, rather than horsepower and speed. With Jeff Gordon's retirement last year, no active NASCAR driver has ever raced in North Wilkesboro.
Images
The track has sat empty for many years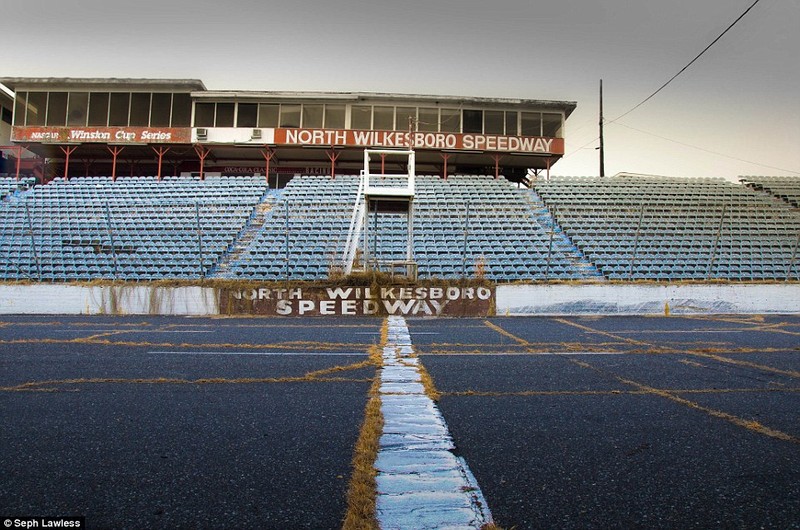 Source: Sophie Jane Evans. DailyMail.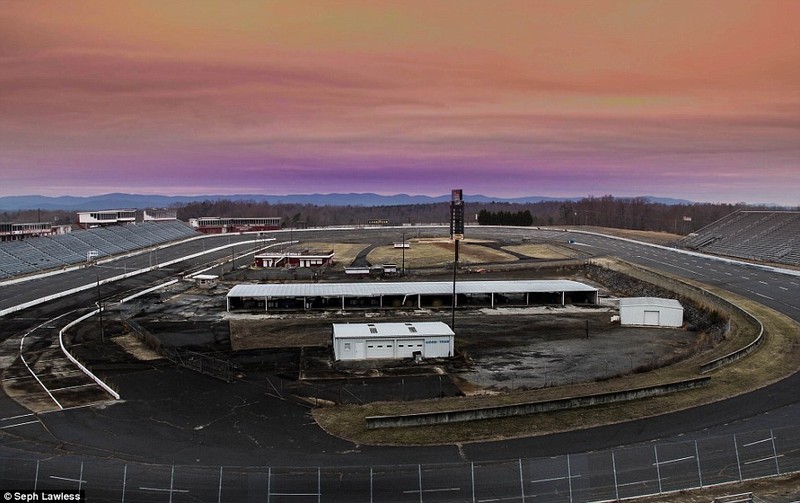 Backstory and Context
Auto racing in the South has long been connected to transporting illicit spirits and evading the law. Wilkes County was once the self-proclaimed "moonshine capital of the world." To be successful in the business, a moonshiner needed a fast car. The sport of auto racing soon grew independently, as residents enjoyed watching good mechanics, fast cars, and skilled drivers.
Junior Johnson took over his parents still at the age of 14, but his skill as a driver made him more than a successful moonshine operation, it made him a NASCAR legend. A member of the NASCAR hall of fame. Johnson was one of the most skilled drivers but the authorities eventually caught the moonshiner and he served an 11-month sentence for his illegal activity. He focused on auto racing and won 50 races.
Bruton Smith purchased Charlotte Motor Speedway in 1959. Smith continued to buy and run race tracks, such as Texas Motor Speedway. He also purchased this racetrack which operated until 1996. W
Sources
Bruce, Kenny. "Thunder in the Hills: North Wilkesboro, 20 Years Later." North Wilkesboro: A Study of the Track, 20 Years Later. September 29, 2016. Accessed October 19, 2016. http://www.nascar.com/en_us/news-media/articles/2016/9/29/remembering-north-wilkesboro-20-years-later.html. Hewitt, Kimberly, Noel Yancey, and Bland Simpson. "Moonshine." NCpedia Home Page. 2006. Accessed October 19, 2016. http://ncpedia.org/moonshine. Jane Evans, Sophie. "The Last Lap: Inside the Abandoned NASCAR Track That Has Crumbled into a Eerie Ruin after Sitting Empty for Four Years." Mail Online. September 24, 2015. Accessed October 19, 2016. http://www.dailymail.co.uk/news/article-3006376/It-s-apocalyptic-Photojournalist-captures-striking-photos-abandoned-NASCAR-track-sat-four-years.html. "Legacy - Midnight Moon Moonshine // America's Favorite Moonshine." Junior Johnson's Midnight Moon // Handcrafted Legal Moonshine. Accessed October 19, 2016. http://www.juniorsmidnightmoon.com/legacy/. Markovich, Jeremy. "What Happens When NASCAR and Moonshine Leave a City Behind?" SBNation.com. September 04, 2015. Accessed October 19, 2016. http://www.sbnation.com/longform/2015/3/4/8126311/north-wilkesboro-speedway-after-nascar. Weaver, Matt. "Remembering North Wilkesboro Speedway 20 Years after Its Last NASCAR Cup Race." Autoweek. September 21, 2016. Accessed October 19, 2016. http://autoweek.com/article/nascar/remembering-north-wilkesboro-speedway-20-years-after-its-last-nascar-cup-race.
Additional Information