Rivers House
Introduction
The Rivers House, also known as the R. L. Clay House, was constructed circa 1930 for R. L. Clay. This one and a half story "period cottage" house, was in turn purchased by Robert Campbell Rivers, Jr., circa 1940. Situated on a thirteen-acre property, this house was donated to the town of Boone by Rachel Rivers-Coffey in 1998, the daughter of Robert Rivers, Jr. The Rivers family served the region with their role in the newspaper business, running not only the Watauga Democrat at the peak of their existence, but also the Blowing Rock Rocket and the Avery Journal.
Images
Rivers Family at Christmas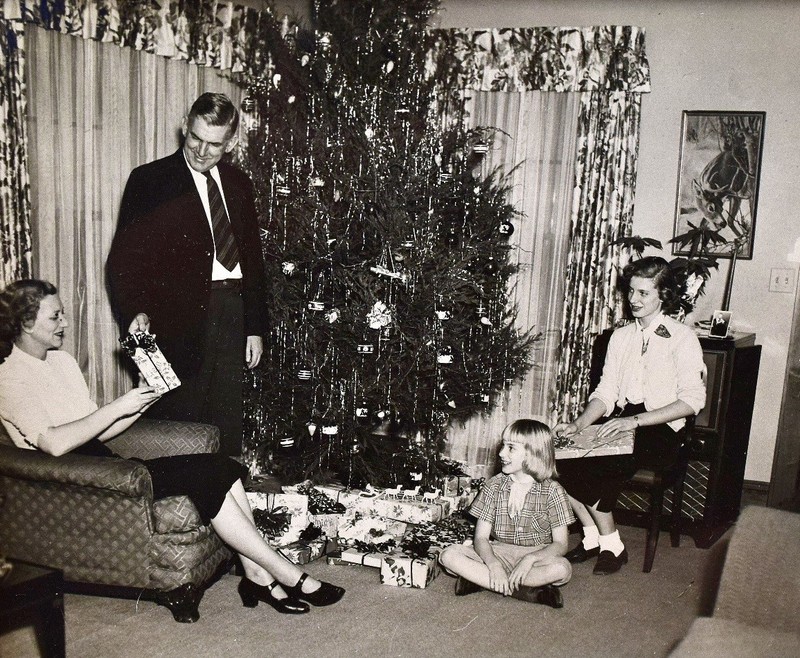 Backstory and Context
The Watauga Democrat was purchased by Robert Campbell Rivers, Sr. in 1889, and was created to "be 'the voice of the Watauga Democrat Party.'" R. C. Rivers, Sr. turned the paper over to his son in 1933, R. C. Rivers, Jr., and it remained with the family until 1994 when Rachel Rivers-Coffey sold the paper, and it has continued to run to the present. Although the Watauga Democrat held partisan ties at its conception, it transformed into a "highly respected non-partisan publication" for the region.

On the death of R. C. Rivers, Jr. in 1975, both the property and the newspaper passed into Rachel Rivers-Coffey's possession and she, in turn, donated the land and the buildings on it to the township two decades later. Despite the township's possession of the building, the building is not currently in use. There has been some discussion of possible repair work to convert the structure to an official use.

It is worth noting that the sugar maple in the yard is believed to be the oldest and largest tree of its type in North Carolina. The locals have fondly nicknamed the tree "Baby," and it is an interesting feature on the property.

A low fence has been erected by the town to protect Baby from harm.
Sources
"About Us." Watauga Democrat. Accessed October 4, 2016. http://www.wataugademocrat.com/site/about.html. "Rivers House Park," Town of Boone Cultural Resources Department, Accessed October 4, 2016, http://townofboone.net/index.php?option=com_content&view=article&id=228:rivers-house-park&catid=78:departments&Itemid=583. Choate, Paul T. "CRB Requests Evaluation for Rivers-Coffey Properties; Fence to Go Around State's Oldest Sugar Maple." HCPress.com. Published October 18, 2012. Accessed October 5, 2016. http://www.hcpress.com/news/cultural-resources-board-requests-evaluation-for-rivers-coffey-properties-protective-fence-to-go-around-states-oldest-sugar-maple.html. Wood, Jesse. "Boone Planning Commission, Town Council To Consider Rivers Walk Development, Rezoning Along Rivers Park." HCPress.com. Published February 2, 2015. Accessed October 4, 2016. http://www.hcpress.com/news/boone-planning-commission-town-council-to-consider-rivers-walk-development-rezoning-at-town-owned-rivers-park.html. The Architectural History of Watauga County North Carolina. Edited by Daniel Pezzoni. Durham: BW&A Books, Inc., 2009.