Diamond Teeth Mary Memorial Marker
Introduction
Author-Uploaded Audio
Singer Mary Smith McClain was born on August 27, 1902, in Huntington, West Virginia. Living in an abusive environment, Mary left home at the age of 13, hopped a train, and joined the Rabbit Foot Minstrels in Memphis, Tennessee. From this point on, Mary became known as "Walking Mary," singing for the traveling minstrel show. From the 1920s to the 1940s Mary's career took off and she crisscrossed the country and performed alongside numerous blues and jazz legends. She also toured Europe three times. Mary passed away in 2000, and per her request, her ashes were scattered along the railroad tracks in her hometown of Huntington where she hopped a passing train to pursue her dreams. Mary is one of only a handful of West Virginians who became blues legends. Her career was long, but it wasn't until she was in her 80s and 90s that she received widespread recognition. In those years, she performed at Carnegie Hall, the White House, and the Apollo Theatre.
Images
Informational plaque about 'Diamond Teeth' Mary McClain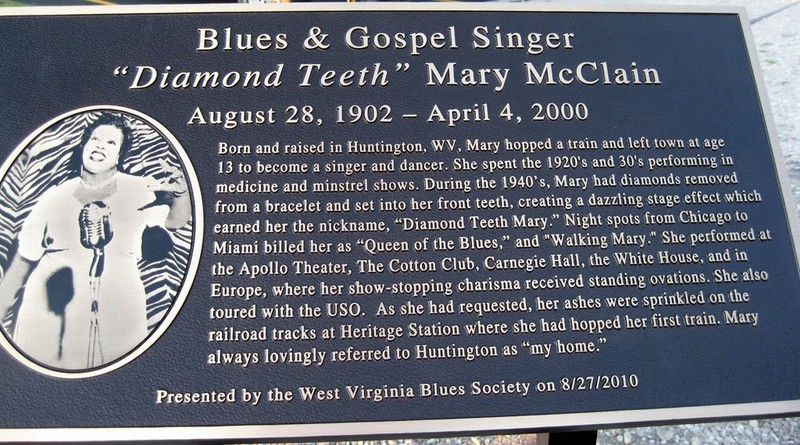 Broadside style concert photo.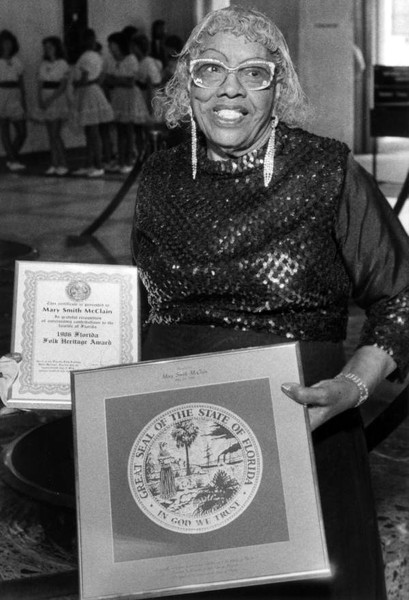 Backstory and Context
Author-Uploaded Audio
On August 27, 1902, Mary Smith was born in Huntington, West Virginia. At 13, desperate to escape beatings from her stepmother, she disguised herself as a boy, hopped a train and began performing in the circus. Throughout the 1920s and 1930s, she performed in medicine and minstrel shows. In the 1940s, she took the name "Diamond Teeth Mary" when she had diamonds from a bracelet implanted in her front teeth. Mary's half-sister was the famous blues singer Bessie Smith, and the two were later reunited and performed together for a short time. 
In 1937, Mary watched helplessly as Smith died while in a waiting room of a hospital. Tragedy would strike again in the late 1940s when Mary had the diamonds removed from her teeth to help pay for the expenses of her dying step-mother. McClain's decision to use the diamonds in this manner reflects the difficult path of her early life and her desire to acknowledge her past. According to interviews with McClain, the diamonds came from a bracelet she stole from her stepmother when she left Huntington. 
Over the years, McClain shared the stage with such well-known performers as Billie Holiday, Sarah Vaughan, Big Mama Thornton, Ray Charles, Duke Ellington, and her half-sister Bessie Smith. In 1960, she settled in Bradenton, Florida, and married Clifford McClain, where she became a popular gospel singer. It wasn't until Mary was 91 that she issued her first recording, "If I Can't Sell It, I'm Gonna Sit Down On It," and in 1983, she was featured in the documentary Free Show Tonight.
McClain was one of the first recipients of the Florida Heritage Award, and a play about her life premiered at the 2000 Florida Folk Festival. She continued to perform until her death in 2000, appearing at regional blues festivals. At her request, her ashes were sprinkled on the railroad tracks at Huntington, where she hopped her first train. She was inducted into the West Virginia Music Hall of Fame in 2011.
The Diamond Teeth Mary Blues & Arts Festival is held annually at Heritage Station in Huntington. McClain was inducted into the West Virginia Music Hall of Fame in 2011. Some of her gowns are in the Florida State Museum and the Memphis Blues Museum.
Sources
1. Lawrence Cohn (ed.), Mary "Diamond Teeth" McClain, Nothing But the Blues The Music and the Musicians, Abbeville Publishing Group, 1993, reprinted at African American Registry. 2. Lipton, Michael "Mary McClain ." e-WV: The West Virginia Encyclopedia. 14 December 2017. Web. 19 April 2019.
Additional Information