Huntington High School (1916-1996) / Renaissance Center
Introduction
During the first decades of the twentieth century, Huntington lacked the educational facilities to accommodate its rapidly expanding population. In response, Huntington High School was built in 1916 on the then-undeveloped south side of the city. Designed by prominent architect Versus T. Ritter, the school was an impressive example of the Neoclassical Revival style in Huntington. Although it could accommodate over one thousand students, Huntington High was overcrowded by the 1930s, leading to the construction of Huntington East High School in 1939. After nearly eighty years, Huntington High closed in 1996 when it was consolidated with Huntington East High. The old Huntington High School building sat vacant for several years before it was reopened as the Huntington Renaissance Center, a multipurpose community building. Today, the Renaissance Center houses the Phil Cline Family YMCA, performing and fine arts facilities, and residential units for senior citizens.
Images
Postcard of Huntington High School, shortly after it opened in 1916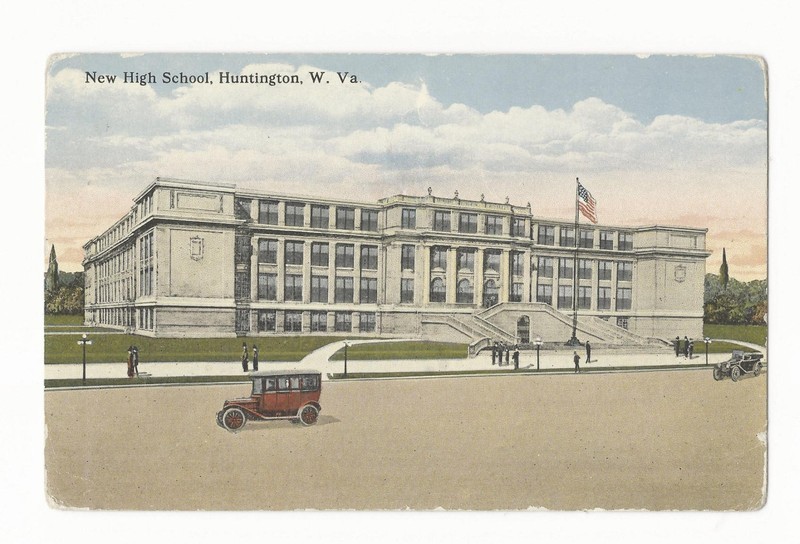 Postcard of Huntington High School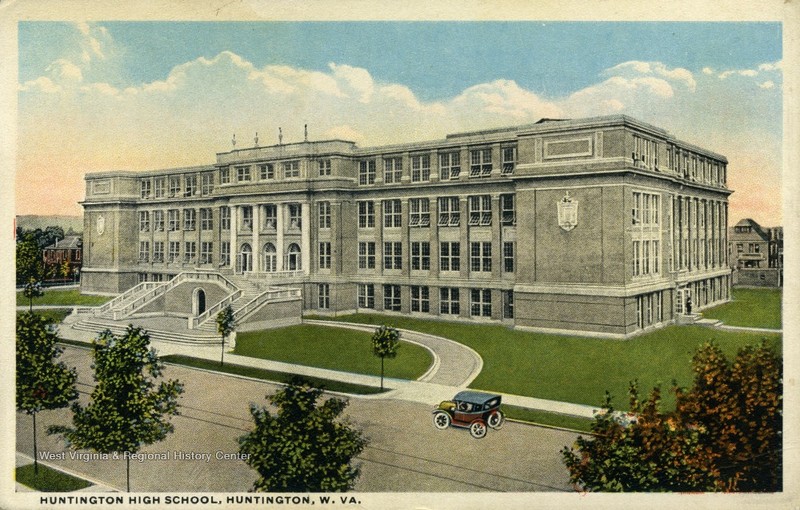 Photo from HHS dedication in 1916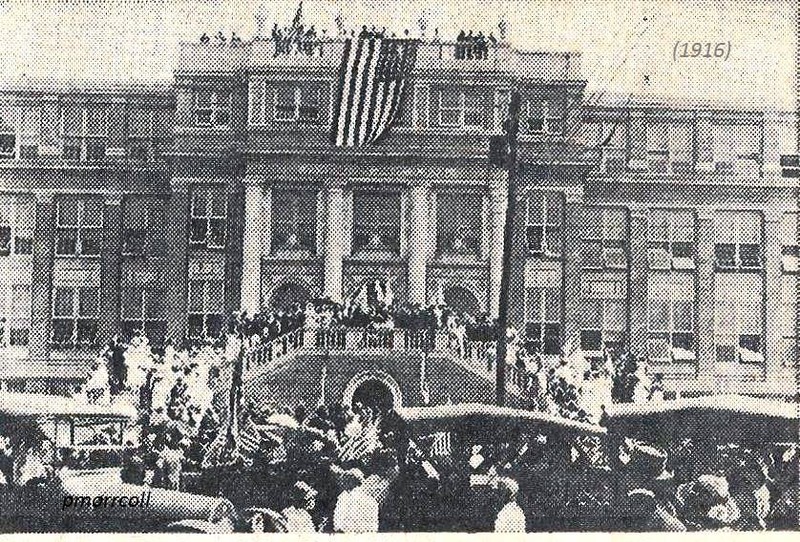 Students at a HHS pep rally in 1919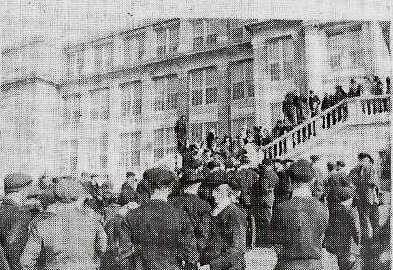 Cars lined up for a parade outside HHS steps, 1926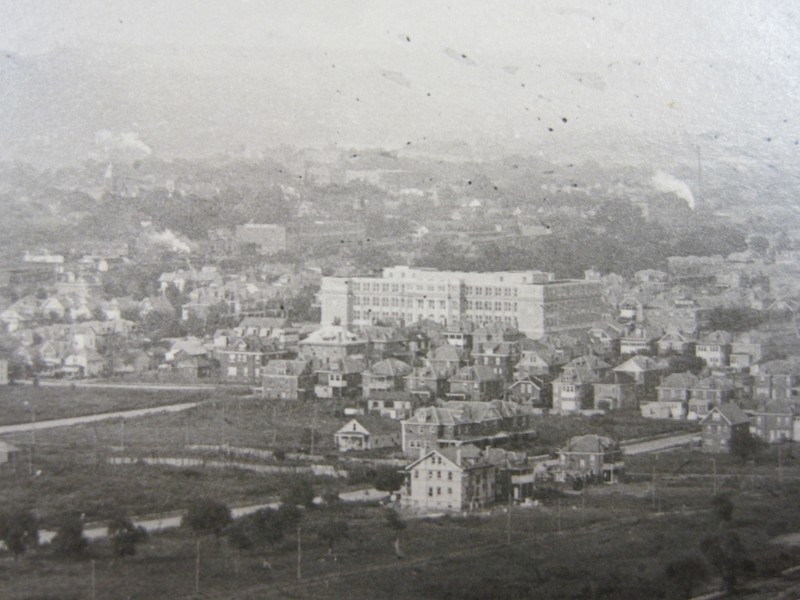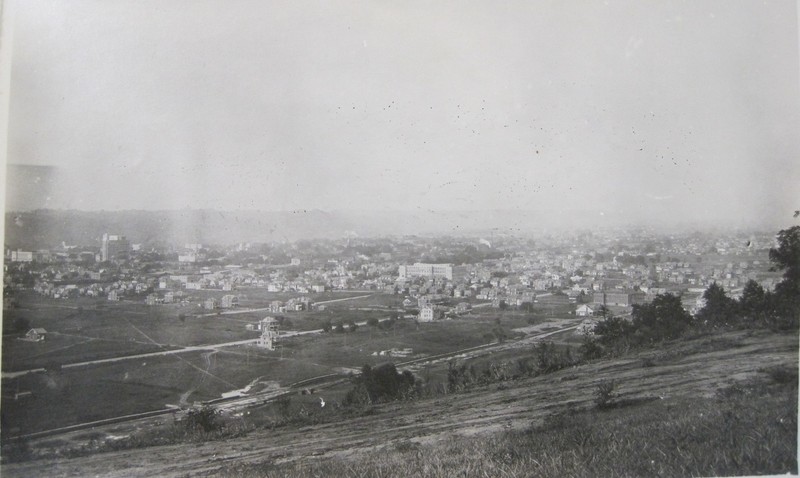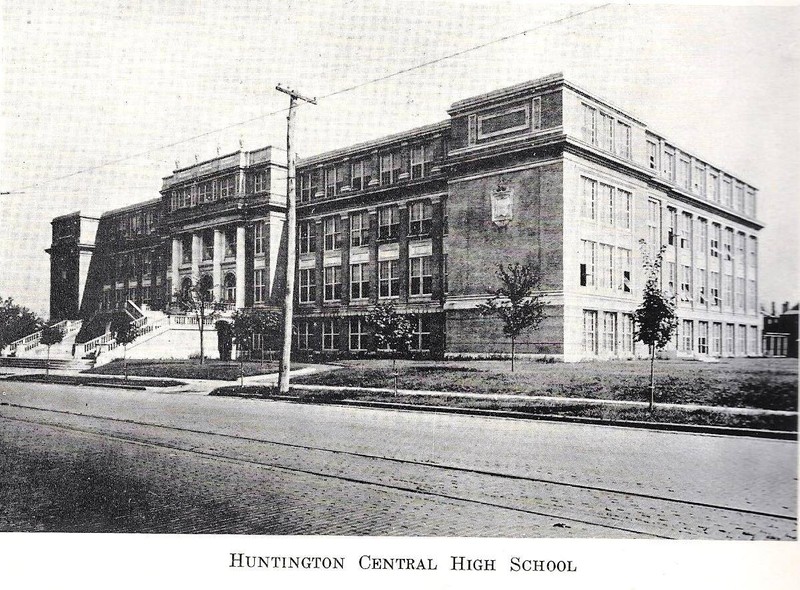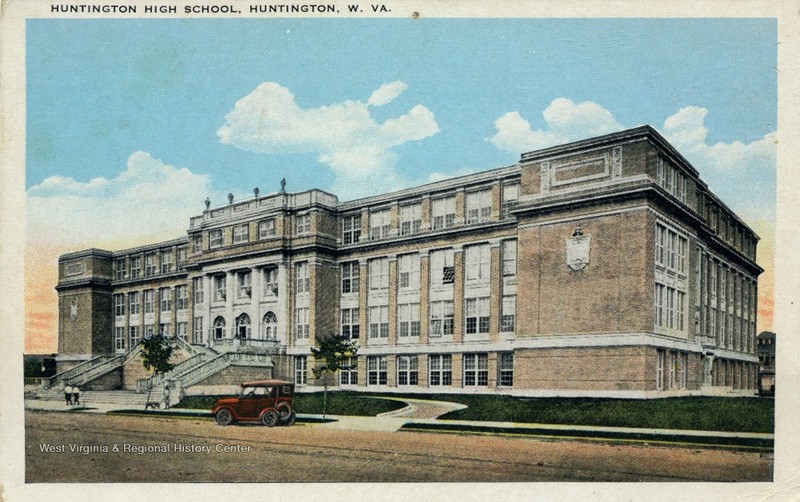 Looking north at HHS in 1928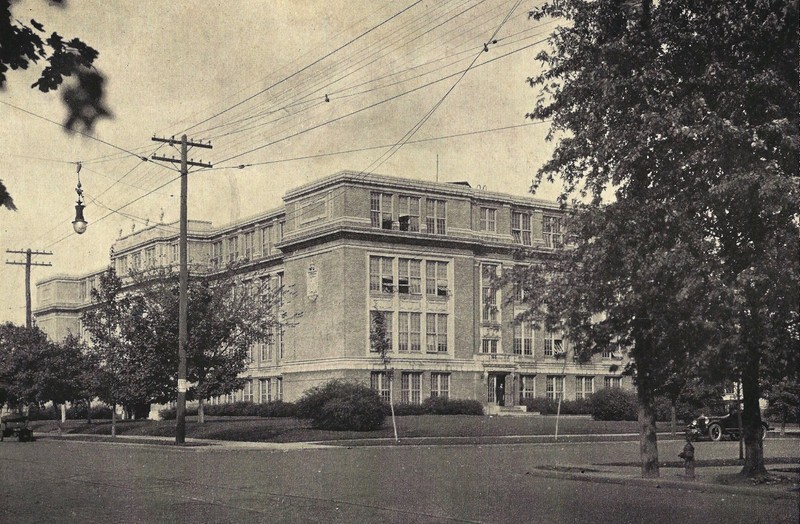 Huntington High School, circa 1940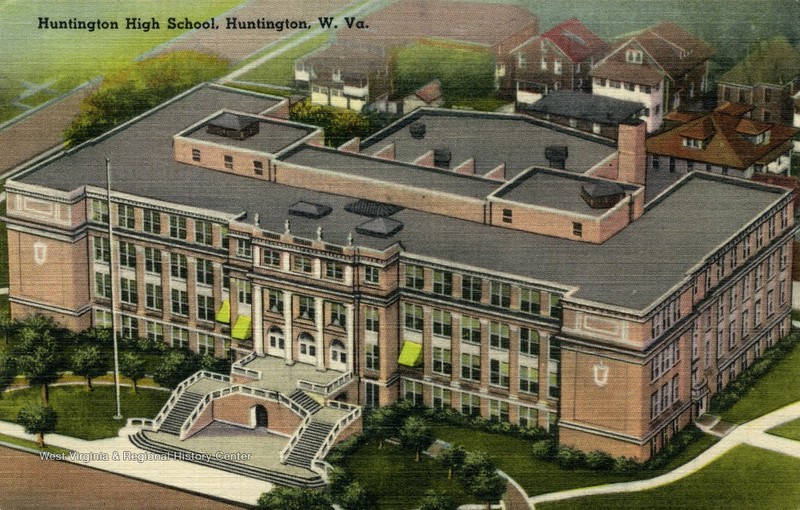 Huntington High School, circa 1940s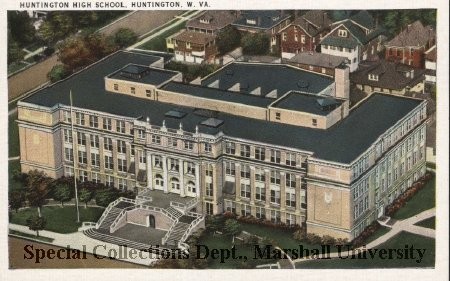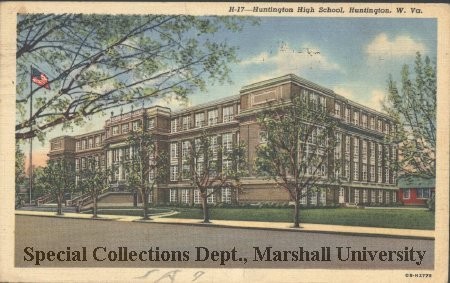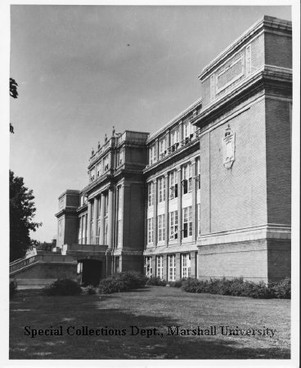 Students outside a snowy HHS in 1970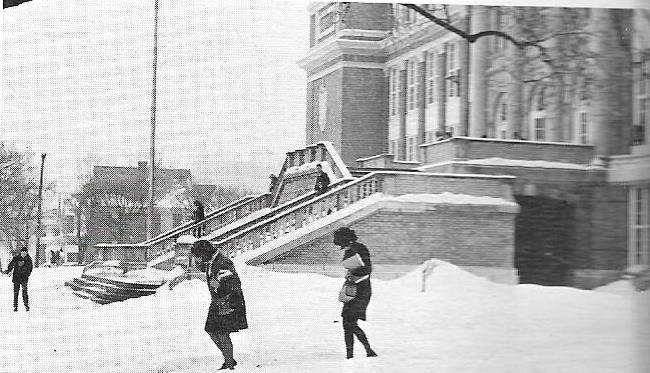 The Renaissance Center today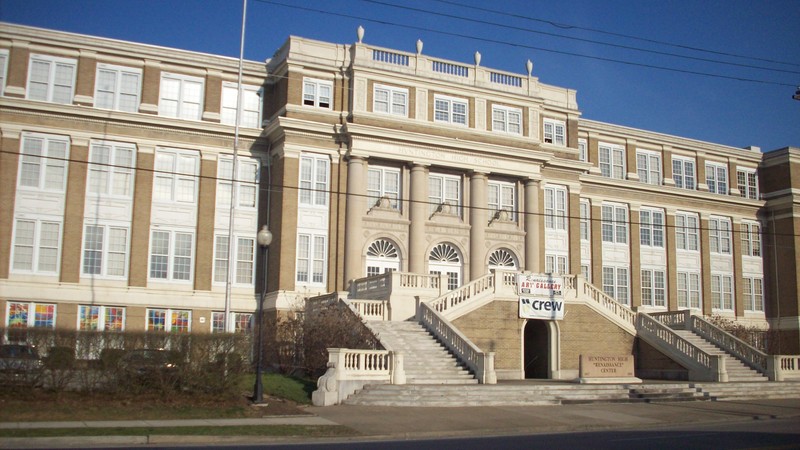 The Renaissance Center today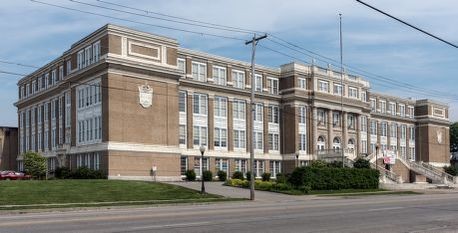 Engraving over the entrance to HHS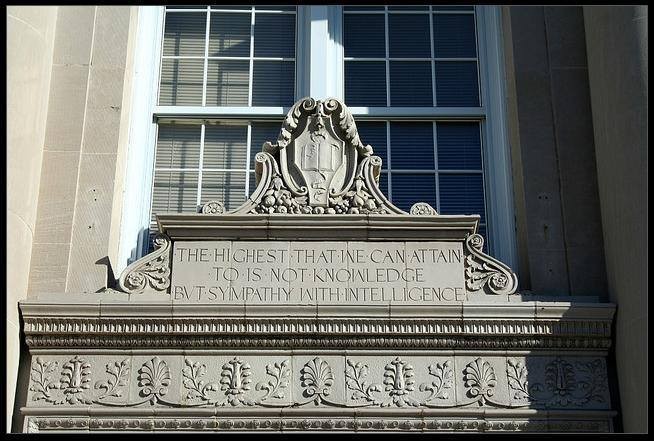 There are apartments available for senior living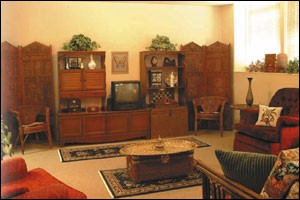 ARTS presents multiple local plays and musicals each year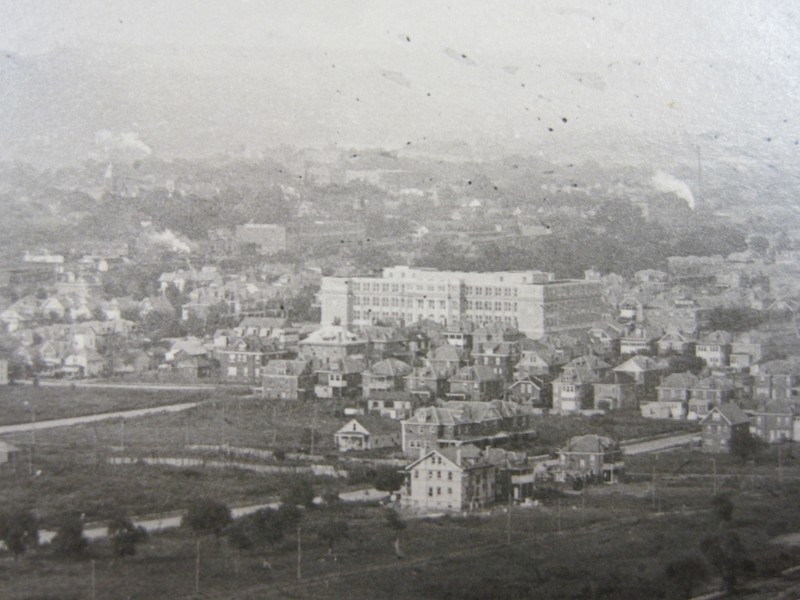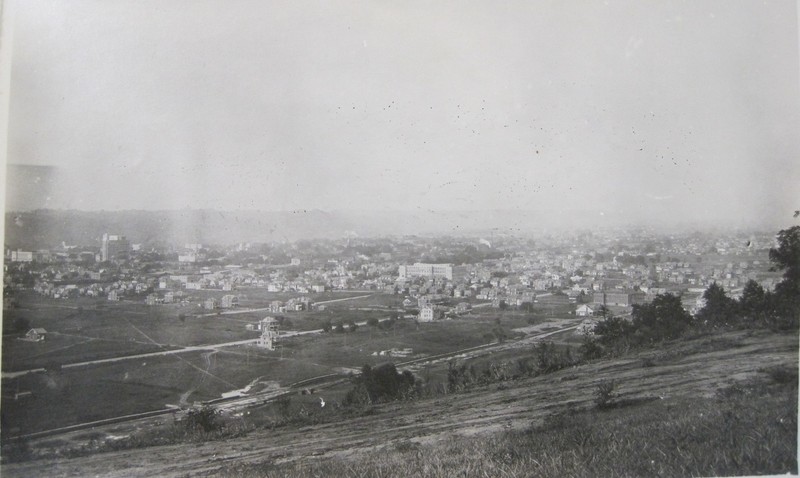 The Renaissance Center today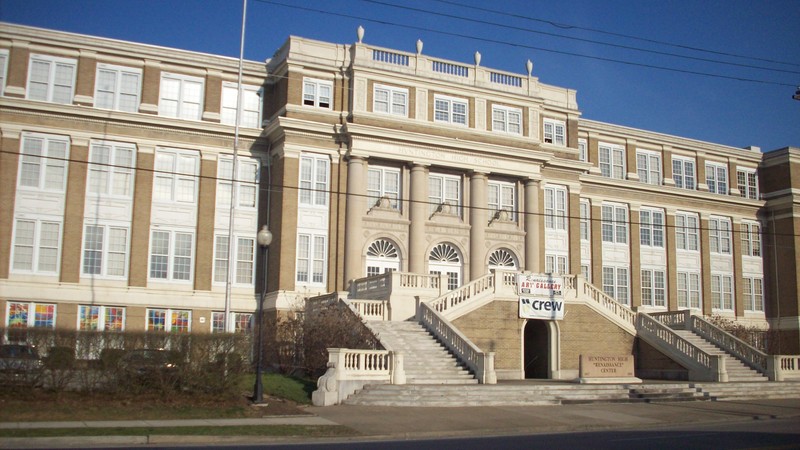 There are apartments available for senior living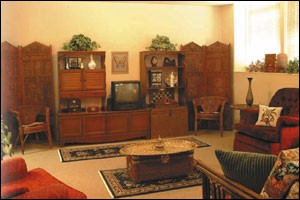 ARTS presents multiple local plays and musicals each year
Backstory and Context
In 1887, Cabell County established Huntington's first high school in the prayer room of the old Congregational Church at the southeast corner of Fifth Avenue and Ninth Street. The high school was later moved to the Council Chambers of City Hall on the east side of Ninth Street and 4 1/2 Alley, but the facilities soon became too small to accommodate the city's growing population. In 1890, the high school was moved to two rooms within the new Oley School at Fifth Avenue and Thirteenth Street. The school originally held students of all grades, until a second building was erected to house the upper grades in 1904. Within a few years, however, the building proved inadequate to house all of the city's high schoolers, and officials began planning to open a new school. When a site was picked on Eighth Street between Ninth and Tenth Avenues in 1914, controversy ensued because many thought the location was too far out of town, since much of the land south of the C&O Railway tracks was still farmland at that time.
In July 1914, the school board hired prominent architect Verus T. Ritter to design the new high school. Originally from Pennsylvania, Ritter was responsible for designing some of Huntington's best-known buildings, including City Hall, the First Huntington Bank Building, and Johnson Memorial Methodist Church. After ground was broken for the new high school in March 1915, construction took about a year before the "magnificent" Huntington High School was dedicated on September 5, 1916. The four and one-half story school was designed in the Neoclassical Revival style of architecture, which was popular in Huntington after the turn of the century in the period of 1910 to 1920. The building formed a long rectangle with a shorter rectangular wing on each end, making a U-shape enclosing a rear courtyard. Most notably, the school featured an impressive exterior double stairway made of limestone leading to its first floor entrance. 
Huntington High School was designed to hold 1,100 students. However, Huntington's population continued to rise, and the new school soon faced overcrowding issues of its own. By 1928, the high school had an enrollment of 2,198 students, double that of its intended capacity. In order to manage such a large student body, the school held two sessions per day, in which half of the students went to class in the mornings and half attended in the afternoons. In response, the city opened a new high school, Huntington East High, at Fifth Avenue and Twenty-Ninth Street in 1940. The construction of the new school ended Huntington High's overcrowding problem and let its student body return to a manageable size. Huntington High added a brick gymnasium to the rear of its north wing in 1951, and a cafeteria was added in 1956. In 1977, an addition was added to the school's south wing, which contained a library, the music department, classrooms and mechanical and maintenance rooms.  
By the 1990s, many of Huntington High School's aging facilities were in need of renovations and other updates. Although Huntington East High was slightly younger, it was in a similar state by that time. In response, the Cabell County Board of Education decided to merge the two high schools and construct a brand new facility. The board chose a site near the Hal Greer Boulevard exit of I-64 for the school, which was built in 1995-96 at a cost of $27 million. The new high school adopted the Huntington High School name, but kept Huntington East High's mascot, the Highlanders. When the new Huntington High welcomed its first class in fall 1996, the old Huntington High and Huntington East High both closed. After closing, the old Huntington High sat vacant for a few years, and in 1998 the property was broken into and vandalized by still-unidentified individuals.  
The former high school was not vacant for long, however. By 2001, five years after the school closed its doors, the facility had been reopened as the Renaissance Center, a multipurpose community building used by the Huntington YMCA, Arts Resources for the Tri-State (ARTS), and Huntington Development Corporation for residential use by senior citizens. Project architect Larry Ellis and staff members worked for over three years and spent an estimated $3.6 million to plan and retrofit the 150,000 square foot building. Classrooms were transformed into thirty-one one-bedroom apartments and eleven two-bedroom apartments, while the YMCA turned band rooms and gymnasiums into daycare facilities and other spaces for the city's youth. The third component of the Renaissance Center, ARTS Resources for the Tri-State, used spaces like the former amphitheater to host local theater performances and other fine arts shows. Although ARTS was dissolved in 2017, the Renaissance Center continues to house apartments for seniors as well as the Phil Cline Family YMCA.  
Sources
Reese, William J. America's Public Schools: From the Common School to "No Child Left Behind." Baltimore: John Hopkins University Press, 2011.
Reese, William J. The Origins of American High Schools. New Haven: Yale University Press, 1999.
Wright, Gwendolyn. USA: Modern Architectures in History. London: Reaktion Books, 2008.
Wolcott, David B. Cops and Kids: Policing Juvenile Delinquency in Urban America, 1890-1940. Columbus: Ohio State University Press, 2005.
"National Register of Historical Places Nomination Form." Accessed October 31, 2016. http://www.wvculture.org/shpo/nr/pdf/cabell/00000248.pdf.
"Arts Resources for the Tri-State." Accessed October 31, 2016. http://www.artstristate.org/about.
Image Sources
https://www.herald-dispatch.com/special/lost_huntington/lost-huntington-old-huntington-high/article_25b11c6f-465e-5c0e-acd1-f62e881023bf.html

https://wvhistoryonview.org/catalog/041940

https://www.facebook.com/photo.php?fbid=3028243110538605&set=gm.2407331779490891&type=3&theater&ifg=1

https://www.facebook.com/photo.php?fbid=2962600727102844&set=gm.2381981228692613&type=3&theater&ifg=1

https://www.facebook.com/photo.php?fbid=1537242166315971&set=gm.1862902883933786&type=3&theater&ifg=1

https://www.facebook.com/photo.php?fbid=1249660345063566&set=gm.1713032568920819&type=3&theater&ifg=1

https://wvhistoryonview.org/catalog/041952

https://www.facebook.com/photo.php?fbid=1879340718762189&set=gm.1960665880824152&type=3&theater&ifg=1

https://wvhistoryonview.org/catalog/041950

https://marshall.pastperfectonline.com/photo/AA8DD353-D510-4500-AC88-773783884871

https://marshall.pastperfectonline.com/photo/AA8DD353-D510-4500-AC88-773783884871

https://marshall.pastperfectonline.com/photo/ECD7B3D7-2103-4A72-B5A0-435150600940

https://www.facebook.com/photo.php?fbid=1977359278960332&set=gm.1995186507372089&type=3&theater&ifg=1

https://www.loc.gov/item/2015631849/

https://www.facebook.com/photo.php?fbid=4135930066447155&set=gm.2588379414719459&type=3&theater&ifg=1

https://www.huntingtonquarterly.com/articles/issue42/renaissance.html

https://www.huntingtonquarterly.com/articles/issue42/renaissance.html

Additional Information