Church of the Holy Cross
Introduction
The Church of the Holy Cross, home to an Episcopal congregation, is one several structures in Stateburg built in the rammed earth technique. Together, they comprise the largest group of structures built in this fashion in the country. It is for this reason, as well as its Gothic Revival architecture, that the church was declared a National Historical Landmark in 1971. It was designed by South Carolinian Edward C. Jones, who designed many other structures in the state. The church was built in 1852 and replaced an earlier one constructed in 1788. It features many notable elements including the original pipe organ, stained glass windows made in Bavaria, and one of the few 'named bells' in the country (named bells have names inscribed on them).
Images
The Church of the Holy Cross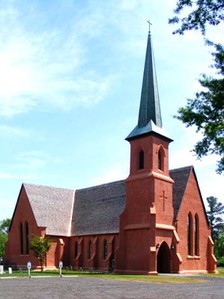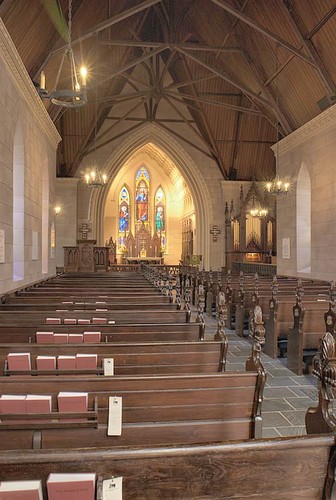 Backstory and Context
The rammed earth walls were built using wooden molds filled in with earth, which was tamped down and left to dry; the walls were then covered by stucco. The tower and bell was added in 1956. The name on bell is Mary Saunders and its 'twin' is in the tower at the National Cathedral in Washington D.C. Another interesting aspect about the church is the cemetery, in which many notable figures are buried. One of these is Joel R. Pointsett, the man for whom the pointsettia plant is named. He introduced it to the country after having been minister to Mexico. He served in other positions as well including Secretary of War and Congressman. He was also the president of the predecessor to the Smithsonian Institution.
Sources
"Church of the Holy Cross." Wikipedia. Accessed November 1, 2016. https://en.wikipedia.org/wiki/Church_of_the_Holy_Cross_(Stateburg,_South_Carolina). Eaddy, Mary Ann. "Church of the Holy Cross." National Park Service - National Register of Historic Places. April 23, 1973. http://focus.nps.gov/GetAsset?assetID=b37b0e51-47fd-444e-8198-00ffa66d1232. "Our History." The Church of the Holy Cross. Accessed November 1, 2016. http://www.holycrossstateburg.com/our-history.
Additional Information