Commodore John Barry (Boyle) Memorial
Introduction
This statue by John Boyle commemorating Commodore John Barry is located at Franklin Square, at 14th Street and K Street N.W. in Washington, D.C. Commodore Barry served in the Continental Navy during the American Revolutionary War, and later in the United States Navy as America's first commissioned naval officer. He was also the first captain placed in command of at U.S. warship under the Continental Flag. Barry is widely considered "The Father of the American Navy."
Images
Commodore John Barry, (sculpture). Commissioned 1910, modeled 1911 to 1912, cast 1913, and installed March 26, 1914. Dedicated May 16, 1914.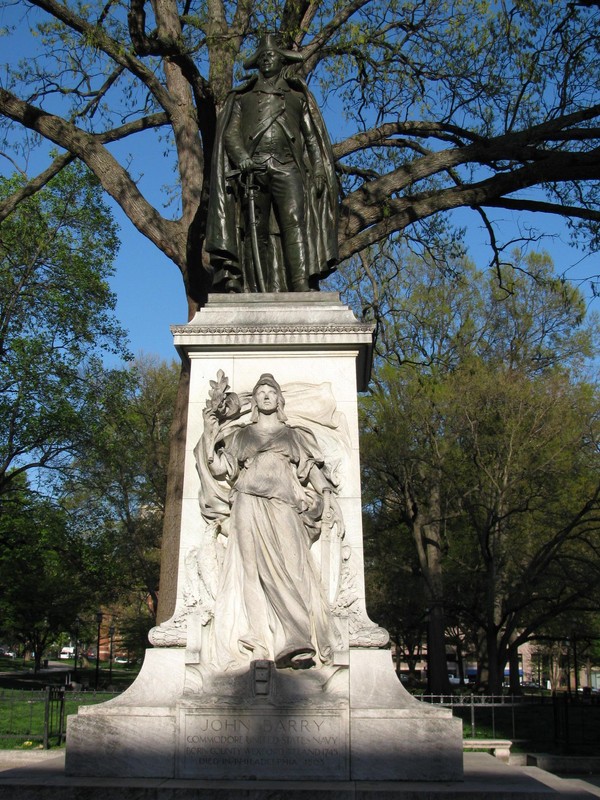 Backstory and Context
John Barry was born in Tacumshane, County Wexford, Ireland on March 25, 1745, and died in present-day Philadelphia on September 13, 1803. His first captain's commission, received on March 14, 1776, was signed by the president of the Continental Congress, John Hancock. He was known for his high regard for his crew and for his loyalty and patriotism, as well as for his faith; he would begin each day at sea with a reading from the Bible. During his career, Barry commanded United States ships Delaware, Lexington, Raleigh, and Alliance. He also penned a signal book published in 1780, intended to improve communications at sea among vessels traveling in formation.
Barry is notable as the first flag officer and first captain put in command of a U.S. warship under the Continental flag, receiving his commission from George Washington in 1797. Commodore Boyle was also the first officer to capture an enemy warship during the Revolutionary War. He shares the moniker of "The Father of the American Navy" with John Paul Jones. His last day of active duty was on March 6, 1801, though he served as the head of the Navy until his death. Commodore Barry is buried in Old St. Mary's Roman Catholic Church in Center City, Philadelphia.
This bronze statue, created by American sculptor John Boyle, was erected at a cost of $50,000 owing to petitioning by American-Irish groups. It was approved on June 8, 1906 via a Congressional Act, and was dedicated on May 16, 1914. It depicts Barry wearing the uniform of the mixed forces, grasping orders in his right hand, which he rests on the hilt of a sword. The 15-foot-high marble pedestal depicts a female Victory standing on the prow of a ship, with an eagle at her side. The pedestal also bears several inscriptions, identifying the name of the artist and the architect, Edward P. Casey.
The main inscription reads:
JOHN BARRY

COMMODORE UNITED STATES NAVY

BORN COUNTY WEXFORD IRELAND 1745
DIED IN PHILADELPHIA 18031

Sources
1. "Commodore John Barry (Boyle)." Wikipedia, the Free Encyclopedia. Accessed November 5, 2016. https://en.wikipedia.org/wiki/Commodore_John_Barry_(Boyle).

"Commodore John Barry Statue - Franklin Park, NW." DC Historic Sites. Accessed November 5, 2016. http://historicsites.dcpreservation.org/items/show/759.

"John Barry (naval Officer)." Wikipedia, the Free Encyclopedia. Accessed November 5, 2016. https://en.wikipedia.org/wiki/John_Barry_(naval_officer).

Additional Information