Stoney-Baynard Plantation Ruins
Introduction
The Stoney-Baynard Plantation ruins are what remains of what was a once a large house and property. It was built by Captain John "Saucy Jack" Stoney around 1793 (or possibly later, the records are not definitive) in the Georgian style. The house was accompanied by slave quarters which are also in ruins. The structures were built using tabby (a mixture of sand, shells, and lime) and timber. The house was the only mansion built on the island with tabby construction. The site is easily accessible and features an interpretive panel describing the ruins and its history.
Images
These are some of the remains of the Stoney-Baynard house, which was built around 1793.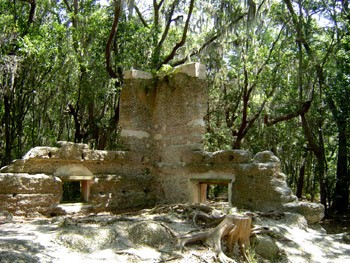 Backstory and Context
The property remained in the Stoney family until, it is believed, a descendant lost it in a late-night poker game. The family had already been in financial trouble (due to changing economic conditions and other factors) so it is not surprising that they lost it. The man who acquired the property was William Edings Baynard who lived here from 1840 until his death in 1849. From that point forward the property was owned by others and even the state when owners could not pay taxes and other costs. The Sea Pines Plantation Company acquired the property in 1950. It is not clear when it became a historic site but presumably around the time it was added to that National Register of Historic Places in 1994.

Union forces occupied the house during the Civil War sometime after 1861 when they captured Hilton Head Island. In 1864 it was noted that the house and other buildings were in poor condition due to lack of maintenance. But the final blow came when the house burned down after the war. As noted above, however, the land itself changed hands several times.


Sources
"Stoney-Baynard Ruins." Sea Pines Resort, LLC. Accessed November 7, 2016. http://www.exploreseapines.com/historical-sites.asp.

Trinkley, Michael. "Stoney/Baynard Plantation." National Park Service - National Register of Historic Places. February 23, 1994. http://focus.nps.gov/GetAsset?assetID=18bedac0-dfbf-4aa4-b26d-1b24c9d99e00.


Additional Information