Pocahontas County Opera House
Introduction
Built in 1910, this Victorian building with reinforced concrete walls was the first of its kind in West Virginia. Railroad rails of steel were used to reinforce the concrete. Interior woodwork includes beadboard wainscoting and a beautiful American chestnut railing along the balcony. Locally produced plays, minstrel shows, Lyceum Courses, and solo artists were also part of its theatrical world. The Opera House was more than a performance space; it saw use as a basketball court, rollerskating rink, and religious sanctuary. After the late 1920s, the building was used as an automobile dealership and lumber storage warehouse. Now restored to its early glory, the Pocahontas County Opera House hosts a variety of performances. It is open to the public during scheduled events and is also available for private functions.
Images
Pocahontas County Opera House
Photo of the auditorium Taken from WV Historic Theaters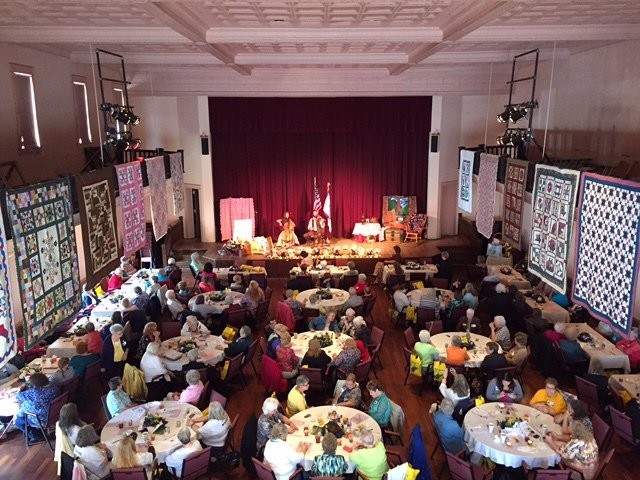 Photo of the entry with the pressed metal ceilings visible Taken from WV Historic Theaters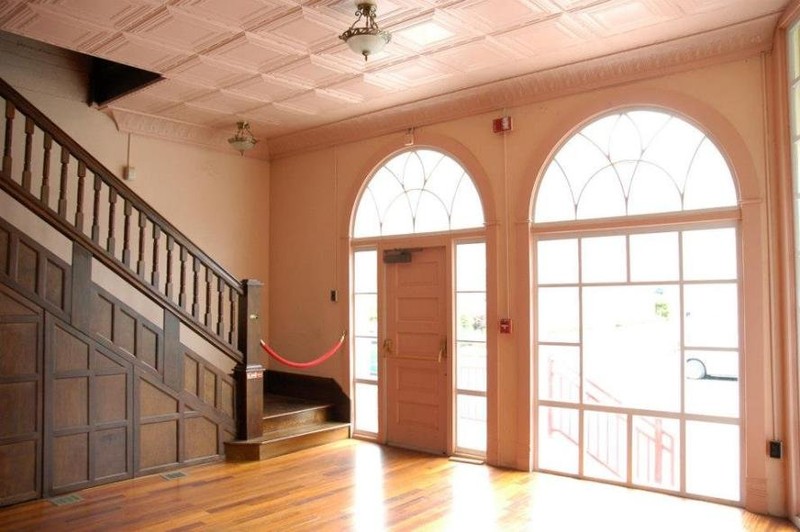 Backstory and Context
The Pocahontas County Opera House, once called the Marlinton Opera House, was built in 1910 and opened in 1911. The Opera House was intended to replace one of Tilton's earlier projects which he built and opened in 1907. This first opera house was called The Grand and offered plays, movies, and other theatrical acts. Just three years after The opening of The Grand, Tilton felt he needed more space and started plans for the Marlinton Opera House. Built and owned by J. C. Tilton, the building's concrete walls are 25 feet high. It was one of the first structures in West Virginia to use reinforced concrete and railroad rails were used as the supporting material.
The theater had a main floor and balcony and was used for a variety of productions including traveling performers, Chautauqua presentations, minstrel shows, graduations, church services. It was even used as a basketball court and roller skating rink at times. In addition to his property holdings, Tilton also owned and ran The Marlinton Messanger from 1911-14. During that time the newspaper offices were housed in the Opera House.
Financial struggles were an issue from the beginning and the Tilton family sold the property in 1914, after defaulting on a loan. It was bought by Floyd Dilley, Tilton's brother-in-law in 1916. The Opera House was converted to a car dealership within a few years and later into a warehouse for building supplies. The property changed hands among the Tilton family until sold to the Fertig family in 1977. It remained a commercial or storage space until the Pocahontas County Landmarks Commission bought and restored the property in 1991. Since the property's restoration, it has been serving as a theater. The name was changed to the Pocahontas County Opera House when bought by the Landmarks Commission and the site was added to the National Register of Historic Places in 2000. Today visitors to the Opera House can still hear local artists and attend other community events.

Sources
About. Pocahontas County Opera House. Accessed March 04, 2019. http://www.pocahontasoperahouse.org/about/.

McNeel, William P.. Marlinton Opera House. West Virginia Encyclopedia. October 08, 2010. Accessed March 04, 2019. https://www.wvencyclopedia.org/articles/1511.

National Register of Historic Places Nomination Form. West Virginia Department of Arts, Culture, and History. November 01, 1999. Accessed March 04, 2019. http://www.wvculture.org/shpo/nr/pdf/pocahontas/00000253.pdf.


Additional Information