Montour Trail
Introduction
The Montour Trail is a multi-use non-motorized recreational rail-trail near Pittsburgh, Pennsylvania, and will eventually extend 46 miles from Moon Township near Coraopolis to Clairton. The trail is part of the Great Allegheny Passage (GAP), a trail system that stretches over 330 miles from Pittsburgh to Washington, DC. Currently, multiple sections of the trail totaling over 40 miles are completed, with a few gaps in the southern area of the trail. If necessary bypass directions for these areas are provided on the website. There are amenities available, portable toilets every 2 to 4 miles, water fountains every 2 miles in the more populated areas. They are 6 to 7 miles apart in the more rural areas. New sections of trail are being added each year.
Images
A peaceful section of the trail.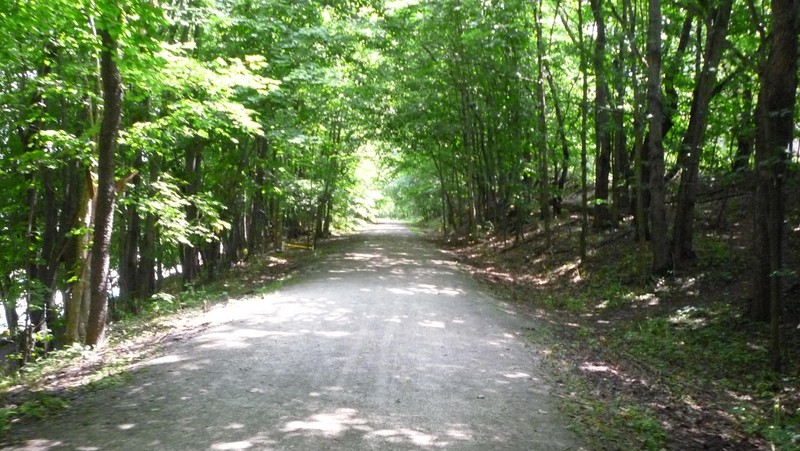 One of the numerous tunnels along the trail.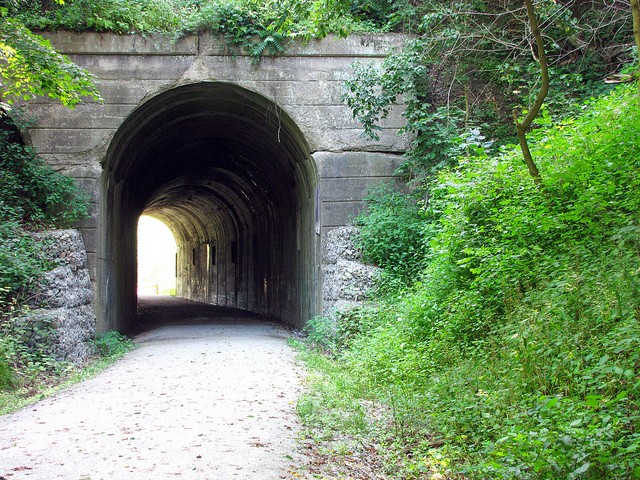 A converted railroad trestle.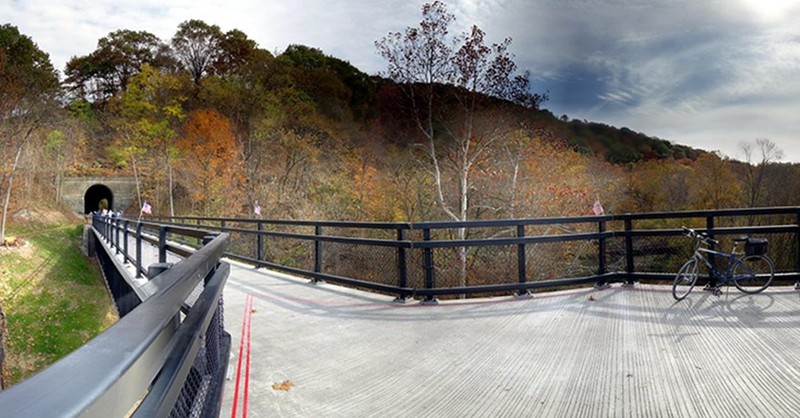 Backstory and Context
The trail is covered with a smooth surface of crushed limestone, which makes it ideal for all forms of non-motorized use: bicycling, walking, running, cross-country skiing, and nature appreciation. In certain sections, horseback riding is also permitted, but not on the improved trail surface. A section of the trail located in Peters Township is called the Arrowhead Trail. This section is owned and maintained by the Township. The Panhandle Trail stretches 29 miles between Carnegie, Pennsylvania, and Weirton, West Virginia. This section of the trail in Allegheny County is managed by the Montour Trail Council.
The Montour Trail follows a portion of the old Montour Railroad, which was built between 1877 and 1914 to link the Pittsburgh and Lake Erie Railroad with the regions many coal mines. Forming a semi-circle around Pittsburgh, the Montour Railroad also connected other railroads, including the Pennsylvania, the Pittsburgh and West Virginia, the Baltimore and Ohio, and the Union. Both the trail and the railroad are named for the creek that runs alongside.
After the Montour Railroad ceased operation in 1984, the unused rails became a popular place for walkers. Eventually, people began to realize that the Montour right-of-way could become an excellent recreational trail. Upgrades and improvements to the Montour Trail are always in the works. The Montour Trail Council (MTC) is a non-profit all-volunteer group which builds, operates, and maintains the trail. The trail is maintained and managed by a wide ranging group of volunteers. Trailhead parking is available at either end of the trail as well as many points in between. Trail maps are available for parking areas and directions.
Sources
"Montour Trail History." Rails-to-Trails Conservancy. Accessed November 15, 2016. https://www.traillink.com/trail-history/montour-trail.aspx
Mansfield, Karen. "Outdoor Enthusiasts Head for the Montour Trail." Washington Observer-Reporter. April 22, 2015. Accessed November 22, 2016. http://www.observer-reporter.com/apps/pbcs.dll/article?AID=/20150422/PUBLICATIONS06/150429835
Stark, Laura. "Pennsylvania's Montour Trail." Rails-to-Trails Conservancy. March 2015. Accessed November 15, 2016. http://www.railstotrails.org/trailblog/2015/march/16/pennsylvanias-montour-trail/
Additional Information