La Casa Cordova
Introduction
One of the oldest existing buildings in Tucson, La Casa Cordova is part of El Presidio Historic District. The original rooms of this historic adobe home may predate the 1854 Gadsden Purchase. The name of the home comes from the surname of owners who occupied the home in the 1930s and 1940s-the time when historians became interested in the significance of the structure.
Images
La Casa Cordova is the oldest adobe home in downtown Tucson.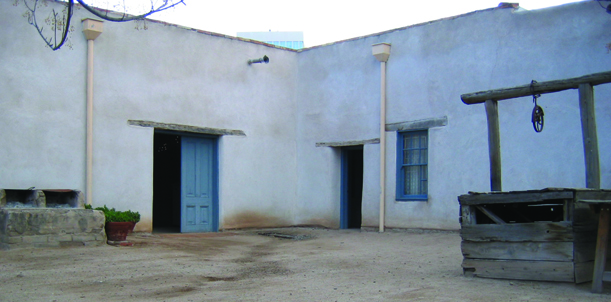 Backstory and Context
La Casa Cordova dates back to the mid-1800s, there is no exact date attached to its construction. The property consisted of several large rooms, which were used for varying purposes over the years. It is known, however, that it was inherited and owned by the Cordova family, which consisted of Maria Navarrete Cordova and her four children, from 1944 to 1973. Back in 1896, the property was bought by Severin Sambaud and his wife Refugio, who was one of Maria's great aunts. The Sambauds never lived in the building, but instead leased it out as apartments, as well as a shoe repair shop. Refugio left the building to Maria's son Arturo in 1936, and the family moved into the property in 1944.
Much like the previous owners of the building, the Cordovas rented out part of the building, though they ended up taking up residence on the property, as well. One of the front rooms was rented out as an apartment, while the Cordovas ran their own business, the Cordova Brothers Smoke Shop, out of the front of the building. Years later, property ownership disputes arose, culminating in the City of Tucson gaining the property in 1972. The following year, it was leased out to the Tucson Museum of Art, and in 1975, the Junior League of Tucson worked to restore the building to what it might have been like in 1850. Today, La Casa Cordova is run by the Tucson Museum of Art as an extended exhibit.
Sources
A History of La Casa Cordova and the Gabino Ortega Family and the Family of Maria Navarrete Cordova. Tucson Museum of Art Historic Block Homes, A Window on Bygone Days. Accessed November 28, 2016. http://azmemory.azlibrary.gov/cdm/ref/collection/tmahbh/id/14.


Additional Information