Morgan County Courthouse
Introduction
During the 19th Century there were three courthouses built in Jacksonville IL, the county seat of Morgan County. The first being built in 1826 and the second in 1829.Unfortunately in Jacksonville, this town has a history of buildings catching on fire and the past two burned down to the ground. The final one that stands today, was completed in 1868. Located along 300 W State St. The courthouse has been a workplace to some very famous Illinoisians. Stephen A Douglas worked at the second courthouse, later becoming a judge at the present day court house. The new courthouse was the workplace of the Honorable Cryus Eplet, the Judge of the 7th Circuit Court. He held the seat for twenty four years (Beard, "National Register" 7). Richard Yates Jr, who began his practice in Jacksonville in 1884, and served as Judge of Morgan County until he was elected in 1940 as the 22nd Governer of Illinois, he only served one term. (Beard, "National Register" 8). Illinois College's very own William Jennings Bryan also worked there. He ran three times for the Democratic presidential candidate during his stay (Beard, "National Register" 8). Building the building itself took a lot of planning and a lot of money. The total cost was a grand total of $204,000 (Beard, "National Register" 8), The architect was G.P. Randall of Chicago. This building still remains to a tribute of the great work that he did around the time he was alive. Some of his other buildings are University Hall at Northwestern University, and Marshall county Courthouse, he also designed a few other courthouses. The blend of the Italianate country villa with a French Second Empire style, the style of this building is amazing(Beard, "National Register" 2). This design was not common for 1868. It is made of limestone and is three stories high, rectangular in shape and it was made to cover about two thirds of a city block. The building faces West State Street, and a second entrance on the North West Street. Inside it has a grand staircase, every office has wood flooring, and an elevator that was later added in the 1960's for handicap accessibility. It has two very distinct features that most court houses don't have, a bell tower and a great bell that rest in that tower. The company that built the bell is A. Fulton's Son & Co and the bell cost a total of $1,900 (Beard, "National Register" 2). The architect Mr.Randall wanted to have the bell to ring every hour, but the clock work was never installed (Beard, "National Register" 3). The great bell is still in exceptional condition and it stands today to as a historic reminder of great craftsmanship. There are some original items missing. The old statute of Lady Justice that used to be at the courthouse somewhat disappeared and no one has any idea where she went. The sword and the scales disappeared possibly as early as 1872, where she stood naked until she disappeared between the time 1903 and 1930 (Beard, "National Register" 2). One of the earliest cases recorded in court records was People vs. Charles King following an indictment forgery. He pled guilty to the charge. He was fined $50, four months of imprisonment,also he would receive 25 lashes on his bare back. He was not flogged in the courthouse instead publicly in the public square (Eames, 25). Public hangings did occur in Jacksonville. A Scott County murder case was also brought to Jacksonville. And a public hanging to be staged. However, the defendant was able to escape and was never heard of again. Morgan county did not have a permanent seat until it was brought up in the Illinois Legislature in the fall of 1824 (Eames, 32). The center of the county was pinpointed to be three miles west of Jacksonville, but the land was cheaper so this preset site was chosen. Strange practices also occurred at this house as stated in the article "Historic beginning for Stone Landmark" that most cases in the early days of the court were held in open air, in a camp style fashion. Jacksonville to wanted to make a strong stand against slavery; every slave that someone owned would be taxed. This was levied on the date of March 4,1829 according to the pamphlet, Morgan County Marks 100th Courthouse Anniversary. That would increase the revenue that was available to the town for future projects. As you can see Jacksonville's courthouse has had some interesting things happen to it since it's been around and has made some last impressions.
Images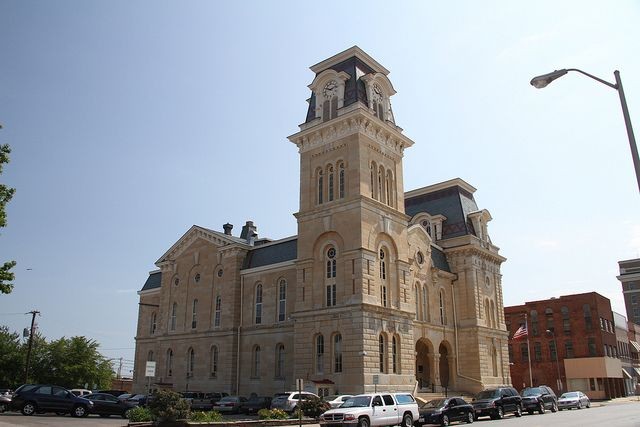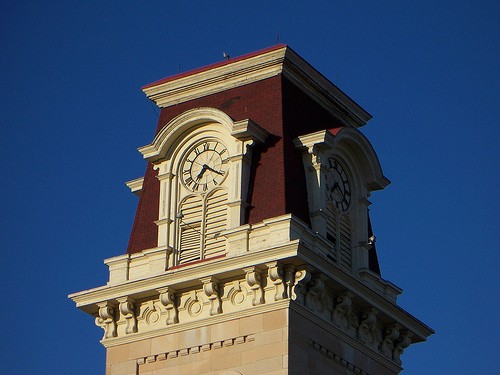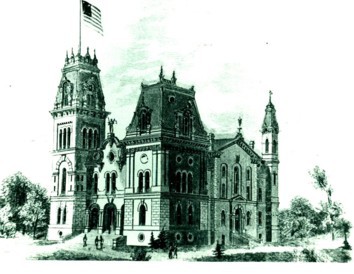 Sources
Beard, Jo Anne. The Legacy of Historic Jacksonville: Its Homes and Buildings. Jacksonville, IL:
Commission, 1986. Print.
Beard, Jo Anne (April 10, 1986). "National Register of Historic Places Inventory - Nomination Form:
Morgan County Courthouse." National Park Service. Retrieved October 1, 2016.
Eames, Charles M. Historic Morgan and Classic Jacksonville. Jacksonville, IL, Printed at the Daily
Journal Print. Office, 1885.
History of Morgan County, Illinois: Its Past and Present, Containing a History of the County ; Its
Cities, Towns, Etc. ; a Biographical Directory of Its Volunteers in the Late Rebellion ;
Portraits of Its Early Settlers and Prominent Men. Chicago, Donnelley, Loyd &Amp; Co.,
1878.
"History of Morgan County, Illinois." Morgan County IL. N.p., n.d. Web. 01 Oct. 2016.
"Morgan County Courthouse (Illinois)." Wikipedia, Wikimedia Foundation, 17 July 2016,
https://en.wikipedia.org/wiki/morgan_county_courthouse_(Illinois).
Morgan County Marks 100th Courthouse Anniversary. Morgan County Marks 100th Courthouse
Anniversary.