Abraham Lincoln at Illinois College
Introduction
As you are walking along the wonderful campus of Illinois College, in the middle where the college seal is located, if you look off to the side you will see a younger version of Abraham Lincoln. This statue was put in place because of Lincoln's connection to not only Illinois College, but also to Jacksonville. This detailed statue has a lot of history behind it and is a great addition to the beautiful campus of Illinois College.
Images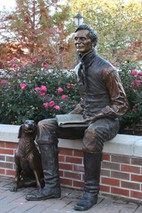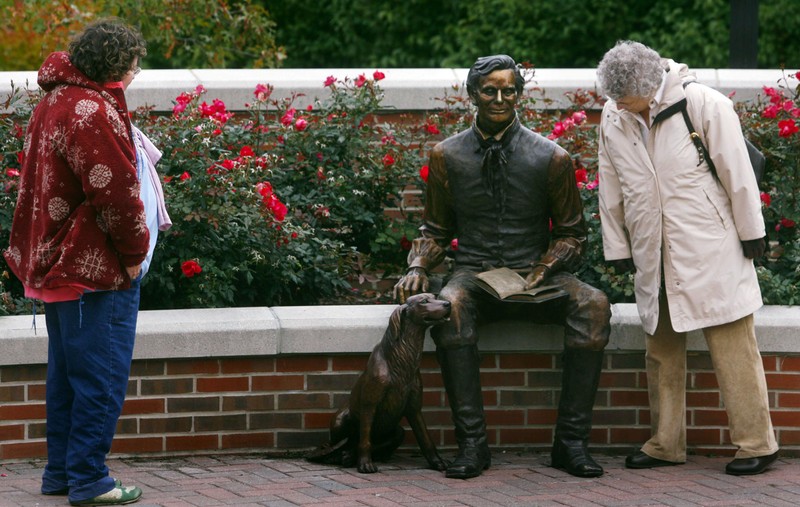 Backstory and Context
The Abraham Lincoln statue at Illinois College is a great historical piece in Jacksonville, Illinois. The statue was sculpted by two talented sculptors by the names of Steven Maxon and Doris park, who live in Iowa. The statue resembles Abraham Lincoln in his early 20's. The sculptors wanted Lincoln to resemble a college student. As Lincoln sits on the ledge he reads from a book that is dated back to 1837, from a professor at Illinois College named Jonathan Baldwin Turner. The book is a rhetoric book, opened to a section entitled, "The Art of Public Speaking." He sits with two books under his hand, one of which is an english grammar book and the other is another rhetoric book. Sitting to the side of Lincoln is a dog, who was informally named by the sculptors "Penny," because of Lincoln's love for dogs throughout his lifetime. The college unveiled the bronze statue in honor of Lincoln's bicentennial birth. One may ask yourself, why did Illinois College spend all that money on Abraham Lincoln when Lincoln did not even go there? Well, Paul Spaulding who is a current professor at Illinois College says that, "We have lots of connections to Lincoln, but we didn't have one thing on campus that expressed this visually. It seemed the least we could do is have a statue of Lincoln…" One of these connections include students of Illinois College named William and Lynn Greene who would bring their books from Jonathan Baldwin Turner's class to Lincoln who was living in New Salem at the time. Professor Turner, a man Lincoln would later credit with giving him his "only instruction in the English language, and that through the Greene boys." Not only did Abraham Lincoln learn the English Language from Illinois college but he was also their lawyer in later years of his life. Paul Spalding says that even though Lincoln did not attend college, he believes he would have came to Illinois College if he did.

Not only did Illinois College unveil an amazing piece of artwork on October 16th, 2009, but they also did an honorary graduation for Abraham Lincoln. Michael Bendorf who played the role of Abraham Lincoln in this graduation, received a bachelors degree from the former President of Illinois College, Axel Steuer. Bendorf also received an honorary hood from the former dean of the school, Elizabeth Tobin.
The statue is an iconic piece around Illinois College. Many yearbooks in years past have had kids sitting around Abraham Lincoln joking with it and putting funny signs by it. Many magazines published by Illinois College have students sitting with Lincoln. The students seem to like the fact that Lincoln is in the middle of their campus.
Abraham Lincoln was a great man with great moral values. He believed in some of the same things we believe in today, integrity, social justice and a commitment to truth. The statue of Abraham Lincoln is only a small piece of Jacksonville history. I challenge you to read more about the long history of Jacksonville, Illinois.
Sources
Russel, Jake. "Graduating Lincoln." Journal Courier. N.p., n.d. Web. 30 Sept. 2016.
Reynolds, John. "School Unveils Statue of 16th President Reading Textbook." The State Journal [Jacksonville] n.d.: n. pag. Web.
Murphy, James T., Kristin Van Aken, and Pam Carney Martin, eds. Illinois College Quarterly 2009-2010. 1st ed. Vol. 87. N.p.: n.p., n.d. Print.
Reynolds, John. "Lincoln Statue Dedicated at Illinois College." The State Journal. N.p., 17 Oct. 2009. Web. 04 Oct. 2016.
"True Excellence. True Opportunities. True Success." Illinois College - About Us. N.p., n.d. Web. 05 Oct. 2016.
"Abraham Lincoln Statue in Jacksonville, Illinois." Abraham Lincoln Statue in Jacksonville, Illinois. N.p., n.d. Web. 06 Oct. 2016.