Ruddell General Store
Introduction
The Ruddell General Store is a historic business in Glenville, West Virginia. Located at the intersection of Main Street and Court Street, it served as a general store from 1890 to 1948. Afterwards it operated as different retail outlets until 1973 when it was purchased by the West Virginia Folk Festival. The building has had some restoration and today has been converted to the Country Store & Museum, and also serves as the headquarters for the West Virginia Folk Festival. It is on the National Register of Historic Places.
Images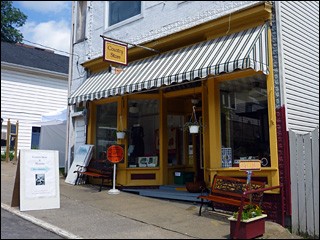 Backstory and Context
In the early 1870s Stephen Lewis Ruddell and his family moved from Virginia to Glenville, where Stephen engaged in different enterprises. Stephen's son William Kerr Ruddell purchased a lot in 1887 and built a general store on the spot in 1890. Like most general stores, Ruddell General Store offered a variety of dry goods and household items needed in the community. General stores also acted as informal social centers, where news and gossip could be shared. Ruddell's was one of only two general stores in and around Glenville at the time. William Ruddell was very active in the local community beyond his business; he also helped create the Glenville Water and Light Company as well as the Gilmer County Bank.
William Ruddell moved to Parkersburg in 1916, but continued to own the building. He leased the business to William M. Moss and Van Arnold who renamed it the Arnold and Moss General Store. It would operate throughout the 1920s. From the 1930s to the 1950s the building was occupied by the Hub Department Store, run by the Nachman family. In 1971 the Ruddell family sold the building to the West Virginia State Folk Festival, which soon afterwards made it their headquarters. The group has gradually made restorations to the building over the years. In 1998 it was added to the National Register of Historic Places.
Today in addition to serving as the West Virginia State Folk Festival headquarters, the Ruddell General Store building has been converted to the County Store & Museum. It displays period items and merchandise from general stores to teach the commercial history of the local area. The building also houses the West Virginia State Folk Festival's archives, and sells some merchandise to support the Festival. The museum is normally open for visitors during large community events, and is also available for school tours. It is closed during the winter months.
Additional Information