Victory Memorial
Introduction
Dedicated May 30, 1994, with funds from the Veterans' War Memorial Fund established through sale of Camp Grant land at the end of World War II. The sculptor, Gene Horvath, donated the greater part of his time.
Images
Victory, corner of Mulberry and Main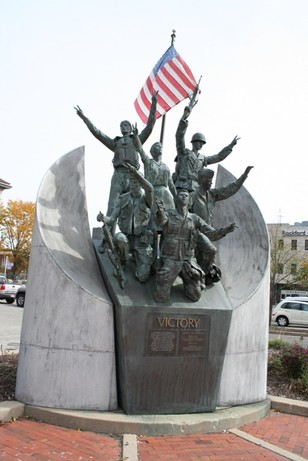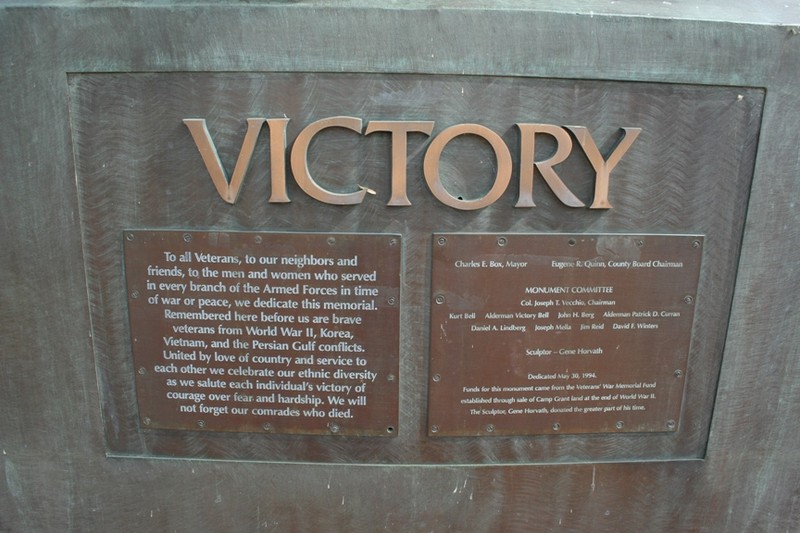 Backstory and Context
At the time of his death April 14, 1995, Gene Horvath's portfolio included sculptures grounded in locations from Rockford to Rock Island and from Dallas to Chandler, Ariz. A sampling of Horvath's local public creations include "Pulling Together," a bronze sculpture featuring Rockford's three founders, Germanicus Kent, Lewis Lemon and Thatcher Blake, which is located near the old post office downtown; "Olympic Sphere," a tribute to Rockford's Olympic contenders, which is located at Valkommen Plaza ; and "Victory," a bronze piece honoring veterans near Memorial Hall. The Rockford Victory Monument honors veterans from World War II, and those of Korea, Vietnam and the Persian Gulf. That bronze sculpture features life-sized statues of six American soldiers from different wars. The figures are placed on an inclined base and framed by an abstract "V".
"To all Veterans, to our neighbors and friends, to the men and women who served in every branch of the Armed Forces in time of war or peace, we dedicate this memorial. Remembered here before us are brave veterans from World War II, Korea, Vietnam, and the Persian Gulf conflicts. United by love of country and service to each other we celebrate our ethnic diversity as we salute each individual's victory of courage over fear and hardship. We will not forget our comrades who died. "
Monument Committee, Col. Joseph T. Vecchio, Chairman, Kurt Bell, Alderman Victory Bell, John H. Berg, Alderman Patrick D. Curran, Daniel A. Lindberg, Joseph Media, Jim Reid, David F. Winters; Sculptor, Gene Horvath, who donated the greater part of his time; His last public sculpture was "Victory," dedicated on Memorial Day 1994.; Funds for the monument came from the Veterans' War Memorial Fund established through sale of Camp Grant land at the end of World War II (1946)