Glendale Cemetery
Introduction
Glendale Cemetery, originally known as Akron Rural Cemetery, is Akron's oldest cemetery and dates back to 1839. It was founded by Dr. Jedediah D. Commins. It features 150 acres and is the final resting place of many of Akron's prominent citizens. It includes many states, chapels and other memorials as well as the "Great Meadow," which was once home to two small lakes, Willow Lake and Swan Lake. The lakes dried up and it was turned into a meadow. The cemetery itself, and four buildings adjacent to it - the Caretaker's Lodge, the Memorial Chapel, the Bell Tower, and the Cemetery Office - are all on the National Register of Historic Places.
Images
Glendale Cemetery is Akron's oldest cemetery. It is on the National Register of Historic Places.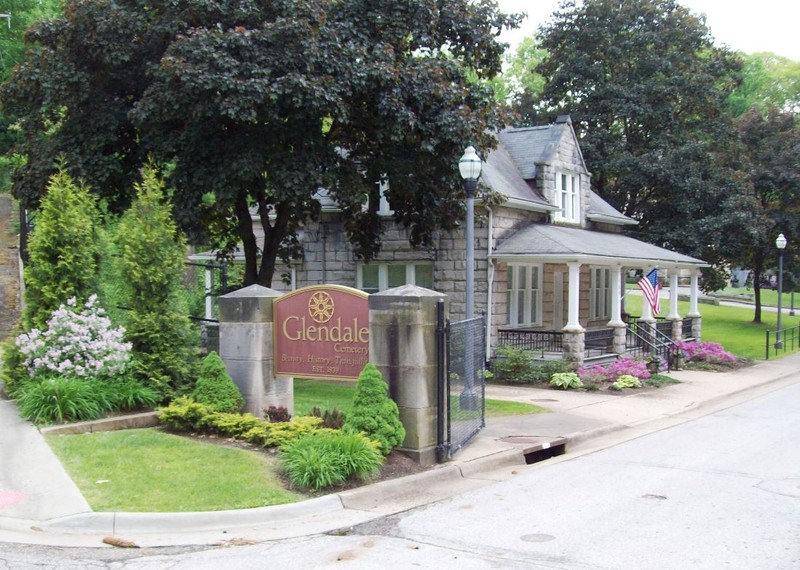 Backstory and Context
Dr. Jedediah D. Commins came to Akron by way of western New York in 1832, establishing Akron's first drug store not long thereafter. In October 1837, his son Augustus died after a brief illness, and Commins felt like Akron had no suitable burial grounds, so he kept his son's remains at home for more than a year in a cask of alcohol. In 1838, he visited Mount Auburn Cemetery in Cambridge, Massachusetts, with the goal of selecting a pattern for a tomb, and had the idea of establishing a similar cemetery in Akron. The cemetery was established the following year. after the state of Ohio granted the charter.
The Caretaker's Lodge was added in 1869, while the Memorial Chapel was added in 1875. The Bell Tower was added in 1883. The cemetery's Civil War Memorial Chapel, an 18,000-square-foot structure constructed in Gothic style, is prominent. It has recently been renovated. The gravesites of Akron's founder Simon Perkins as well as Goodyear Rubber founder Frank A. Seiberling can be found here as well, as can the gravesite of O.C. Barber, the founder of nearby Barberton.
The cemetery, once known as Akron Rural Cemetery, was initially in a rural area. There was a stream and two lakes - Willow Lake and Swan Lake. With increased development, the natural spring that fed the lakes dried up, and the area is now known as the Great Meadow. There had been a proposal to use the Erie Canal to re-water the lakes, but this plan was never brought to fruition.
Glendale Cemetery was added to the National Register of Historic Places in the early 2000s. Though it was in a rural area when it was formed, the city has grown around it. It is a popular spot for walkers and joggers and does host special events, including a summer jazz festival in the Great Meadow.
Sources
Summit Live 365 website, accessed Dec. 8, 2016. http://www.summitlive365.com/venue/glendale-cemetery/
History of the Glendale Cemetery, Accessed June 24th 2020. https://www.glendaleakron.com/history-glendale-cemetery.