Nagle-Warren Mansion
Introduction
This handsome building was constructed in 1888 as the home for businessman Erasmus Nagle and his wife and son. Today it is a popular bed and breakfast. By the time he built the home, Nagle owned businesses in several areas, in Wyoming, a small portion of North Dakota, western South Dakota, and western Nebraska. He also held served as the commissioner of the capitol building committee and other civic positions. The house was designed in the Romanesque style and until 1960 had a stone facade when it was replaced by stucco (the stones were of poor quality and began to crumble). The house features 6 guest rooms—with a bathroom in each—a parlor, library, conference rooms, sitting room, hot tub room, a workout room, and a patio, fountain, and gardens. There is also a guest house that is connected to the main building that features an additional 6 guest rooms. Interesting features of the main house are some Moorish tiling, a Moroccan chandelier, and original stained glass windows. The property was added to the National Register of Historic Places in 1976.
Images
Nagle Warren Mansion Bed and Breakfast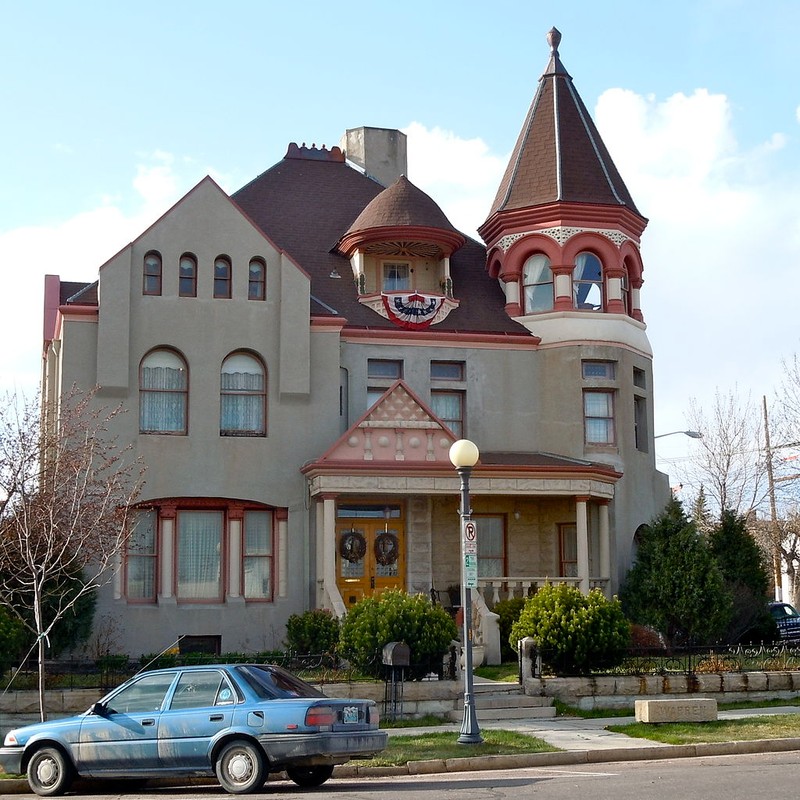 Backstory and Context
Erasmus Nagle worked as a merchant in various Colorado Rocky mountain towns before arriving in Cheyenne in 1867. He opened a grocery business and from there he engaged in a wide variety of ventures. Sadly, he died in 1890 of
peritonitis but his wife and son lived here until 1907 when they rented it for three years. In 1910, senator and former governor F.E. Warren and his wife bought the house and resided here until 1929. They welcomed many noteworthy guests such as Presidents Theodore Roosevelt and William Taft. The house was next owned by the YMCA as women's housing and a social gathering place. A family would then live here beginning in 1985 until the current owner, Jim Osterfoss, bought it in 1997 and converted it to the bed and breakfast.
Sources
"Nagle Warren Mansion." Wikipedia. Accessed December 9, 2016. https://en.wikipedia.org/wiki/Nagle_Warren_Mansion.

"Nagle Warren Mansion Bed and Breakfast." Historic Hotels of the Rockies. Accessed December 9, 2016. http://www.historic-hotels.com/wyoming/nagle-warren.

"Nagle Warren Mansion Short History." Nagle Warren Mansion. Accessed December 9, 2016. https://naglewarrenmansion.com/short-history.

Additional Information