Burke Building
Introduction
The Burke Building, built in 1836, is Pittsburgh's oldest surviving office building and is surpassed in age by only the Fort Pitt Blockhouse (1764). This three-story, five-bay, Greek Revival building was designed by English architect John Chislett for attorneys Robert and Andrew Burke. It has since hosted numerous businesses, the last being the headquarters of the Western Pennsylvania Conservancy which vacated the building in 2007. It was designated as a Pittsburgh Historic Landmark in 1970, added to the National Register of Historic Places in 1978, and is part of the city's Market Square Historic District.
Images
The Burke Building while occupied by the Western PA Conservancy.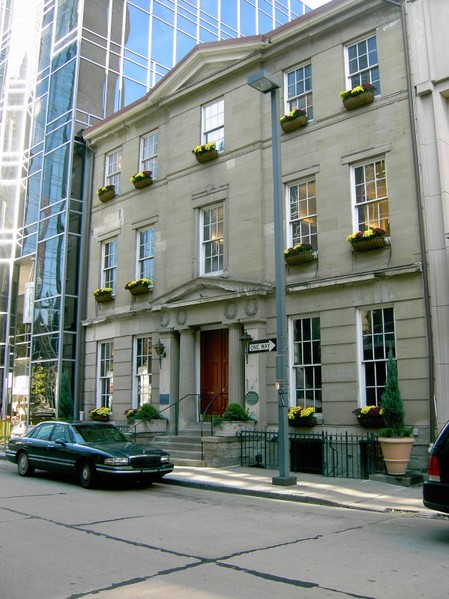 The Burke Building with PPG Place looming next door.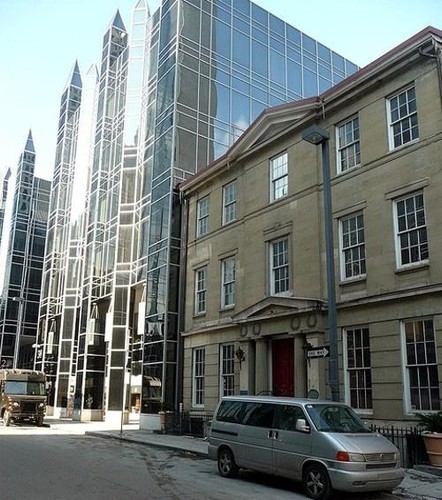 The Burke Building's central staircase.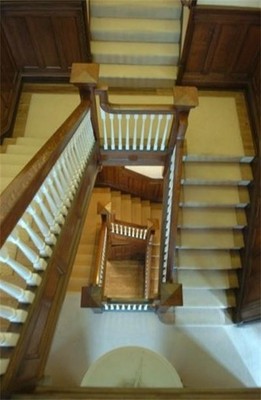 The Burke Building sits abandoned sometime during the 1970s.
Backstory and Context
The Burke Building is nothing if not a survivor. This is due to the fact that the building has survived numerous and varied threats to its existence. Firstly, it survived the Great Fire of 1845 which torched over 1,000 buildings in the downtown area. It then survived not one, but two urban renewal projects known as Renaissance I (1946-1973) and Renaissance II (1973-present). Part of Renaissance II included the construction of the massive glass and steel complex, PPG Place, right next door to the Burke Building in 1984. And while the complex abuts the Burke Building, it survived demolition yet again. The two buildings, side-by-side and separated by 150 years and 600 feet in height, provide a sharp contrast between modern and mid-19th century architecture and technology.
The building has undergone two periods of renovation and refurbishment. The first occurred after a 1900 fire caused moderate damage to the interior and the other in 1996 after it was purchased by the Western Pennsylvania Conservancy. However, certain elements of the original building remain, to include its central staircase, much of its pine, tulip tree and white oak plank flooring and rafters, tin ceilings in some of the rooms, interior pocket shutters on the front windows and a unique double-door safe on the second floor.
While it's not known exactly how many and what types of businesses have occupied the Burke Building over the years, it is known to have been home to a daguerreian (early photography) shop, an art studio, an insurance agency, a barber shop and a restaurant which closed in 1990. It then sat vacant until purchased by the Western PA Conservancy in 1996. The conservancy then spent the better part of a year renovating the builing and converting it into an LEED green building. The conservancy sold the building to Burke Building Enterprises in 2010, but not before granting an easment to the Pittsburgh History and Landmarks Foundation to ensure its preservation.
Sources
Shaw, Kurt. "It's back to the future for Pittsburgh's oldest office building." Pittsburgh Tribune-Review. July 5, 2009. Accessed December 16, 2016. http://triblive.com/x/pittsburghtrib/ae/museums/s_632058.html
"The Burke Building." Brookline Connection." Accessed December 16, 2016. http://www.brooklineconnection.com/history/Facts/Burke.html
"Burke Building façade is permanently protected." Western Pennsylvania Conservancy. October 5, 2010. Accessed December 16, 2016. http://waterlandlife.org/news/view/126
Additional Information