Pennsylvania Academy of Fine Arts
Introduction
The venerable Pennsylvania Academy of Fine Arts was founded in 1805 by painter Charles Wilson Peale, sculptor William Rush and other artists and business leaders. Its current home, designed by American architects Frank Furness and George Hewitt, was completed in 1876. The building was placed on the National Register of Historic Places in 1971 and designated a National Historic Landmark in 1975. In addition to the academy's school, it also houses its art museum that displays both historic and contemporary works from the 1760s through the present.
Images
The Furness-Hewitt Building, that is home to the academy, was completed in 1876 and became a National Historic Landmark in 1975.
Some of the open exhibit space within the Academy that also doubles as an event space.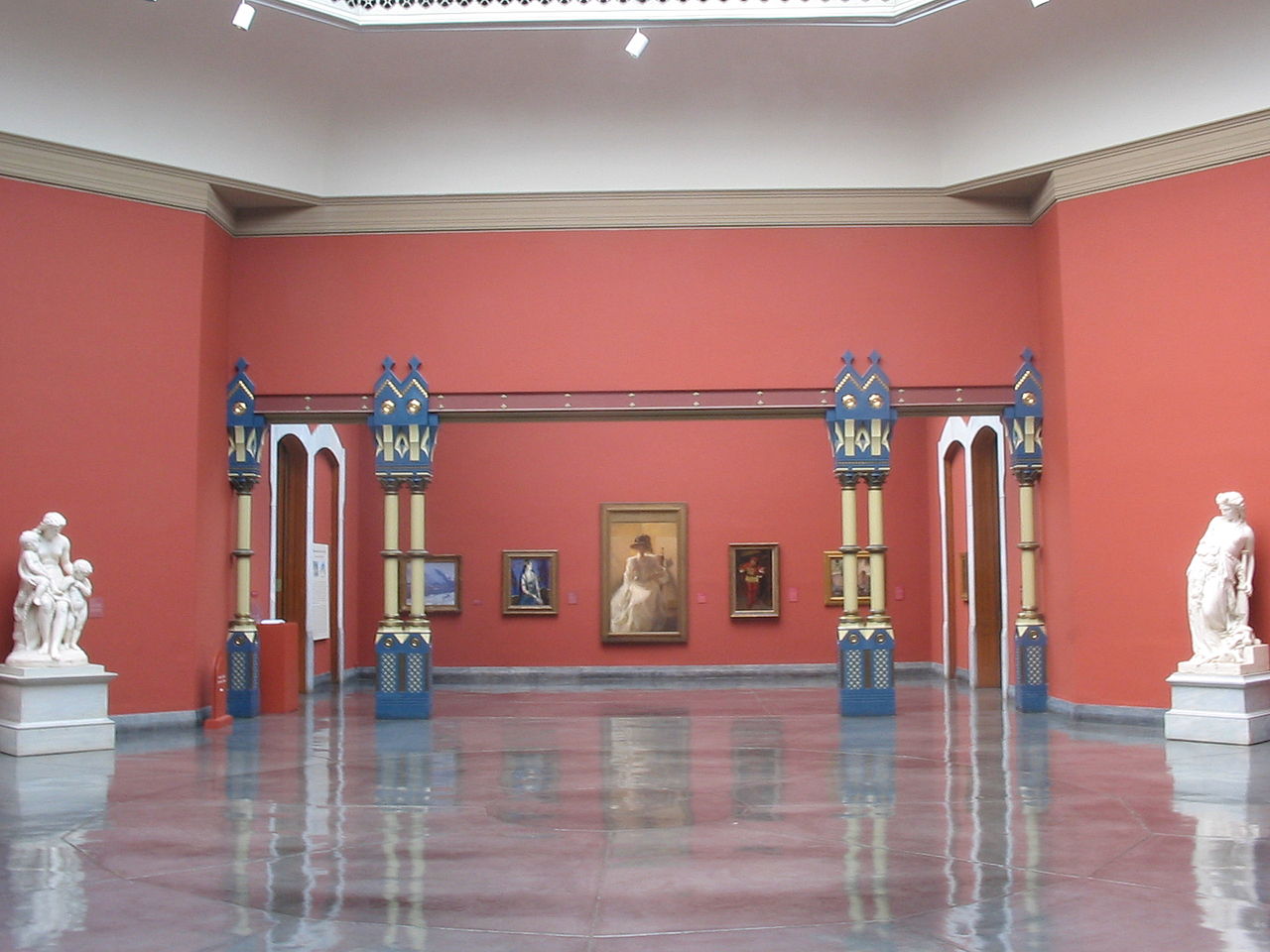 The academy's ornate central staircase that leads up to exhibit space on the second floor. As one ascends, it's difficult to keep ones' eyes off the works of art and on the stairs.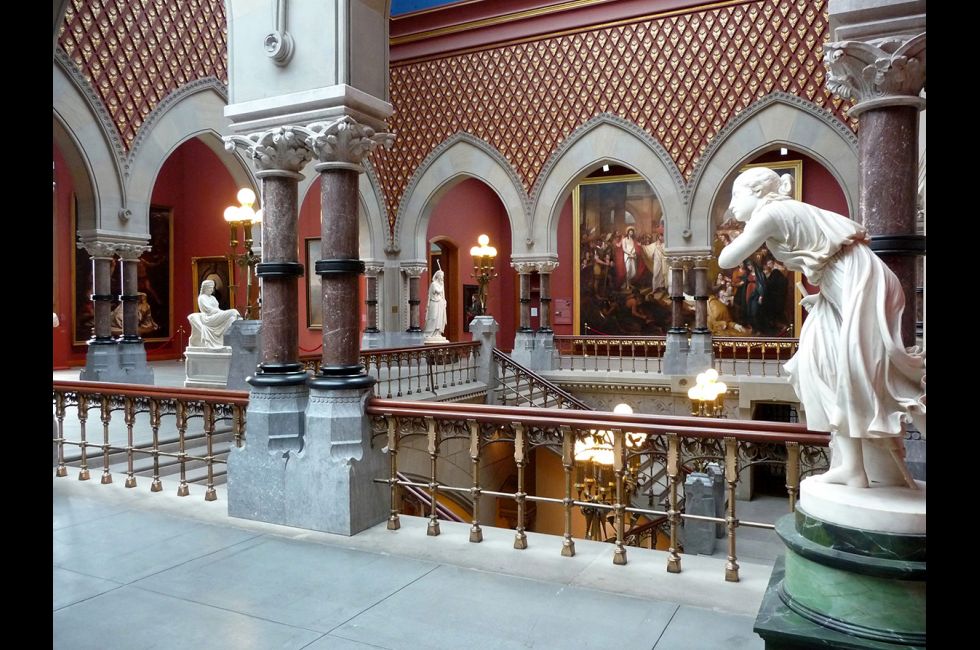 Lenfest Plaza, situated between the Furness-Hewitt Building and the Hamilton Building, is used as an exhibit space for outdoor sculptures.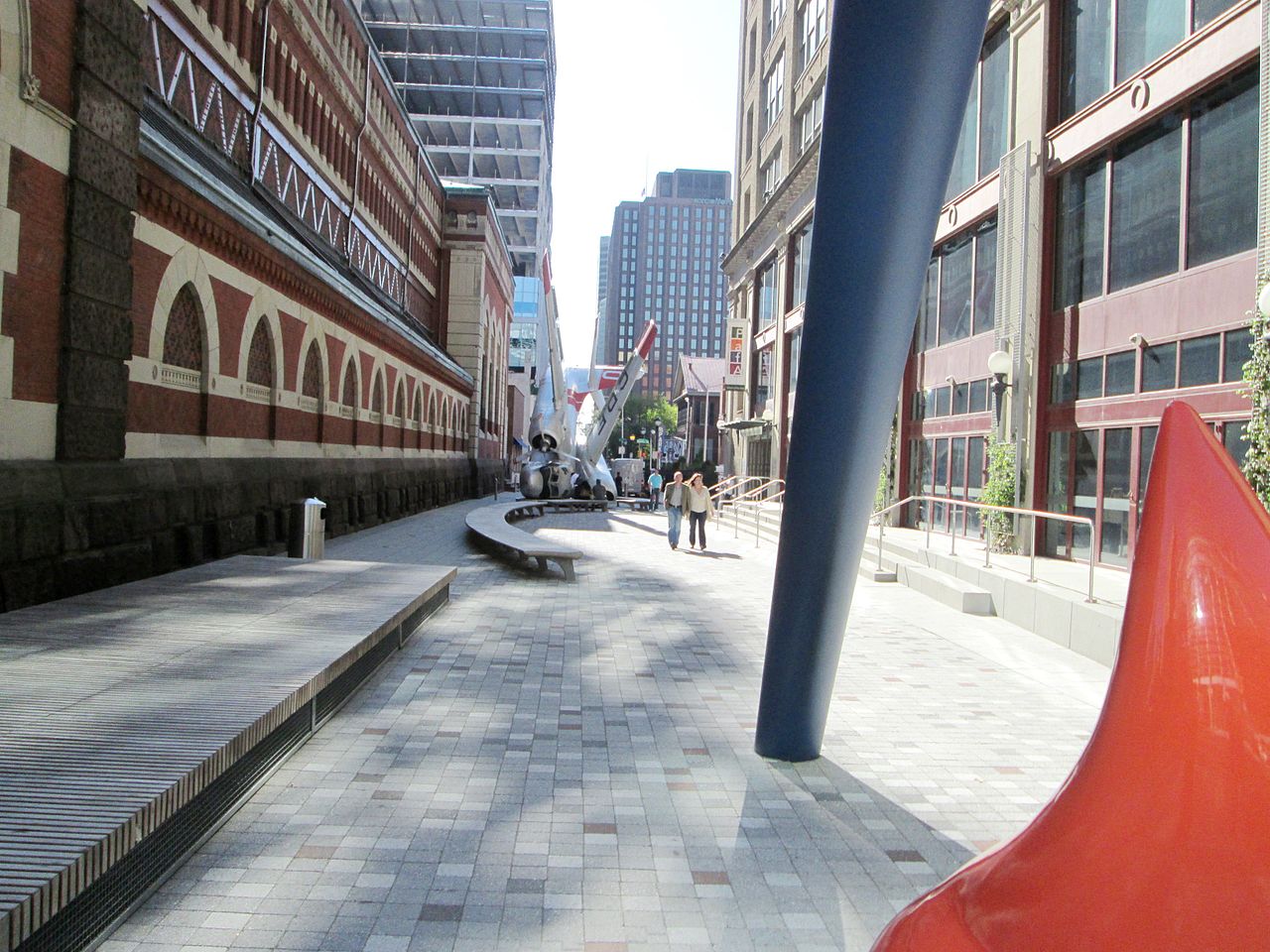 An elderly gentleman poses for students of the academy in this early 20th century photograph.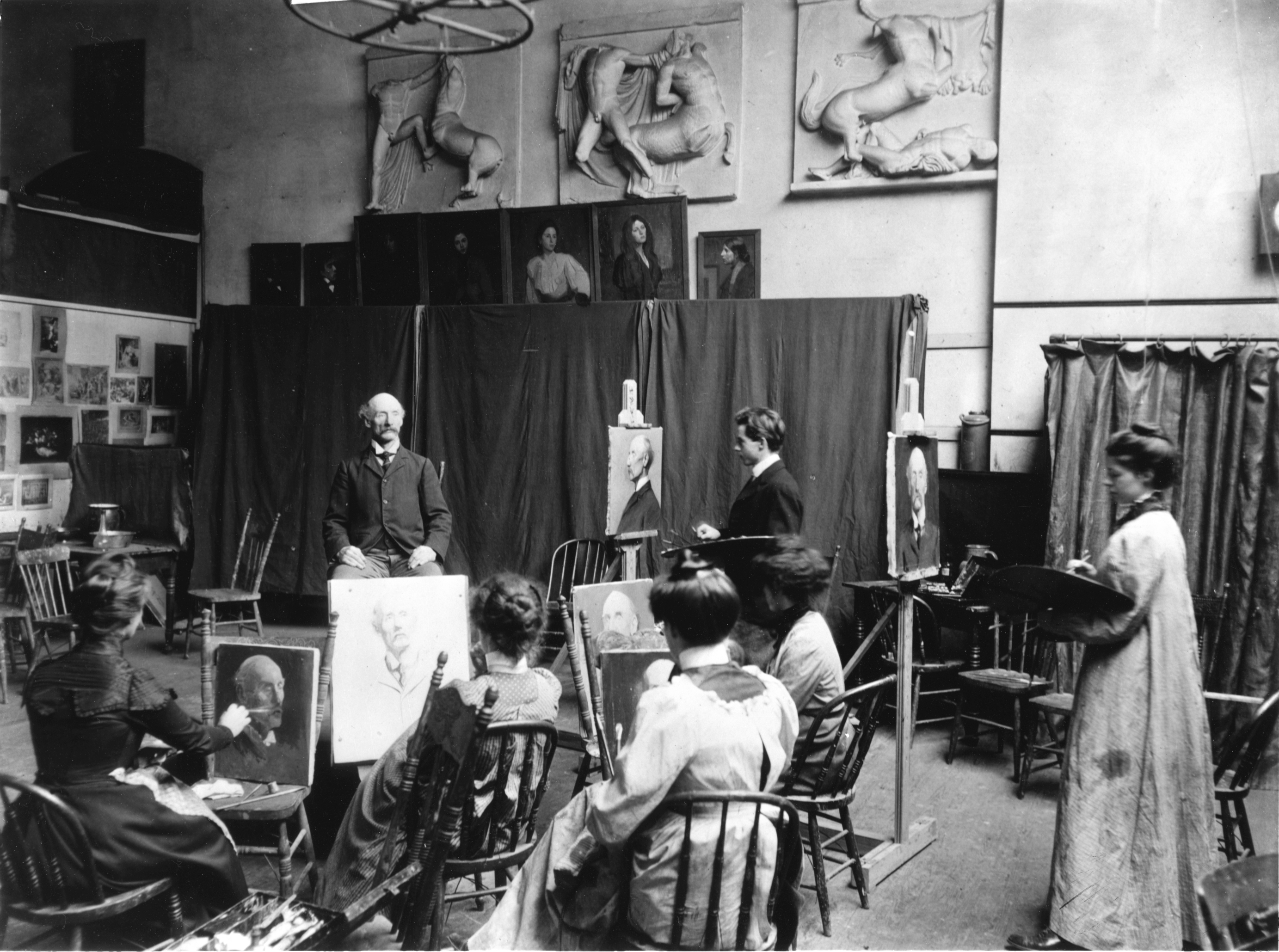 Backstory and Context
Soon after its founding, the academy had no permanent home and held exhibitions in a building of the Ionic Order that was built in 1806 and existed at the site of the American Theater at Chestnut and 10th Streets. Its first art museum opened there in 1807 and its first exhibition took place in 1811, which included over 500 sculptures and paintings. Unfortunately, the building was severely damaged by fire in 1845. By 1868, the academy was looking for a new home and raised enough funds to construct one at its current location, which was built between 1871 and 1876. Furness and Hewitt melded elements of Second Empire and Renaissance and Gothic revival within the building. Initially praised, it fell out of favor in the early 20th century and was criticized as too ornate and complicated. It is now recognized as a Philadelphia masterpiece and one of Furness's finest works.
The academy gained prominence when it hired alumni, Thomas Eakins, to teach there in 1876. He ascended to the academy's directorship in 1882 and altered its curriculum to allow for more independent study which gave its students greater artistic freedom. The academy was also progressive in that it began to offer training to women beginning in 1844. Women of this era had few opportunities to study and learn artistic techniques in a formal, educational setting. The academy continued to expand those opportunities by opening classes to women in 1860 and they eventually attained leadership positions after 1868, hiring its first female instructor, Catherine Drinker, in 1878.
From 1811-1969 the academy held annual exhibitions from which it acquired many of its current works, and its acquisitions and exhibition programs are still transforming and adding to its collection. The museum's exhibitions are no longer only held on an annual basis, but are ongoing throughout the year and feature one every year that displays the works of current students. Past exhibitions have included, "Happiness, Liberty and Life? American Art and Politics," as well as "World War I and American Art." As for its collection, it features artists such as Cecilia Beaux, Winslow Homer, Edmund Tarbull and members of The Eight, to include devotees of the Ashcan School, Robert Henri and John Sloan. Its modern and contemporary collection features works by Jennifer Bartlett, Alex Katz, and Frank Stella, among others.
In 2002, the academy purchased the adjacent property at 128 N. Broad. It is now the Samuel M. V. Hamilton Building. It moved its School of Fine Arts at the Academy there in 2006. The Hamilton Building is also home to the Fisher Brooks Gallery and Portfolio, the museum's gift shop.
Sources
May, Stephen. "An Enduring Legacy: The Pennsylvania Academy of Fine Arts, 1805-2005." Pennsylvania Academy of Fine Arts. 2005. Accessed January 4, 2017. https://www.pafa.org/sites/default/files/media-assets/PAFA_History.pdf
"History of PAFA." Pennsylvania Academy of Fine Arts. Accessed January 4, 2017. https://www.pafa.org/museum/history-pafa
Goodyear, Frank. "A History of the Pennsylvania Academy of Fine Arts, 1805-1976." Resource Library. 1976. accessed January 4, 2017. http://www.tfaoi.com/aa/8aa/8aa131.htm 
Additional Information