Lafayette Square
Introduction
A prime green space in the heart of New Orleans' Central Business District (CBD), Lafayette Square is considered by most sources the second oldest park in the city (City Park holds the first place). Created in 1788 to support the then-neighborhood Faubourg Sainte Marie, Lafayette Square features at its center a statue of Henry Clay, a bronze sculpture moved there in 1900. It is bound by N and S Maestri streets to the north and south, respectively, Saint Charles Avenue to the west, and Camp Street to the east.
Images
Illustration of Lafayette Square from "Ballou's Pictorial" (1854)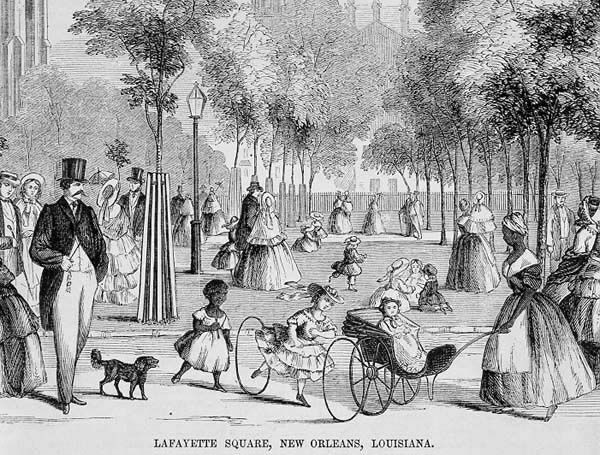 View of the sculpture of Henry Clay.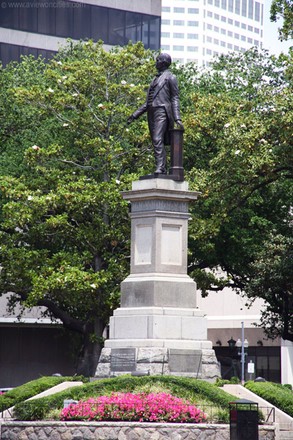 View of Lafayette Square as depicted on an undated historic postcard.
Backstory and Context
Located just south of New Orleans' bustling French Quarter, the green space of Lafayette Square was first known as Place Gravier when it was established in 1788. It was so named thanks to the land's original owner, Bertrand Gravier. The park earned its current moniker following a visit to the city by the Marquis de Lafayette in 1824.

Motivation for this name change to Lafayette, who had been one President George Washington's key military colleagues, was perhaps in part due to the fact that Lafayette Square had become a political center of the city. Indeed, the old city hall, known today as Gallier Hall (built 1845-1854), faces Lafayette Square from across Saint Charles Avenue.

The statue of Henry Clay, however, was an unexpected addition. Designed by American artists Joel T. Hart, the bronze was designated for a spot at the central intersection of Saint Charles Avenue and Canal Street. It was moved from that location to Lafayette Square (only a matter of blocks away) to make adequate space for the expanded street car line that runs down Canal Street.

In addition to the featured sculpture of Clay, one will find a sculpture of Benjamin Franklin. This statue of Franklin replaced a previous statue of Franklin that was crafted in marble at during the 1860s. This statue was created to emulate the work of one of America's most famous Neoclassical sculptors, Hiram Powers. Powers had risen to acclaim in the 1840s with his iconic sculpture, The Greek Slave, which had toured the country to massive audiences. In 1862, Powers had been commissioned to create a likeness of Franklin for Washington, D.C. New Orleans' statue of Franklin was similar to Powers's sculpture.

By the 20th century, the marble on that sculpture was succumbing to the elements. In response, Chicago transplant Henry Wadsworth Gustine commissioned a bronze sculpture of Franklin. This bronze version was installed in 1926 and its marble predecessor was moved indoors. The original sculpture now stands in the atrium of Benjamin Franklin High School.

Sources
Historical marker for Lafayette Square from the Louisiana Department of Culture, Recreation and Tourism. Retrieved 8 January 2017.
https://www.stoppingpoints.com/la/sights.cgi?marker=Lafayette+Square&cnty=Orleans

Lafayette Square Conservancy. Retrieved 8 January 2017.
http://www.lafayette-square.org/site.php

"Description and history of the Benjamin Franklin statue in New Orleans, Louisiana, from the 1930s." The Louisiana Digital Library. Retrieved 8 January 2017. http://www.louisianadigitallibrary.com/cdm/ref/collection/LWP/id/7170

"Hiram Powers, Picturing America." National Endowment for the Humanities. Retrieved 8 January 2017. https://picturingamerica.neh.gov/downloads/pdfs/Resource_Guide_Chapters/PictAmer_Resource_Book_Chapt...
Additional Information