Old Fayette County Courthouse
Introduction
This Romanesque-style building served as Fayette County's fifth courthouse and is listed on the National Register of Historic Places. The building held the Lexington History Center until 2012, when asbestos was discovered and the museums were forced to leave the building. The building is being renovated and will be home to a number of business when it is completed while the future of the museums are uncertain. Organized in 1999 and located at the former Fayette County Courthouse until 2012, the Lexington History Center offered a space for several museums under one roof until forced to vacate the building. The museum now offers pop-up exhibits and works to preserve their collections and offer online exhibits until the organization is once again able to offer a permanent exhibit space. The Center included the Lexington History Museum, the Public Safety Museum, the Pharmacy Museum, and the Isaac Scott Hathaway Museum. The Isaac Scott Hathaway Museum is now located in the Robert H. Williams Cultural Center.
Images
The old Fayette County Courthouse is on the National Register of Historic Places. It was closed in 2012 but is currently being renovated to house a restaurant, bar, event and office space and more.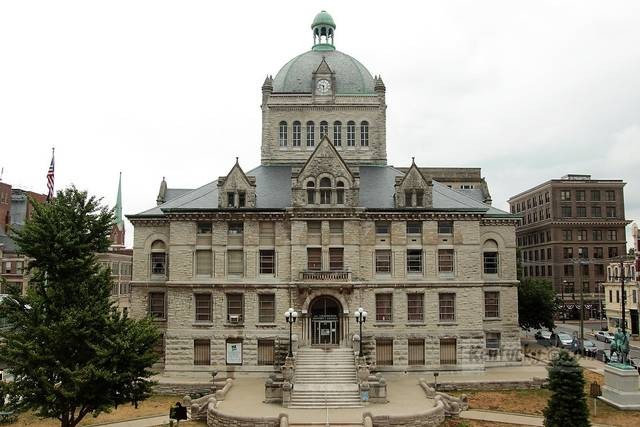 This statue of Confederate General John Hunt Morgan, as well as one of John C. Breckinridge, will remain outside the old Fayette County Courhouse building.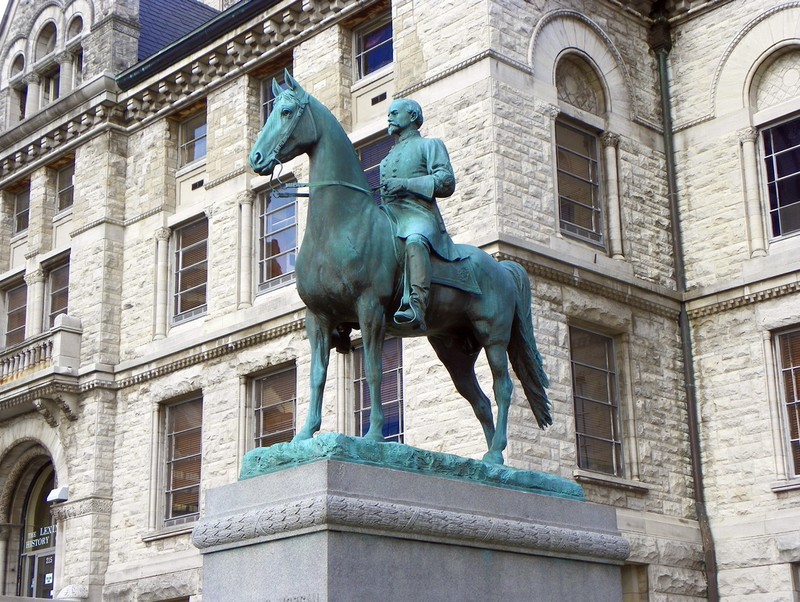 Backstory and Context
Construction on the building began in 1898, and it originally featured three floors and a rotunda. Kentucky limestone was used in the exterior. Other features of the original building include a weathervane of a copper horse, framing over some entrances that featured 12 male faces with differing expressions and a bell at the top of the building.
Renovations came in the 1960s and the rotunda was sealed off. A fourth floor was added and the grand marble staircase was taken out. It was put on the National Register in 1983. It was used by the court system until 2001. The Lexington History Museum was located there from 2003 until it closed in 2012. To its west is Cheapside, a small park which was used for slave auction, abolitionists' speeches, horse sales and more. Also outside in the courthouse square are statues of Confederate leaders General John Hunt Morgan and John C. Breckinridge.
Current renovations are scheduled to be complete in 2018. The building will then include a restaurant, bar, event and office space and a tourist attraction center. The project is being funded with a combination of bond money and federal and state historic tax credits. Repairs include removing the hazardous materials, a new roof, new masonry work and reopening the rotunda among others.
Sources
Visit Lexington website, accessed Jan. 10, 2017. http://www.visitlex.com/idea-guide/historic-homes/

Lexington History Museum website, accessed Jan. 10, 2017. http://lexhistory.org/explore/old-fayette-county-courthouse

Musgraves, Beth. "Work on old Fayette Co. courthouse brings changes". Lexington Herald-Leader, June 2, 2016. Accessed Jan. 10, 2017. http://www.kentucky.com/news/local/counties/fayette-county/article81406182.html


Additional Information