Historical Marker: Stinesville Limestone Industry
Introduction
Three miles south of this marker is the location of Indiana's first limestone quarry, which was opened in 1827 by Richard Gilbert. Settlers had been using limestone since 1816 but Gilbert's quarry was the beginning of an important industry that is still going strong today. Over the coming decades, limestone was used more and more for construction. There are three types of limestone, one of which is called oolitic. Oolitic limestone possesses many desirable characteristics including its light color, durability, resistance to fire damage, and it is easy to carve and shape. By 1900, Indiana limestone constituted over 80% of the construction market in the U.S.
Images
The marker commemorating the origin's Indiana's limestone industry in Stinesville.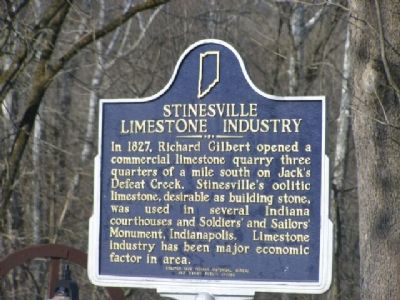 Backstory and Context
Indiana, and much of the central United States, was once covered by a shallow sea 340 million years ago during the Mississippian Era. Over time the sediment that fell to the sea floor formed the Salem Outcrop, what is now all limestone. The part of this outcrop in central Indiana is two miles wide and thirty miles long.
Sources
Hill, John. "Indiana Limestone." Indiana Geological Survey. Accessed January 13, 2017. https://igs.indiana.edu/MineralResources/Limestone.cfm.

Quigley, Barbara. "Indian Limestone Collection." Indiana Historical Society: Manuscript and Visual Collections Department - William Henry Smith Memorial Library. April 18, 2005. http://www.indianahistory.org/our-collections/collection-guides/indiana-limestone-collection-ca-1910...