The Mother Jones House
Introduction
Author-Uploaded Audio
The Mother Jones House, a partnership between Wheeling Jesuit University and Laughlin Memorial Chapel, was an intentional Christian service community of Wheeling Jesuit students. It is named after well-known labor leader Mary Harris Jones.
Images
Front door of the Mother Jones House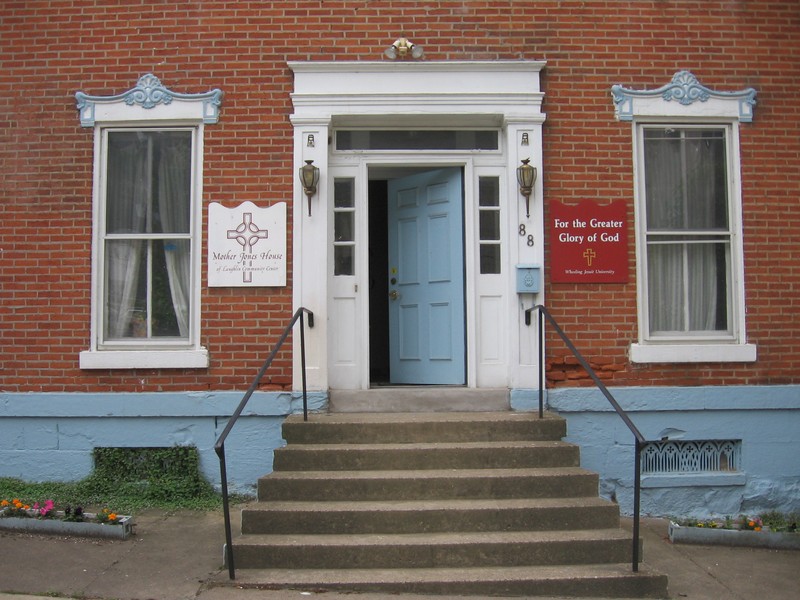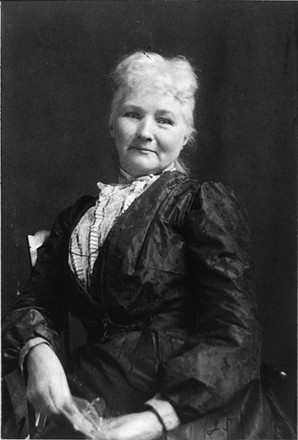 Mother Jones speaking to a gathering in 1912 in Montgomery, West Virginia. Photo courtesy of the West Virginia and Regional History Center, WVU Libraries.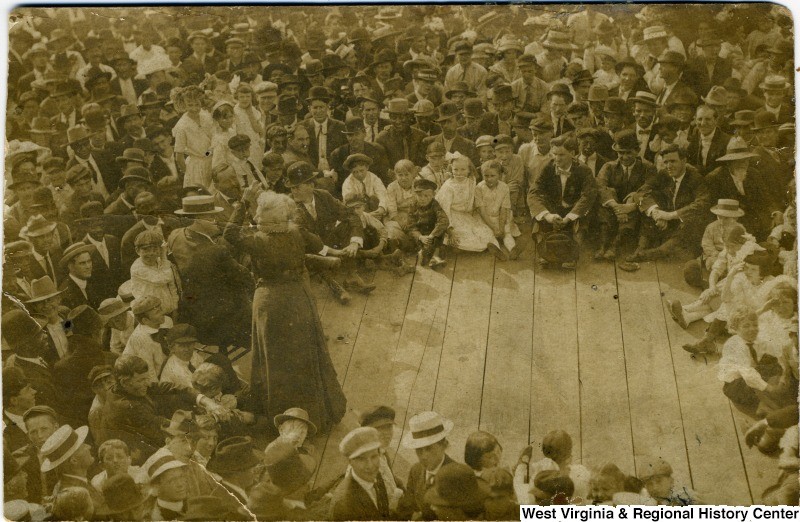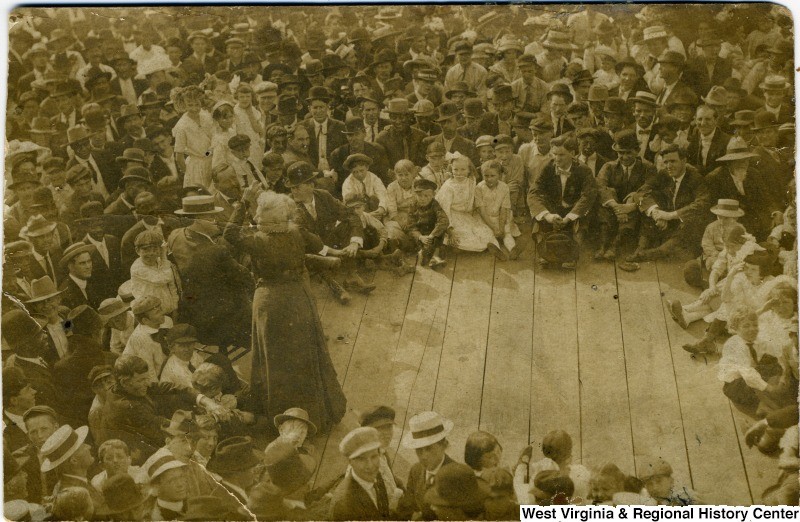 Backstory and Context
Author-Uploaded Audio
The Mother Jones House, a partnership between Wheeling Jesuit and Laughlin Memorial Chapel, was an intentional Christian service community of WJU students. With the help and guidance of a house mentor, Mother Jones House students worked and served in the neighborhood of East Wheeling while enrolled at Wheeling Jesuit University. Each student devoted ten hours each week to service within the Wheeling community.  
Students at the Mother Jones House lived by six core values. They are: simplicity, faith, community, social justice, learning, and service.
The Mother Jones House was moved onto campus in academic year 2017-2018 to become the Mother Jones Community, a living-learning residential community, maintaining the 6 cores values, with a community service component in East Wheeling. The plaques are still on the former house in East Wheeling. The Laughlin Memorial Chapel, who was WJU's partner and owner of the building, put the house up for sale, as of summer 2019. 
Mary Harris "Mother" Jones was born in Cork, Ireland, in 1837. Mary Harris and her family were victims of the Great Famine, as were many other Irish families. The famine drove more than a million families, includes Harrises, to emigrate to North America. Mary was a teenager when her family emigrated to Canada, and was 23 when she moved to the United States and began working as a teacher in a convent in Michigan. She faced persecution due to her ethnicity and Catholic faith. 
After tiring of her profession, she moved to Chicago and then to Memphis, where in 1861 she married George E. Jones. She opened a dress shop in Memphis on the eve of the Civil War.
Two important turning points in her life were the loss of her husband and their four children (all under the age of five) in 1867, during a yellow fever epidemic in Memphis. She then returned to Chicago and opened another dressmaking business, which was destroyed along with her home in 1871. She worked alongside the people of Chicago to rebuilt the city. According to her autobiography, these two formative events led to her joining the Knights of Labor and start organizing strikes on their behalf. 
Mary Jones, active as an organizer and educator in strikes throughout the country and, once the Knights ceased to exist, was involved mainly with the United Mine Workers (UMW) and the Socialist Party of America. As an organizer, she gained prominence for organizing wives and children of striking workers in demonstration on their behalf. 
While Jones worked through the United States, her work in the state of West Virginia is significant. During the Paint Creek-Cabin Creek strike in 1912, she arrived in June, speaking and organizing despite a shooting war between UMW members and the private army of the mine owners. Jones was arrested, brought before a military court, and sentenced to twenty years in the state penitentiary. She was released after 85 days. 
In late 1921, along with other UMWA officials, Jones attempted to stop the miners' army from marching into Mingo County. Although Jones had organized for decades on the behalf of the UMWA in West Virginia, she denounced the state as "medieval" in a chapter of her autobiography. 
Denounced on the floor of the U.S. Senate as the "grandmother of agitators" and dubbed the "most dangerous woman in America" by a West Virginia district attorney, Marry Harris "Mother"Jones died on November 30, 1930, in Silver Spring, Maryland. Her legacy is continued by the service of the students of the Mother Jones House in Wheeling, West Virginia. 
Sources
The Mother Jones House. Accessed January 21, 2017. https://www.wju.edu/studentlife/residencelife/motherjones.asp.
Mary Harris Jones. Wikipedia. January 20, 2017. Accessed January 21, 2017. https://en.wikipedia.org/wiki/Mary_Harris_Jones.
Additional Information