Picacho State Park and the Battle of Picacho Pass Monument
Introduction
Although the battle was only a small skirmish and only lasted about 1 ½ hours, it proved to be one of the deadliest battles of the Civil War in terms of the percentages of casualties compared to the number of casualties. The battle occurred when a cavalry patrol from California caught up with a group of pro-Confederate raiders who had used the war to attempt to capture land and property of the people of Tucson. By the end of the skirmish, three men were dead, three were wounded, and three were captured. The battle of Picacho Pass occurred further west than any other battle or skirmish during the the American Civil War.
Images
This picture helps give you the perspective of Picacho Pass to Tucson and California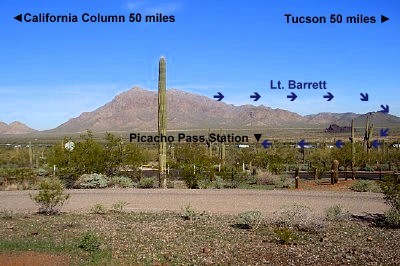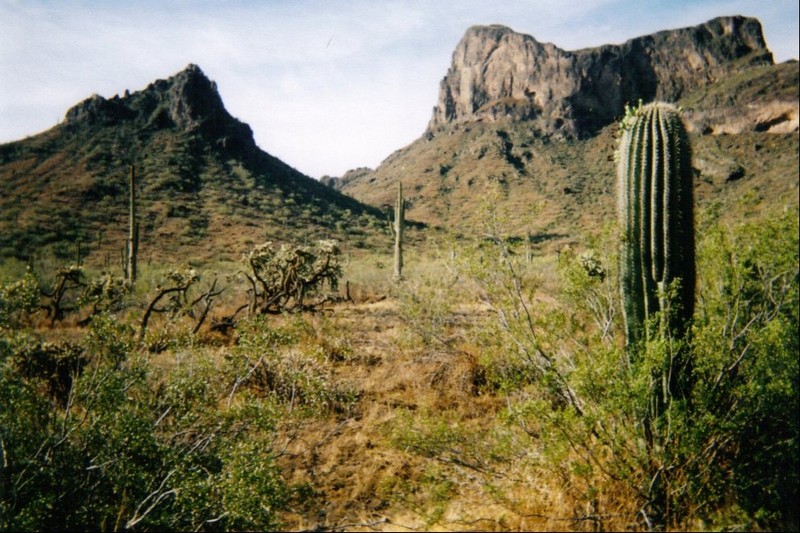 Battle of Picacho Monument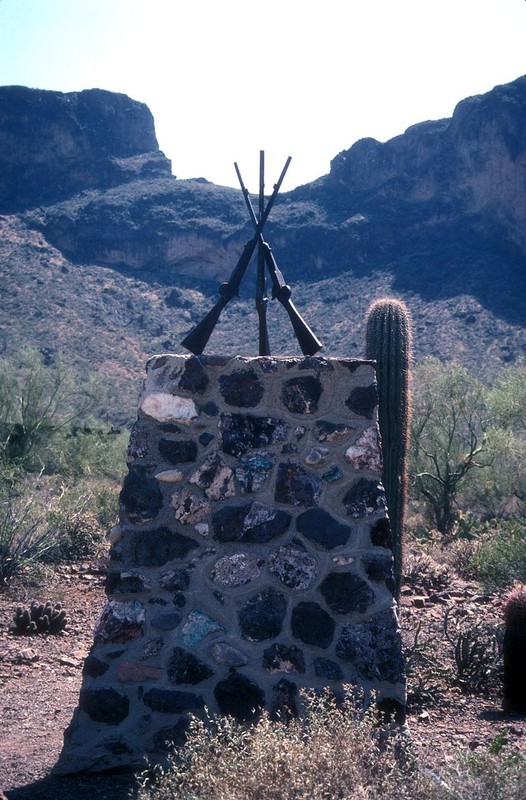 Backstory and Context
This battle between the Union cavalry and a party of Confederate raiders who had declared Tucson to be rebel-controlled territory took place at Picacho Pass. After the clash at Stanwix Station, Captain Sherod Hunter posted pickets at strategic locations as the Confederates withdrew to Tucson. One of these strategic locations was along the old stage road through Picacho Pass. From this advantage point, it gave them a commanding wide view of the stage road.

In April Capt. William Calloway was ordered to capture Tucson and free Captain William McCleave who had been captured at the clash of Stanwix Station by Hunter. To succeed in his orders, Calloway needed information on how many troops occupied Tucson. A Pima Indian, who was loyal to the Federal Government, informed Calloway that Hunter had left ten men to guard the pass. He felt that these men could be captured and interrogated to give him the information he needed about the troops in Tucson. A plan was devised to have Second Lieutenant James Barrett take 12 cavalry troops and scout around the north side of the Picacho Mountains. Lieutenant Ephraim Baldwin went with 10 to 12 men to circle the south side Both groups orders were to stay low and wait for the main columnn to come down the pass.

The Confederates had posted a lookout with a glass to keep vigilance, but he went back to his fellow companions when he did not see anything. Calloway had learned to take off the white covers from their wagons so they would be harder to see from a distance. Barrett had arrived first to his location because he was 8 miles ahead of the others. John W. Jones who was a resident of Yuma, Arizona and Barrett's guide inspected the Confederate pickets and found them in a relaxed mood. Jones advised Barrett more than once that they should dismount and attack the enemy from the rear. He felt that the enemy could be captured without a shot being fired.

Barrett chooses not to listen and went charging in with guns firing. This gave time for the Confederates to react and return fire. The ground cover of thick underbrush, cactus, mesquite, greasewood, along with other desert growth and arroyos and washes helped the Confederates with concealment. The Union soldiers did not use this to their advantage and when Barrett went to remount his horse a bullet struck his neck and killed him instantly.

This fight only lasted about 1 ½ hours, three were dead, three were wounded, and three were captured. These deaths might not have happened if Barrett would have chosen to wait. Because he chose not to he did not have the manpower and the Confederates horses had not been guarded. Seven of the enemy were able to get to their horses and escape to warn Captain Hunter of the advancement of the Union troops. Because of this, there would be no surprise attack on Tucson, A month later Hunter and his troops left Tucson (Old Pueblo) just ahead of the advising Union army. Those who fought at Picacho Pass may have prevented a much larger, bloodier battle, but they did prevent the pro-Confederate raiders from attacking other citizens or expanding their effort to use the war to justify their raids on communities in the Southwest.

Sources
The War-Time Journal. The Battle of Picacho Pass. 1996. Accessed February 2017. http://wtj.com/articles/picacho/.
Franks, Arnold. Battle of Picacho Pass. Military History On-Line.2000. Accessed February 2017. http://www.militaryhistoryonline.com/civilwar/southwest/picacho.aspx.

McLachlan, Sean. Four Forgotten Civil War Battlefields. Gadling. 19 November 2009. Accessed February 2017. http://gadling.com/2009/11/19/four-forgotten-civil-war-battlefields/.


Additional Information