Historical Marker: Fazendville
Introduction
This marker tells the story of what was a small, but vibrant African American village called Fazendeville. The site is located in what is now the Chalmette Battlefield Park, which is owned and operated by the National Park Service as part of the Jean Lafitte National Historical Park and Preserve. The Battle of New Orleans took place here in January 1815, resulting in an American victory over the British.
Images
The village as it appeared in the early 1960s.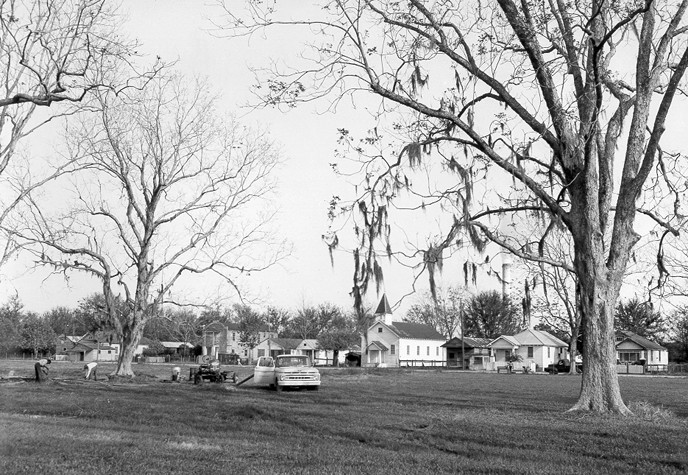 Backstory and Context
Sometime after the war, a free Black man named Pierre Fazend inherited the land, which comprises a portion of the battlefield site. After the Civil War, his son founded the village—naming it after his father—and sold parcels to former slaves. At its peak, the village had a population of 200. In the mid-1960s, the National Park Service bought the village site after a long and bitter negotiation process, forcing the residents to move to the Ninth Ward or the the community of Violet downstream. The purpose of this displacement was to connect two separate parts of the battlefield to make the site more historically accurate. Some viewed this situation as a way to preserve history, while others, particularly the residents themselves, saw it as a way to discriminate against a Black community.
Sources
"Fazendeville: Jean Lafitte National Historical Park and Preserve." The Historical Marker Database. Accessed January 30, 2017. http://www.hmdb.org/marker.asp?MarkerID=97172.

Langenhennig, Susan. "150 years after the Battle of New Orleans victory, Chalmette suffered two 1965 cultural defeats." Times Picayune. January 7, 2015. http://www.nola.com/homegarden/index.ssf/2015/01/a_look_back_at_two_cultural_de.html.

"Places - Fazendeville." National Park Service: Jean Lafitte National Historical Park and Preserve. Accessed January 30, 2017. https://www.nps.gov/jela/upload/Fazendeville-Study-for-website.pdf.

Photo: US Marine Corps, via the National Park Service.

Additional Information