World Trade Center New Orleans
Introduction
Also known as 2 Canal Street and the "ITM Building" (International Trade Mart), this is one of New Orleans tallest buildings. During its heyday, the building housed a number of foreign consulates and served as the headquarters for the Port of New Orleans. It was designed by renown early 20th century architect, Edward Durell, whose legacy also sits with his activism for modern architecture and doing work for NASA. Closed in 2011, the building has since reopened as a Four Seasons
Images
The "Top of the Mart" in 1973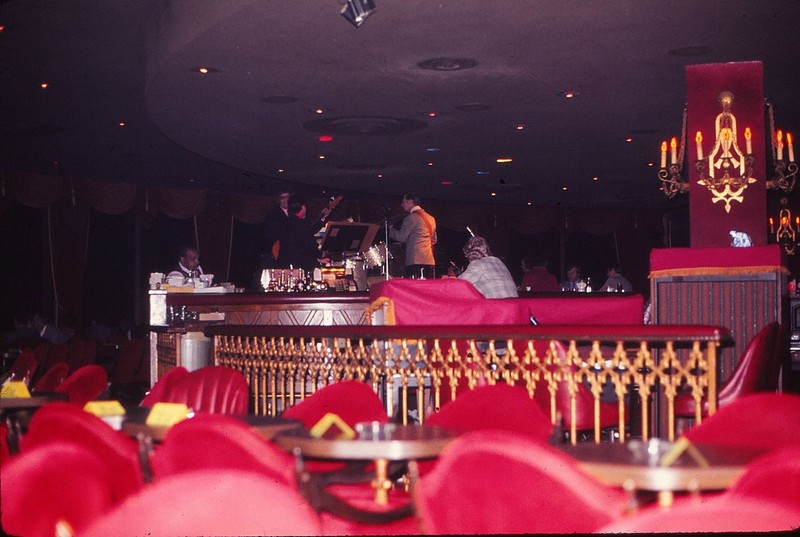 The World Trade Center New Orleans as it looks today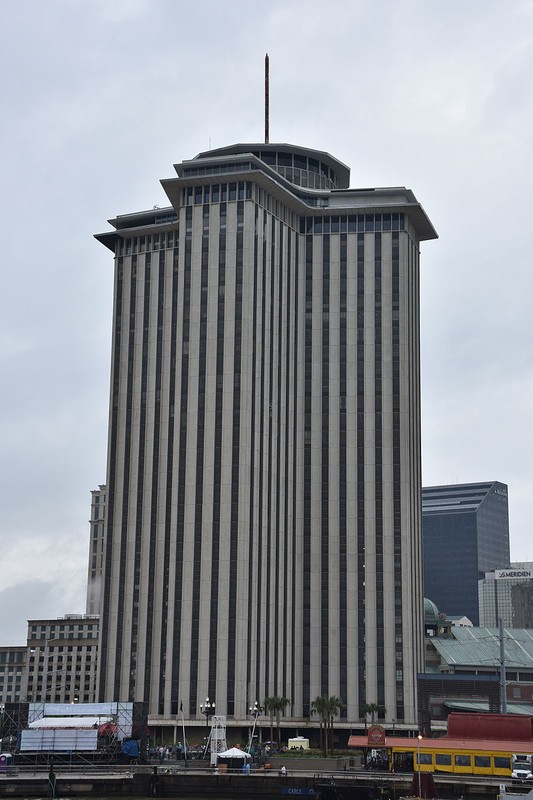 Model of Electronics Research Centers first phase of construction is examined by Dr. Albert J. Kelley, Deputy Director; Edward Durell Stone (center), architect, and Dr. Winston E. Kock, Director. Courtesy of NASA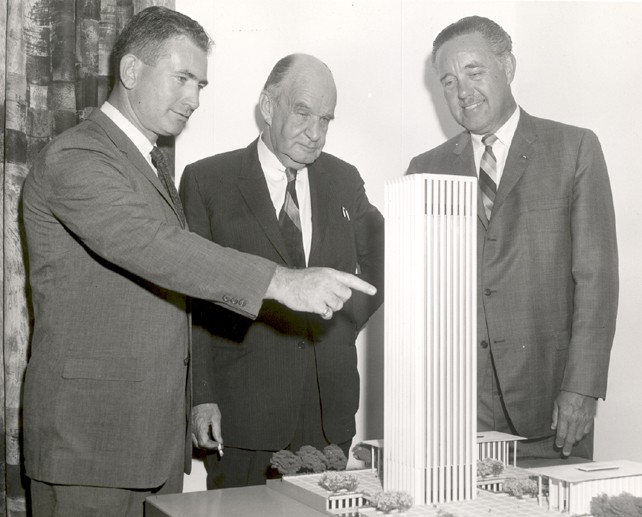 The building as it looked in 1969-1970. Matt Anderson, photographer. Mississippi River from Plaza Tower, New Orleans, LA. Circa 1970. Southeastern Architectural Archive, Special Collections Division, Tulane University Libraries.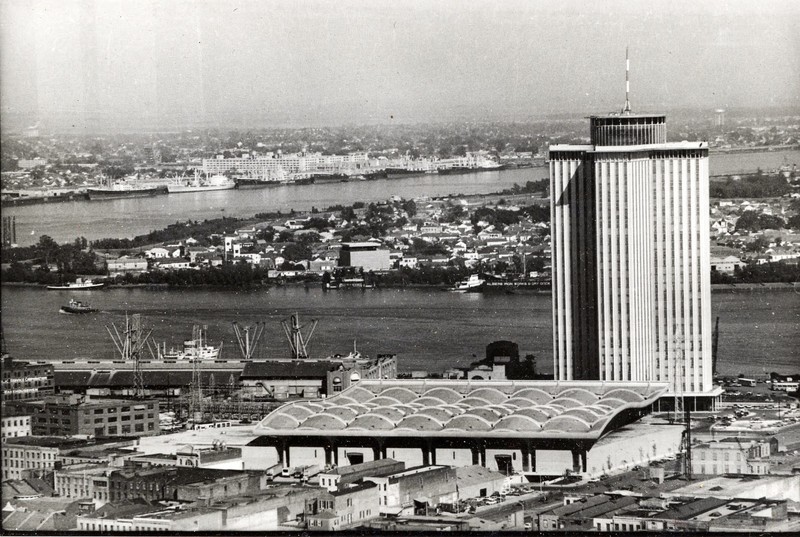 Taken sometime in the 1960s, this aerial photo shows the World Trade Center New Orleans building under construction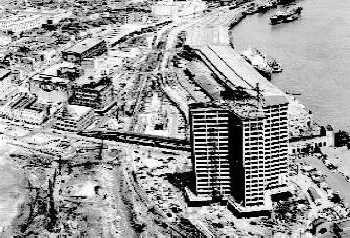 Backstory and Context
Prior to June 2011, the World Trade Center of New Orleans was housed in the historic World Trade Center Building in the Central Business District of New Orleans. The building, which is a 33-story, 407 feet-tall skyscraper, has since been purchased by the city of New Orleans. The top floor hosted a cocktail lounge called "Top of the Mart" from the 1970s through 2001. The bar slowly rotated once per hour. After this, a bar called "360" (as in degrees) opened in its place, which remained until Hurricane Katrina in 2005.
In the years following the closing of the "360" cocktail lounge, various plans emerged regarding the next step for the former World Trade Center New Orleans building. The "Save WTC NOLA" group campaigned let the building stay at the foot of Canal Street and pushed for renovation rather than demolition, while others in the city campaigned to have the building demolished, some including plans to build a park and landmark to the city in its place.
In 2013, after a competition between organizations, including James H. Burch LLC of Clifton, Va., and the Tercentennial Consortium, The New Orleans Building Corporation voted to enter into lease negotiations with Dallas-based Gatehouse Capital Corp. Gatehouse Capital Corp. has produced artists renderings that depict the former World Trade Center building as a 245-room W Hotel with rental apartments on the upper floors. As of 2016, a development group has said they're ready to move forward with a $360 million Four Seasons 350-room hotel and 76 hotel-serviced condos at the 33-story former World Trade Center building at the foot of Canal Street, which sits vacant for now.
After World War II, New Orleans businessman Clay Shaw returned to New Orleans where he became a founder of the International Trade Mart. From 1947 to his retirement in 1965, Shaw ran the Trade Mart as a managing director. The World Trade Mart was chartered in 1945, first opened its doors in 1948, and in 1985, merged with International House to form the World Trade Center New Orleans, a private, non-profit organization with a membership of 2,000 corporations and individuals dedicated to improving trade with New Orleans.
Like its predecessor organizations, the WTC continues to sponsor trade missions to Latin American and Caribbean nations to conduct a variety of educational programs, conferences, seminars, and trade shows and to host dignitaries and other visitors from New Orleans' trade partner nations. The WTC's work is conducted from its 33-story headquarters at the foot of Canal Street.

Trade expansionists advanced their cause further by forming the International Trade Mart (ITM). They intended that IH (International House) and ITM would complement each other and together would form the international program's foundation. The mart satisfied a longstanding ambition for an institution that could exhibit commodities and could provide a setting where buyer and seller could meet easily in New Orleans.

Since the city lacked a manufacturing base, buyers from, say, Mexico might—absent a mart in New Orleans—travel to, say, Toledo to purchase steel or glass. The resulting trade might well bypass New Orleans. But the mart, thought trade expansionists, would maximize the port's chances of handling this trade.

Sources
http://www.fox8live.com/story/22714224/landmarks-society-releases-new-orleans-9-most-endangered-sites.htm

Sayre, Katherine (November 21, 2016). "World Trade Center lawsuit dismissed, clearing path for Four Seasons". NOLA.com. The Times-Picayune.

Carpenter, Arthur E. Gateway to the Americas: New Orleans' Quest for Latin American Trade, 1900-1970 (Tulane University, 1987).

Hunting, Mary Anne. "Edward Durell Stone, Perception and Criticism." (PhD diss., Graduate Center, City University of New York, 2007)

Hunting, Mary Anne. "Rediscovering the Work of Edward Durell Stone". Modern Magazine (Spring 2013): 70 and 72.


Ricciotti, Dominic. "Edward Durell Stone and the International Style in America: Houses of the 1930s." American Art Journal, Vol. 20, No. 3 (Summer 1988): pp. 48–73.

Stone, Edward Durell. Edward Durell Stone: Recent and Future Architecture. New York: Horizon Press, 1967.

Stone, Edward Durell. The Evolution of An Architect. New York: Horizon Press, 1962.

Stone, Hicks. Edward Durell Stone: A Son's Untold Story of a Legendary Architect. New York: Rizzoli International Publications, 2011.



Additional Information