Hank Williams Memorial plaque at the Oak Hill Public Library
Introduction
This memorial, located across the street from the site where famed country singer-songwriter Hank Williams Sr. died in 1953, was dedicated in 1991 by local citizens. Williams was discovered dead in the back seat of his Cadillac by a friend during a routine stop for gas while en route to Canton, Ohio for a performance. Despite numerous monuments throughout the country star's home state of Alabama, this was the first memorial to the singer in the town where he passed.
Images
Front view of the Oak Hill Public Library. The plaque and column are visible in center foreground.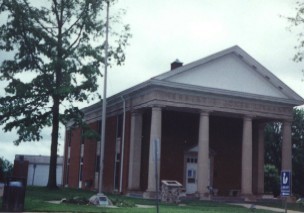 Detail of the plaque itself, dedicated in 1991.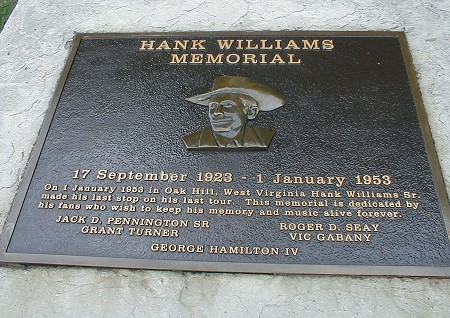 A full view of the plaque and its stone column.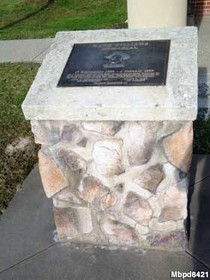 A portrait of Hank Williams Sr., who died at the age of 29.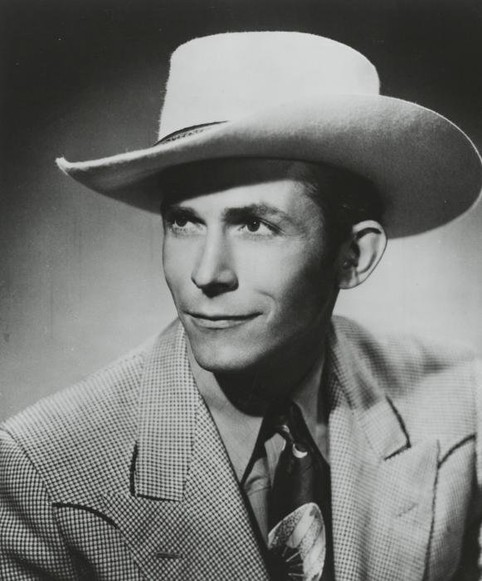 A newspaper clipping, breaking the news of the singer's death.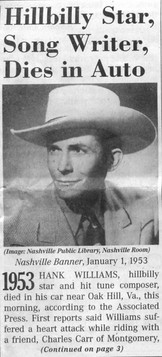 Hank Williams' death certificate (West Virginia State Archives).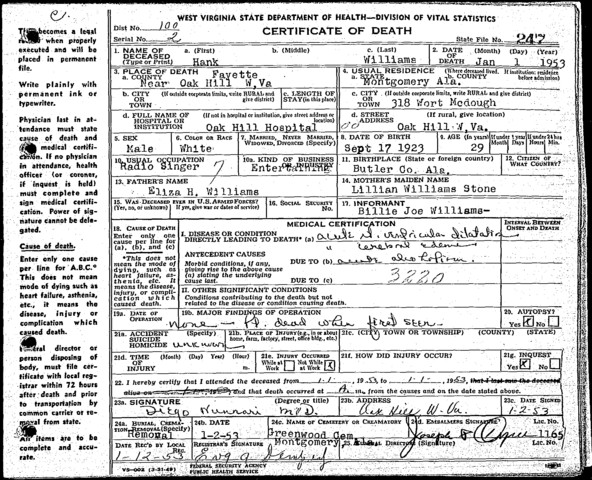 Backstory and Context
Hank Williams Sr. was a household name in country music by 1953, having been a regular feature on the popular radio program Grand Ole Opry before being fired in August 1952--after another chronic bout of alcoholism, substance abuse and a recent divorce, he failed to show up for the program's concert and broadcast that August 9.

Williams, only 29 years old, still retained enormous popularity among his fans, however, and struck out on tour in winter of 1952-53. He was scheduled to play at the Municipal Auditorium in Charleston, West Virginia on December 31, 1952, but an ice storm in Nashville canceled his flight and the performance, prompting the singer to hire college student Charles Carr to chauffeur him directly to his upcoming New Year's Day concert in Canton, Ohio.

They never made it to Canton. Heavily under the influence of alcohol and a cocktail of painkillers, Williams died in the back seat of his Cadillac sometime after crossing the state line into West Virginia from Virginia. At some point, near the town of Oak Hill, Carr noticed that a blanket had slipped off of Williams, and the singer was unresponsive and cold to the touch. While accounts differ as to different places Carr may have stopped to seek help, it was at a gas station in Oak Hill that car encountered a policeman and, after taking Williams to the Oak Hill Hospital, the country icon was pronounced dead on January 1, 1953.

Efforts to memorialize the passing of Williams were few and far between, as Oak Hill's conservative, religious inclinations clashed with the hard-drinking lifestyle of "Hank Sr." Finally, on September 17, 1991, the anniversary of Williams' birth, fans and local residents dedicated a plaque purchased with private funds. Mounted on a square stone column, it is displayed on the lawn of the Oak Hill Public Library, across the street from the site of the gas station where Carr pulled over to check on Williams.



Sources
1. Kistler, Maura "I Wont Be Home No More: The Death of Hank Williams." Goldenseal 28. Winter 2002: pages 54-63

2. Lilly, John "Death of Hank Williams." e-WV: The West Virginia Encyclopedia. 12 June 2017. Web. 16 April 2019.



Additional Information