Nickel Hall
Introduction
In 1887 Dr. McAfee had an idea of a dormitory for women paid for by donations, estimating each brick would be five cents each. After stalling several times the idea took hold and in 1895 the building was completed. It served as a women's dorm and laundry for campus until it was changed to a men's dorm in 1946. It had many completely strange things happen within its walls ranging from attempted murder to a entire front porch stolen in the dead of night with no equipment. Sadly, the building was destroyed by students from Chestnut Hall who compromised the structure with the removal of the front porch by jeep and chain. It was set on fire by the fire department to be razed in 1968.
Images
Photo of Nickel Hall in the 1951 Narva. It would be after it was converted to a men's dorm.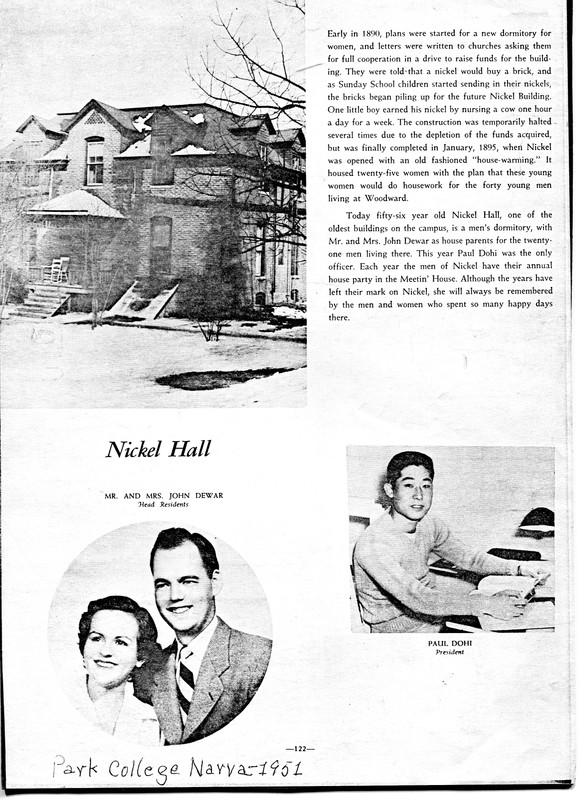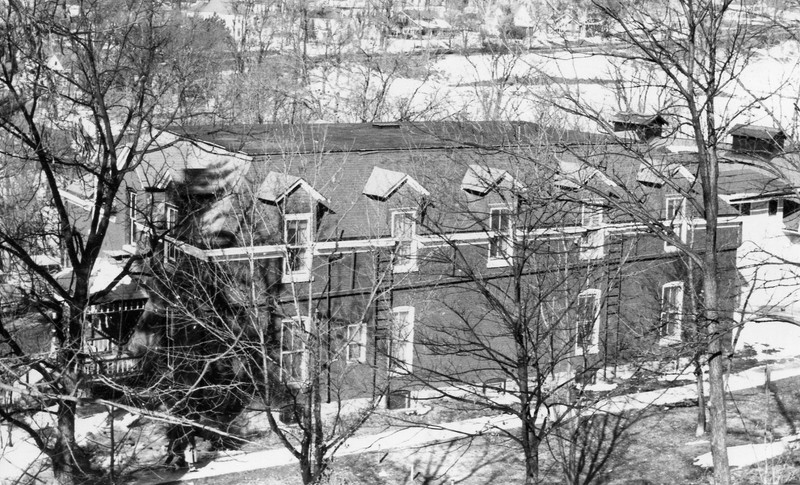 Nickel Hall circa 1900. The building was a women's dorm and laundry building for campus till 1946.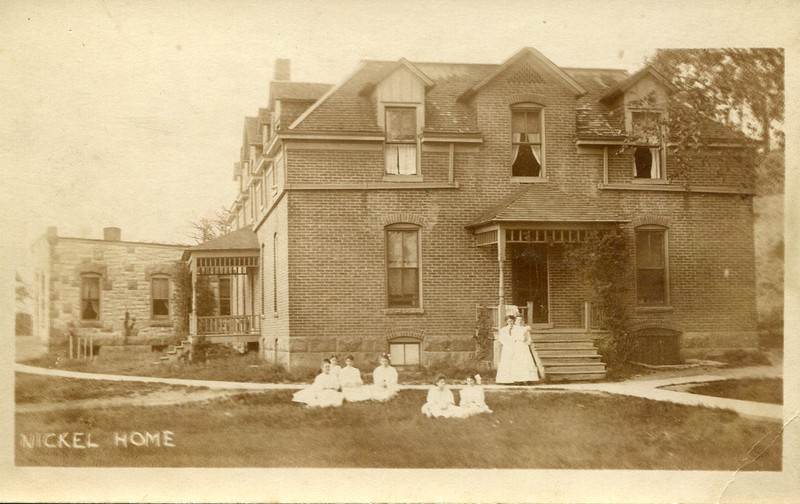 A view of the Refectory building attached to Nickel. It was not a separate building but was instead attached by a hallway.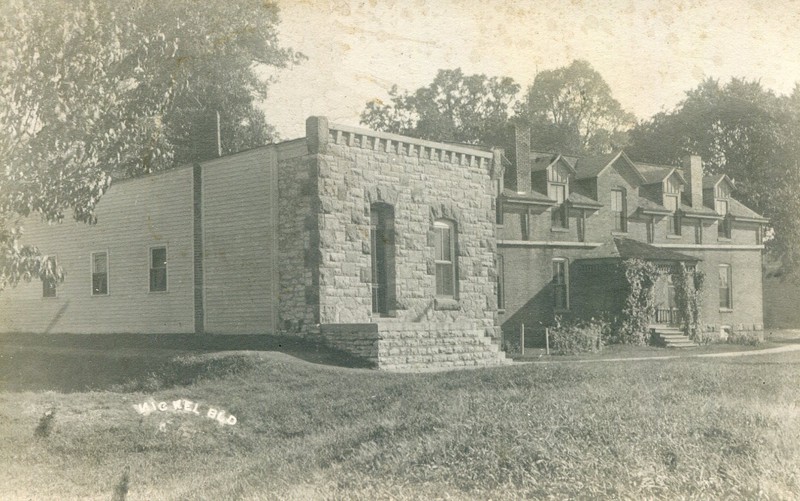 The remains of Nickel after a control burn due to structural damage caused by students in 1967. This photo is from the 1968 demolition of the building.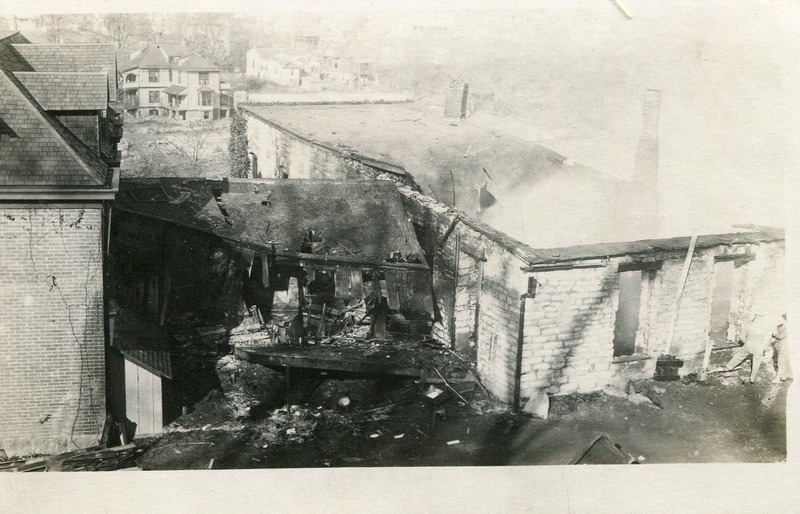 Control burn/destruction of Nickel Hall in 1968.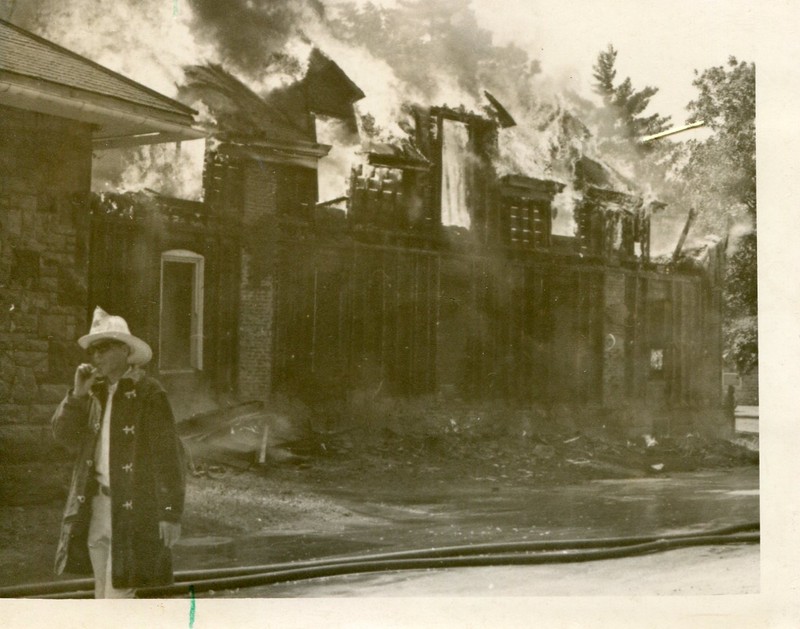 Floor Plan of Nickel Hall first floor.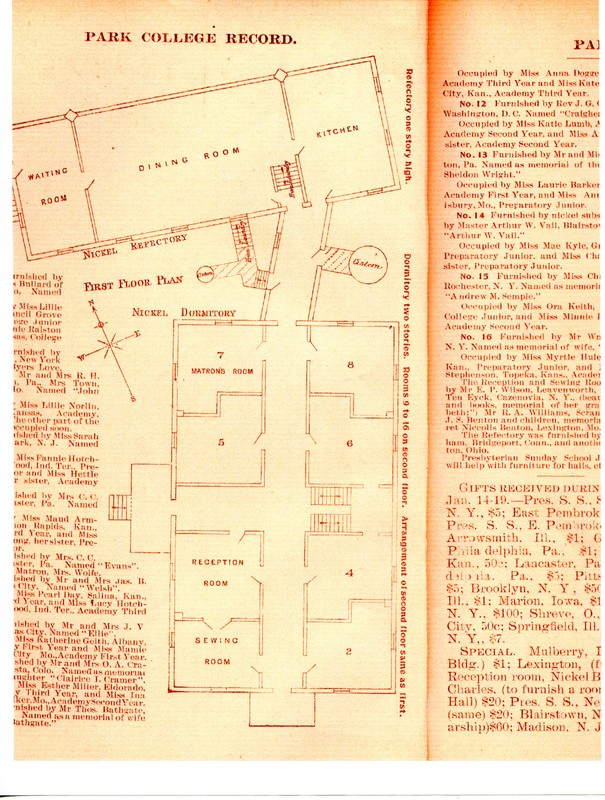 Nickel Hall Poisoning Article. Article is dated January 12, 1960.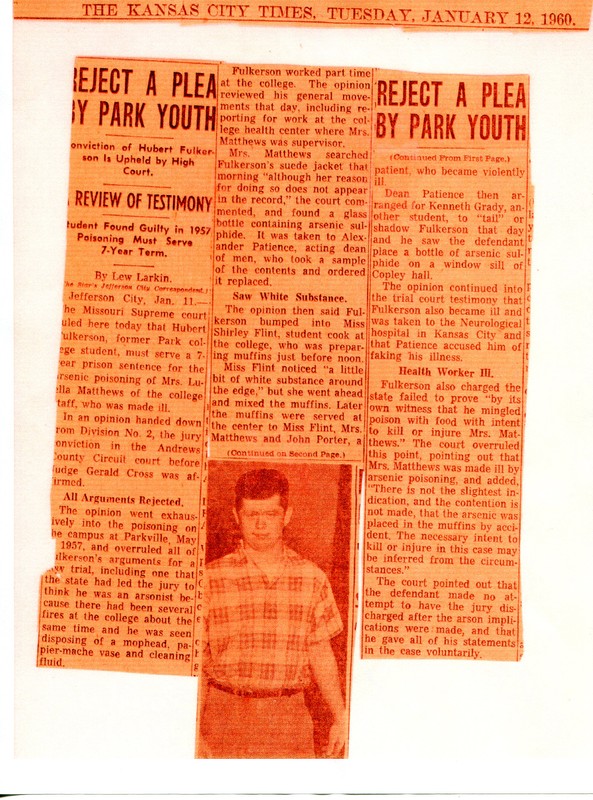 Memorial Plaque of Room 13. This Room was named in Memorial of Laura Sheldon Wright, a missionary of the Cattaragus Reservation. Her sister, Ella, donated in her stead.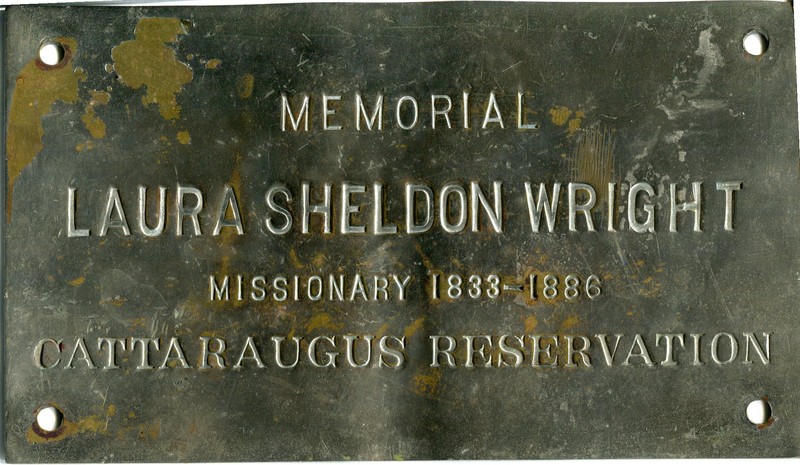 Backstory and Context
In 1887 Dr. John McAfee conceived of a dormitory for women that would be paid for by soliciting five-cent contributions/donations from local Sunday School children
and others' estimating that each brick would be only the cost of a nickel. Though the campaign was interrupted several times (including the death of Dr. McAfee in June of 1891) it eventually took hold, with a small boost to help build it from a earlier donation that helped build another building on campus: Labor Hall (
https://www.theclio.com/web/entry?id=31823)
. Nickel Hall's cornerstone was placed down in 1894, with the building being completed by students and skilled labors in 1895. During a time frame between 1894 to 1946 it served as a women's dormitory and laundry for the campus. One of the donors was Ella Wright, sister of Laura Sheldon Wright, a missionary of the Cattaragus Reservation, who donated to the school.
Throughout it's existence it has been site of many weird and incredibly silly/stupid things. A arsenic poisoning/attempted murder of Miss Flint, Mrs. Matthews, and John Porter by Hubert Fulkerson by arsenic laced muffins in 1957.The 50's through the 60's were when it was at the most strangest with the front door stolen by some women of Stephan Hall in the fall of 1960. The complete front porch was stolen by men of Copley Hall sometime in 1957 with zero noise and zero equipment, the same year with the poisoned muffins. Sadly the last "prank" was the end for Nickel Hall by a group of students from Chesnut Hall that caused irreparable damage to the structure by ripping the porch (again with the front entrance) from the building with a jeep and chain in December of 1967. The building was deemed unsound and in June of 1968 it was demolished in a controlled burn by the local fire department.
Sources
Beck, Bill. Fides et Labor: 140 Years of Pioneering Education: The Story of Park University. Virgina Beach, VA. The Donning Company Publishers, 2015.
Fishburn Archives and Special collections

Additional Information