Henry C. Bowen House (Roseland Cottage)
Introduction
Henry and Lucy Bowen spent their summers in this pink Gothic Revival home, built in 1846 and known as Roseland Cottage. The Bowen family hosted numerous friends here, including four U.S. presidents. The house has a number of distinctive features: stained glass windows, parterre gardens, an aviary, and the oldest surviving indoor bowling alley in the United States.
Images
The Gothic Revival house offered a relaxing retreat from fast-paced city life (source: Library of Congress)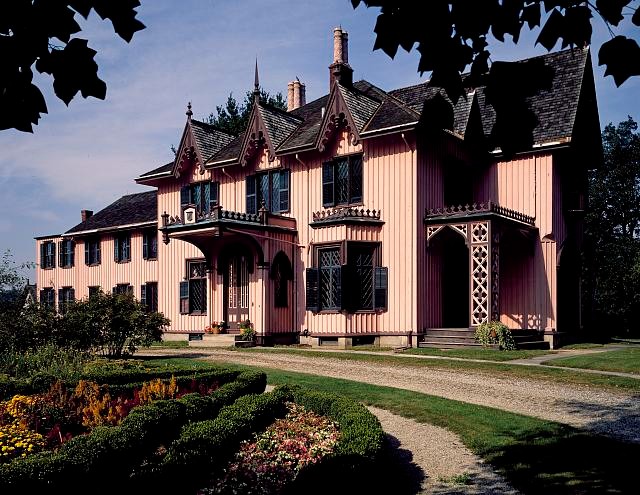 Backstory and Context
Henry Bowen was born in Woodstock, CT in 1813. Following a stint working for silk merchants Arthur and Lewis Tappan, he began his own dry goods business in New York. He married Lewis Tappan's daughter Lucy in 1844. The couple had ten children.

Roseland Cottage was built to provide the family with an escape from the crowds and chaos of New York. Architect Joseph C. Wells designed the house, along with a bowling alley, woodshed, and carriage house. In 1850, the Bowens added an impressive parterre garden: 3000 square feet containing boxwood hedges and flower beds with dozens of plant species.

The Bowens stayed at Roseland every summer to engage in summer activities, sports for the boys, and more "ladylike" activities such as sewing and reading for the girls. Lucy Bowen died from complications giving birth to her tenth child in 1863. Henry remarried two years later. The family continued using Roseland as a summer retreat, and in the 1880s updated the house's decor.

In 1870, Henry Bowen began throwing large 4th of July parties, hosting hundreds of revelers at Roseland. These guests included Ulysses S. Grant, Benjamin Harrison, Rutherford B. Hayes, and William McKinley. Bowen became increasingly involved in politics over time. An abolitionist, he founded The Independent, an anti-slavery newspaper.
Sources
Emmet, Alan. So Fine a Prospect: Historic New England Gardens. Hanover, NH: University Press of New England, 1996. Ch. 6, "Boxwood and Bunting: Henry Bowen's Roseland, Woodstock, Connecticut," p. 69-83.

"Roseland Cottage (1846)." Historic New England. Accessed February 18, 2017. https://www.historicnewengland.org/property/roseland-cottage/.




Additional Information